Question & Answers with Sri Sri Ravi Shankar

Q: Gurudev, How can we bring this knowledge, of breathing & meditation that is taught through the Art of Living programs, to low-income families and communities?


Sri Sri Ravi Shankar:
You know, the Art of Living Courses are around $200-$300. This is a very small amount and students and seniors, anyways, pay a reduced course contribution. There are expenses when courses are organized. The volunteers have to hire a hall, get supplies and pay rent. Nearly 60-70 percent of the course contribution is spent on course expenses. Remaining funds go to support service projects in places like post-Katrina New Orleans.
Also, if you offer the course free, people don't value it. People don't take responsibility to sit and learn. You can't do charity from an empty bowl. And there is no point in taking charity to do charity. So our teachers teach these courses for a contribution.
Of course anyone who wants to donate to a charitable cause is most welcome, but our donations are only about 15 percent of our total income. Mostly, all our expenses are covered by course contribution. And, in case someone says they cannot afford to pay the course contribution, we never stop them from attending the course. There is always 10-15 percent scholarship in every course. If some of you want to sponsor a course for street kids, we would definitely love to organize that. We have so it in many places across the world.
Q: Gurudev, I am an 'Art of Living' teacher. How do I feel I have done enough service? I always feel I could do more for society?
Sri Sri Ravi Shankar:
Parents never feel that they have given enough to their child, esp. to the girl child. The nature of love is like that. Whatever you do in love, you feel you have not done enough. Know that there is something lacking if you feel you have done enough. It is manifestation of love which makes you feel that you can do more. Love is continuous and it never ends.
Q: Gurudev, Can you please tell how does one get rid of doubt?
Sri Sri Ravi Shankar:
You know, doubt is always about something that is positive. You always doubt the honesty of a person, and never doubt the dishonesty of a person. When someone tells you, "I love you", you ask really? When someone tells you, "I hate you", you never ask them really. Isn't it? You are not sure about your happiness. When someone asks about our happiness, we say, "Well, I am not sure." But we are so sure of our depression. We never doubt our weakness, we always doubt our capabilities. If you observe, all good things like love, happiness, honesty, and sincerity are being doubted. So, any doubt must be good.
Q: Gurudev, My mind conflicts between spiritual world and material world. How to overcome this?
Sri Sri Ravi Shankar:
As such there is no conflict. You have to balance your life. Some breathing exercise and yoga would help you long way. Along with this some social work activity - what we call seva in India. We earn and then we spend on our selves. Isn't it good to give at least 3 - 4% of our earning to those who are in need of it? There are 300 million children in the world who need education. You can also participate in the project. One day in a month, take a time of in a group, and go and help clean the environment. Strengthen the environmental programs and social service activities.

Q: Gurudev, What is the solution for peace in Afghanistan?
Sri Sri Ravi Shankar:
Remember there were Buddhists there. The forefathers of Afghanistan were pioneers of yoga and meditation. Just realizing this, people would become less fanatical and more broad-minded. By thinking only they will go to heaven and all others go to hell, they create hell for others. We need to be broad-minded. Every child should know a little about the Upanishads, Quran, Guru Granth Sahib and so on. The holy book Guru Granth Sahib, for example, contains the essence of all the Upanishads. So it is very important that every child should know about the Guru Granth Sahib. They will grow up with a broad mindset. The sacrifice that Sikh Gurus have made is unthinkable. Without that, yoga and meditation would have disappeared from this planet. The Sikh Gurus lived a life of sacrifice. They protected the Brahma knowledge, the universal knowledge. Every child should know a little bit about this.
Q: Gurudev, Does one need to have a Guru or spiritual leader to seek enlightenment?


Sri Sri Ravi Shankar:
You are asking a question and you want an answer. You want medicine and anyone who gives you medicine becomes a doctor. The seeker wants an answer, wants someone to tell him, to guide him. If someone says, "I'm not a patient but I need medicine," and someone says "I'm not a doctor but I'll give you medicine," what do you call both? Anyone can tell you what you want to hear but a little guidance does help. Someone should be there to give you assurance. When you learn swimming and the trainer says "Go ahead", you get that confidence to go. Someone who has such confidence can become your guide.
Q: Gurudev, Some of my colleagues talk ill of the 'Art of Living'. I don't like this but I ignore them. Can you please guide what should I do?

Sri Sri Ravi Shankar:
What is it that they can talk bad of us? There is nothing. That is all their imagination. You keep on doing what you can. They will also realize. This had also happened with so many saints in the past. Some people liked them and got benefited after getting the knowledge, and some others didn't like them. How does it matter?
We are teaching. One thing that some people say is why the 'Art of Living' courses are paid. 'Art of living' is an education. Do you think education should be free? Will people value free education the same way? If education should be free, then all education like medical, engineering, journalism should also be free. If all others are not, why should spiritual education be free? There was concept of Dakshina in the past also. Unless you give dakshina, your education is never complete. And we do so much work in society with the money left after course expenses.
Also this shows how much more work we need to do to improve the society.
Q: Gurudev, Guruji, are we influenced by mistakes from previous birth? If so, then how does one prevent getting influenced by that or find a way to remove that influence?
Sri Sri Ravi Shankar:
You don't have to make too much effort. Just do your practices, your Sudarshan kriya, sing and meditate and all the bad karmas and impressions, they will get washed away by themselves. And with few advanced courses, few hollow and empty meditations, all impressions get released.
Q: Gurudev, According to Vedanta we are all one. But we have different personalities and ideas. Can you explain?

Sri Sri Ravi Shankar:
Everything is made up of atoms. Like furniture is made of wood. The door, the bench, the table, the chair are all made of wood. Wood is in each of these things. But the roles are different. The door cannot be used as a chair, nor can a table be used as a door. Quantum Physics is based on the principle of Advaita (non duality).
Q: Gurudev, Dearest guruji, sometimes I feel that I have not got over a death in my immediate family , and it prevents me from moving forward in my own relationships, and starting my own family. I'd want to move on but sometimes I feel I'm my own worst enemy. Please help me guruji. I am waiting patiently for you to read, and answer my question.

Sri Sri Ravi Shankar:
You meditate, you do bhajan. These vibrations reach them also. You be peaceful and peaceful vibrations from you go across to the other side. That is why spirituality is called 'Sadhana' in Sanskrit, which means the real wealth, the real currency that can go even here and there (laughs). The other dollar currency cannot be used on the other side. That's why we say when you do satsang, sing and meditate, these positive vibrations reach them. And then, these emotions when they come up just observe them, watch them. They will come, evaporate and disappear. Don't make a big issue about it. Move on.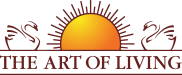 Founded in 1981 by Sri Sri Ravi Shankar,The Art of Living is an educational and humanitarian movement engaged in stress-management and service initiatives.
Read More