Question & Answers with Sri Sri Ravi Shankar

Q: Gurudev, The history of ancient India is filled with the accounts of enlightenment, yogis taking on supernatural states of awareness and capabilities. Yet, to help me understand, how does one interpret such stories? Are these methodologies with allegorical significance, or they point to the untapped potential hidden in each one of us?
Sri Sri Ravi Shankar:
Do you know about the first airplane? Who flew the first airplane? ('Wright brothers' came the answer). This is what we hear or read in the books. Absolutely wrong. 50 years before Right brothers, one man from Bangalore, Subray Shastry, he went into meditation, in silence and then he went to meet a yogi. The yogi took him to deeper meditation, and he started recognizing the engines, he downloaded all that! He wrote a book called 'Vaimanik Shastra' and then he flew the plane in 1800 with a parsi gentleman. Parsis are the migrants of Iran to India who follow Zoroastrian religion. The parsi gentleman funded him to make the first plane. They flew it on the chaupati beach in Mumbai (or Bombay). This appeared in the 'London times' newspaper also. These two were put in jail by Colonial power, and they took and confiscated all the diagrams that he had made. A documentary of this came on television recently, with the newspaper cutting from England and the diagrams that he had cognized. He had made five different diagrams and this is available even today in a book called 'Bhardawaj Vaimanik Shastra' – The science of plane by Rishi Bhardawaj. He explained what type of engine that a plane has which takes off straight like a helicopter, and one which goes running and then takes off.
You can find all the details in the website http://www.bharathgyan.com/
More from the same conversation in the next post..
Q: Gurudev, How were you able to establish three centers in Pakistan?

Sri Sri Ravi Shankar:
The people of Pakistan are very good. They just do the Sudarshan kriya. We have teachers there. When you are stuck in concepts, you are in the box. It is when you get an experience that you can come out of the box.

Q: Gurudev, What to do when love, devotion and faith gets shaken?
Sri Sri Ravi Shankar:
That is very good. It goes deeper when it is challenged, true love and devotion gets deeper. Testing times comes in everybody's life. You pray and sometimes your prayers don't get answered. 10 times you get what you wanted, and when 11th time you don't get, you start complaining. Is it the case? (The boy said, "Yes, one of my friends ditched me and I am feeling intense pain"). That is when you pull on yourself. Keep on your practices. God is in every heart, everywhere, all around you, and inside you. He knows what is best for you and he will give you the best.
That is why when you ask for something, ask this or something better.
Q: Gurudev, You have done a lot for my life? What can we do for you?
Sri Sri Ravi Shankar:
The society needs you. The society is to be benefitted through you. Like you have felt happiness, same way you can bring this happiness to 10, 20, 50 people. When you are happy and others become happy through you, I will also be happier.
Q: Gurudev, Is religion necessary to get deep into spirituality?
Sri Sri Ravi Shankar:
Religion is different from communism. Being religious means being compassionate, honest and not treating others as you do not want to be treated as.
Q: Gurudev, You are not only a Guru, a Spiritual Master, but you are also so skilled in management. How come you manage everything?

Sri Sri Ravi Shankar:
Guru is not a physical entity, but Guru is embodiment of knowledge and discretion. Guru is pure consciousness. There is no difference between universal consciousness, Guru and the Self. You should also be a Guru to someone. What does it mean to be a Guru? You don't expect anything from them, and do whatever you can to uplift them with the feeling of love. Start with the one, then two, three…..10. 'I am for you; you don't need to worry' - Then you would also be able to say this for everybody.

Q: Gurudev, Why is it becoming increasingly important to save the planet earth?
Sri Sri Ravi Shankar:
Because we are increasingly exploiting the planet earth more than what it can recuperate from. As individuals we can each do something to help the planet. You can be part of some service project like planting more trees, creating awareness about not using plastic bags. You can meditate everyday and put your attention on these issues. When we have an intention and put our attention on that, it will start manifesting. We don't use the mind power that has been bestowed on us by nature. It is the greatest gift we have been given.
Q: Gurudev, Dearest guruji, sometimes I feel that I have not got over a death in my immediate family , and it prevents me from moving forward in my own relationships, and starting my own family. I'd want to move on but sometimes I feel I'm my own worst enemy. Please help me guruji. I am waiting patiently for you to read, and answer my question.

Sri Sri Ravi Shankar:
You meditate, you do bhajan. These vibrations reach them also. You be peaceful and peaceful vibrations from you go across to the other side. That is why spirituality is called 'Sadhana' in Sanskrit, which means the real wealth, the real currency that can go even here and there (laughs). The other dollar currency cannot be used on the other side. That's why we say when you do satsang, sing and meditate, these positive vibrations reach them. And then, these emotions when they come up just observe them, watch them. They will come, evaporate and disappear. Don't make a big issue about it. Move on.

Q: Gurudev, How do you let go of someone you love?


Sri Sri Ravi Shankar:
You must know that love is your nature. Love doesn't mean possessiveness. Love is not "Oh I love you so much, don't go anywhere. Sit next to me all the time." That is not love.
Q: Gurudev, My husband practices Sudarshan kriya but does wrong deeds. What should I do?
Sri Sri Ravi Shankar:
How can this be? Then he may be doing Sudarshan kriya just as an excercise. Bring him for a follow up, or meditation camps. Or, may be what you see as a wrong deed is not perceived so by him. Talk to him.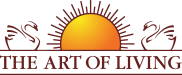 Founded in 1981 by Sri Sri Ravi Shankar,The Art of Living is an educational and humanitarian movement engaged in stress-management and service initiatives.
Read More