Question & Answers with Sri Sri Ravi Shankar

Q: Gurudev, Craving and ego are troubling me. What to do?
Sri Sri Ravi Shankar:
Be natural. Take things as they come.
Q: Gurudev, What is causing so many people fall in depression?
Sri Sri Ravi Shankar:
If we keep thinking what about ourselves all the time, we will get depressed. You should see what you can do, and how you can contribute to the world.
We all have to work towards having a stress free, violence-free, drug and alcohol free, and healthy society.
Violence free society, disease free body, confusion free mind, inhibition free intellect, trauma free memory and sorrow free soul is the birth right of every individual, and that's what I have been telling around the world. We are all one family; we all belong to one family.

Q: Gurudev, What is sin and virtue?
Sri Sri Ravi Shankar:
Sin is that which inflicts pain on yourself and also on others. Virtuous action is that which brings peace and happiness to you and also to others.
Q: Gurudev, How the transformation of the world will happen?
Sri Sri Ravi Shankar:
If we all work towards it. More and more spirituality, meditation, singing, and world will become a better place.
Q: Gurudev, What is the importance of lemon in aura cleansing?
Sri Sri Ravi Shankar:
Have you see lemon juice under the microscope? It looks like the rays of the sun. When you see vitamin C under the microscope, it looks like a sunflower. Some substances like salt, lemon, chilies etc, have the potential to remove negativity. In the west, bathing in the ocean for rejuvenation and improving health is popular. The burdens, the worries in the mind, harmful influences are reduced in this way. Faith also works here. Even when you take regular medicines, if you don't have faith in the doctor or the medication, it may not help you at all.
Q: Gurudev, I know one cannot be happy and married. But can one be married and enlightened?
Sri Sri Ravi Shankar:
Why do you think that one cannot be happy and married? Why cannot you be happy and married as well? There are many bachelors who are not happy, and also there many married people who are happy. Happiness is an attitude which you chose. It all depends just on you. There are people with no jobs but are happy. There are people with jobs and are unhappy. Be wise and be happy. Do whatever – married, unmarried, employed, unemployed…But independent of what you are doing, you need to be happy.
Q: Gurudev, How to come out of a judgmental mind?
Sri Sri Ravi Shankar:
If you know you are judgmental you are already out of it.
Q: Gurudev, My heartiest gratitude to you. Who are you Gurudev?

Sri Sri Ravi Shankar:
: First, you know yourself. Why are you putting your effort in knowing me? You don't know who you are. First, know that how many times have you come in this world? When you know yourself, it will be very easy to know me.
Q: Gurudev, How does one balance between professional life and spiritual life?
Sri Sri Ravi Shankar:
You know how to ride bicycle or motor bike? How do you balance? You just do it.
Q: Gurudev, what is the purpose of life?
Sri Sri Ravi Shankar:
One who knows won't tell you, and anybody who tells you doesn't know. It is very important question. Keep it with yourself. You should keep yourself asking this question. This very question will clear the entire cobweb around you, and will keep you on track of what you want and where do you want to go.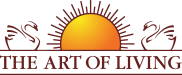 Founded in 1981 by Sri Sri Ravi Shankar,The Art of Living is an educational and humanitarian movement engaged in stress-management and service initiatives.
Read More