Question & Answers with Sri Sri Ravi Shankar

Q: Gurudev, In today's world, people really think of survival. How to deal with it?
Sri Sri Ravi Shankar:
It isa natural concept where survival is the first thing. It is a natural instinct butwhen self-confidence and vision is infused, survival will naturally be includedin it, without any kind of fear. I have spoken about this in our books - Celebrating Silence and Celebrating Love. You can read thesebooks when you have a question.
Q: Gurudev, Do you find any changes here in Malaysia now since you are coming after 11 years?
Sri Sri Ravi Shankar:
Lots of changes…infrastructural development…rest I have to find out, I have just arrived last night. I can't form an opinion overnight, I have just arrived. Today I will be meeting people and we are having a meeting of all the teachers from all over south east Asia in Penang tomorrow, we have a workshop with all the teachers for four days and also a Silence Retreat meditation programmer.
Of course, lots of people from Malaysia have been regular visitors to our headquarters in Bangalore, India. I keep seeing them everywhere else in Europe, in America etc and they will always ask me "when are you coming to KL, when are you coming to Malaysia?'', so this time I could squeeze in!
Q: Gurudev, what can I do if I see that someone's working too much and her body and emotions become sick of that. She is much older than me, and I love and respect her too much. I become very sad if I see that I can't do anything.
Sri Sri Ravi Shankar:
You know, whether people work or not work, they can get sick. There are lazy people on this planet who get sick. In fact, they fall ill more often. Because their minds are idle. So you don't have to connect these two things. Some people are so health conscious yet they get sick.
So, sickness is not due to one thing. There could be many factors. One of the factors is karma, some impressions of the past.
Second is violation of the laws of nature, and then third is that you catch from the environment. So, there are many factors.
Catch the rest in the coming post…
Q: Gurudev, I am very naughty and do a lot of mischief and got badly scolded as well. I know you were also very naughty then how come you didn't get any scolding anytime?
Sri Sri Ravi Shankar:
Oh! I also used to be scolded, and that adulthood is not even worth which hasn't undergone scolding in the childhood!
Q: Gurudev, They say we must dare to dream big. But what follows is desire. How does one handle this desire?
Sri Sri Ravi Shankar:
With discrimination! Desires just come up. You should have your dreams but remain grounded.

Q: Gurudev, Is it true that some places have negative and positive vibes? I have experienced that our group working in our suburb doesn't get the success it does outside. What should we do to increase the sattwa of a place?
Sri Sri Ravi Shankar:
Keep working, keep doing. Everywhere it is possible to make a change. It's just a matter of time.
Q: Gurudev, People have lot of expectations from me. What to do?
Sri Sri Ravi Shankar:
It is their problem! You give your 100 percent, do whatever you can, and then if somebody expects more, it is their problem.
(Sri Sri then asked the audience about the progress they were making in learning the Bhagwad Gita. After the audience recited shlokas from the 7th chapter, Sri Sri proceeded to explain the meanings.)
When a yogi sleeps, everybody is awake. And when everyone is sleeping, a yogi is awake. This is what Lord Krishna says in Gita. You have already heard this? What does it mean? It simply means, when everyone is excited and worried, the yogi sleeps comfortably. The yogi knows that everything will happen for the best, and all happenings will be for the general good. A yogi has this confidence.
And when everyone else is sleeping, then yogi is awake, meaning that the yogi is aware of the Truth about life when everyone is asleep, sleeping about the truth of life. Nobody wonders, 'What is going to be my end?, where will I go, what is life, who am I?' When none of these questions arise in people's mind, they are asleep.
People are lost in watching movies and playing video games. There are people who begin playing video games even at a very old age. Man isn't seeing that death is coming near… He does not think, 'How I have filled my mind with so much craving and aversion. And I have done nothing to wash and cleanse my mind'. If you don't cleanse the mind of impressions, then you have to carry the same mind and same impressions with you after death.
So when you die, your mind should be happy and joyful! One who is sleeping, he is taking all garbage into his mind. The yogi is alert and awake. He does not take any garbage from anybody into his mind: Why did this man said this to me? That lady said that to me?
Your mind is completely destroyed thinking about others' imperfections. Leave others' imperfections to others. Let them handle that. You handle your mind, you handle your imperfections, that is good enough. Do you have patience to accept others' mistakes? You have to accept others' mistakes? Correct them as much as you can. If you are so compassionate, only then you should correct it. Otherwise leave it to Nature, they will find their own way. But if you are so compassionate, correct it with compassion, and then, it doesn't get into your head, your mind.
When do you get angry or upset? When you see someone else's action as imperfect. Can you correct somebody's action like this? His action is imperfect but now by thinking about it, your mind has become imperfect. At least save your mind. Others have gone on the wrong path, why should you let your mind also dwell on the wrong! Right? That is why He says, the yogi is awake when others are sleeping. When you are sleeping, you let others' garbage enter your mind. But yogis don't let this happen. They keep their mind fresh.
Q: Gurudev, Why do natural calamities occur only in specific areas?
Sri Sri Ravi Shankar:
Why natural calamities occur only in specific areas, I have no idea! You have to ask mother earth but one thing I tell you we are misusing this planet so much. Every day we are putting so many dynamites under this earth and blasting it. Why will it not shake? Mining has become such a business, five to six companies around the world are doing mining and mining and mining… depleting this earth more than it can recuperate itself.
Q: Gurudev, if we do that people will think we are so insensitive.
Sri Sri Ravi Shankar:
Let them say what they want. That is what you are trying to do, please them. 'No I am not insensitive, I am sensitive.'
As I said, you do your job, whatever you should do you do, but don't sit and listen to their problems, and don't get carried away by it, got it!
Q: Gurudev, When someone has done something wrong and don't even realize it how do you forgive them?
Sri Sri Ravi Shankar:
When you forgive then your mind becomes calm. Tell them with compassion and love, not with anger. If you become happy by putting guilt in someone's mind that is not good either. Tell them with love and then you drop it.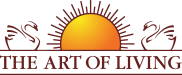 Founded in 1981 by Sri Sri Ravi Shankar,The Art of Living is an educational and humanitarian movement engaged in stress-management and service initiatives.
Read More