Question & Answers with Sri Sri Ravi Shankar

Q: Gurudev, Jai Gurudev! How to educate someone about vegetarianism? I have tried educating and have been ignored!
Sri Sri Ravi Shankar:
More and more people are becoming aware of vegetarianism. Here, I heard last week that a major newspaper in Germany carried three full pages on the benefits of vegetarianism. Vegetarianism has many benefits. It helps your body's digestion; it helps the environment as well. You know, even if ten percent of the people in the world become vegetarians, the green house gas effect problem is gone. We are done with it; we will have no more problems of global warming. That's what the scientists say. So we need to promote more and more vegetarianism. People change a little slowly and we need to have patience, Okay!
Q: Gurudev, Guruji, What is Bhakti (devotion)?
Sri Sri Ravi Shankar:
: Listen to Bhakti Sutras talk, I have spoken in that, yeah!
Q: Gurudev, In order for people to feel better, is it a simple case of breathing, meditation and embracing intuition?
Sri Sri Ravi Shankar:
"Correct!. We are not taught at school or at home how to manage negative emotions, like feeling unhappy, sad, jealous or angry. This knowledge has not been provided. But if you are taught how to manage your anger and your own emotions using your own breath, then it does a lot of good. Acquiring that knowledge is possible with the help of breathing and meditation.
I have been in Buddhist and Hindu traditions for centuries, in China, Japan and India, through breathing and meditation. But the difference between our techniques and these old techniques is that ours suit modern-day people who have less time. This technique is so handy, useful and accessible in today's modern society".
Q: Gurudev, Dear Guruji, as my Guru, you are the only one for me. I love you so deeply and follow you wherever you go. As a person, I often feel, such a deep distance. I'm afraid sometimes. I don't understand this. It's not really a question, but could you say something about it?
Sri Sri Ravi Shankar:
You know we go through different types of emotions. We like somebody and later we dislike the same person. We trust somebody, and doubt the same person later. These mixed emotions rise and fall in our minds. Don't be scared. All these emotions make you strong somewhere, deep inside. Somewhere, you will emerge a very powerful human being. When you become aware that these transient emotions are just a temporary phase, and realize that you are much bigger than this, you become strong and centered. Don't get stuck in any of these emotions and form a concept in the mind.
Q: Gurudev, I am into a field of research where I try to figure out the reasons of chaos in the world. In one of my researches when I was finding some conflicting threads in various religious prevalent beliefs, I found both Lord Budha and Lord Shankarya Charya had spoken of Soul. Can you throw some more light on seeming different statements of the Masters as per different times?
Sri Sri Ravi Shankar:
Lord buddha said that everything is nothing. Everything dissolves into nothing. He said, I meditated to see the soul and found no soul.
Shakaracharya said: "Who searched? Who found that everything is nothing? Who said I did not find the Atma? That is Atma. That is what upanishads say. Buddha says the whole universe is empty like the space, Shankara Charya says the whole universe is full like space - everything is in space.
Q: Gurudev, You have a very big dream in bringing world peace. If, in our lives, we meetpeople who follow orthodox and rigid ideas and are ready to die and harm otherpeople, how should we deal with it?
Sri Sri Ravi Shankar:
We need to deal with suchpeople with patience and we have to educate them, it's not an easy task. First,we should begin from prisons. When one amongst them joins us in spreading peace,it is much easier.
Q: Gurudev, You always travel all over the world. How do you see the changes happening in the world?
Sri Sri Ravi Shankar:
You know world means changes. There are some changes for good and there is deterioration as well. If you see , the human values have deteriorated, stress is increasing on one side, pollution and environmental problems, families are breaking up into smaller families, more insecurity in financial sector, crash in the world market has affected people a lot….
At the same time, there are lot of positive developments as well. People have become much more sensitive towards environment, compassion has increased, people are coming out and helping in the times of disaster. So, you should see both happening and what is needed is to aid the positive aspects in the society and to reduce stress – these breathing exercises are necessary to do this and brings a sense of belongingness among people of various communities and age groups.
Q: Gurudev, Basically I don't really know how to say it, it's a question I have been asking myself for a very long time and it might seem a bit awkward but as I look at the whole universe and see everything is interrelated, I really wonder how the human kind is really useful in the system and are we of any use while we are here?
Sri Sri Ravi Shankar:
Very good question! What is the purpose of life, why are we here? And you know you should give a pat on your back. If this question has come into your life that means your intellect is mature. There are millions of people who live their whole life without even asking this question, 'what is the purpose of life? Why am I here?' They simply eat, drink, watch television, make love or fight, and die. They have no idea; they don't even stop for a minute and think what life is? Who am I? What do I want? What can I do and how can I be useful? None of these questions even cross anybody's mind; if it has come into you that mean you have begun living. Your life has started the right journey and this journey is what you call spirituality - to find out exactly what is the purpose of life. What do I want? Who am I? Before you can ask what you want, first you should know who you are. What is life? There are two important aspects to this question, one is the science and another is spirituality. You know what THIS IS through science, and through spirituality you know 'WHAT AM I?'
'ME' and 'THIS'; 'THIS' you understand through science, 'ME' you understand through spirituality.
What is this 'I'? To know the 'I' first you understand 'THIS'. What is 'THIS'?
Oh 'This is world', 'This is body', and 'how did this body come into existence?'
It came as a baby weighing only four or five kilos. Then the baby took all the material from this earth and becomes fifty kilos. So what is in this body, how this body has come up?
Q: Gurudev, Can you talk about how one should be with mentally retarded people?
Sri Sri Ravi Shankar:
They have come here to take service. Simply serve them
Q: Gurudev, Will the business world be organized differently in 20 to 30 years from now?
Sri Sri Ravi Shankar:
"We have already stated. In the past, the business world ran on economic pressure, because people had no other means. But today, the global market is so open and the choices are many and varied. People are more aware than it was a few years ago, so now they want to move around. If not here, they will find job advancement; it has turned the business view completely upside-down. Before, it was regionally oriented because you had to do a job and availability was limited".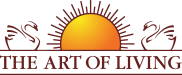 Founded in 1981 by Sri Sri Ravi Shankar,The Art of Living is an educational and humanitarian movement engaged in stress-management and service initiatives.
Read More