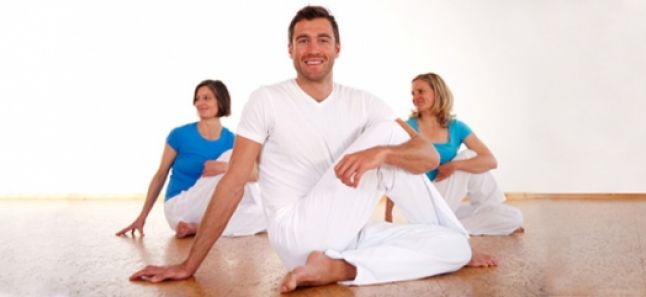 ¿Qué es yoga?
Si pensabas que el yoga es todo acerca de flexión y torsión del cuerpo en formas extrañas, es el momento de repensar. Yoga es mucho más. En palabras muy simples, darle atención al cuerpo, la mente y la respiración, eso es yoga. Esto significa que esta práctica milenaria incluye: posturas de yoga (asanas), técnicas de respiración (pranayama) y meditación. A través de ellos, el cuerpo, la mente y la respiración experimentan la unión en armonía, y ese momento es yoga. El Yoga trae la mente al momento presente, mejorando su claridad y su estado de alerta. Así, la mente se pacifica y puede lidiar con el estrés diario.
Sri Sri Yoga – La puerta de entrada a una salud óptima.
¿Has notado que en las 24 horas que tiene un día, tenemos tiempo para todo y todos, pero para prestarle atención a nuestra mente y nuestro cuerpo no tenemos ni unos pocos minutos? En el curso Sri Sri yoga tú vas a tener muchos momentos exclusivamente para pasar con vos mismo y darle un descanso profundo tanto a la mente como al cuerpo. Este taller tiene como objetivo lograr una armonía entre la mente, el cuerpo y la respiración, así como también corregir cualquier desequilibrio que hay en tú sistema, lo que causa ciertos problemas como dolores de espalda, etc. Una experiencia completa del yoga ocurre en el curso Sri Sri Yoga.
Yoga para todos.
El Yoga nunca ha sido ajeno a nosotros. Es parte de nuestra vida. Lo hemos estado haciendo desde que éramos un bebé! Desde el estiramiento del gato para fortalecer la columna vertebral hasta el provechito para impulsar la digestión, siempre verás a los niños hacer algún tipo de yoga durante alguna parte del día. Ahora es el momento de volver a la práctica y Sri Sri Yoga puede ser tu guía. Aquí, tú encontrarás algo para todos - ya sea yoga para principiantes o una práctica avanzada, niños o adultos, mujeres o ancianos - todos pueden beneficiarse de los cursos de yoga.
Los beneficios de prácticar Yoga.
Son innumerables. Hay para todos los gustos: pérdida de peso, diabetes, mejor manejo del tiempo, liberarse de la ira, mejorar la comunicación y la creatividad en el trabajo. El yoga tiene la respuesta. Esta práctica tiene enormes beneficios no solo para el cuerpo si no también para la mente, y así poder disfrutar de una perfecta salud y estado.
Las escrituras antiguas sugieren numerosos caminos para alcanzar la unión con el Ser; los siguientes son algunos de estos caminos:
·    A través del conocimiento, Jnana Yoga
·    Reconociendo y honrando lo Divino a través de la devoción, Bhakti Yoga
·    A través de acciones desinteresadas de servicio a la sociedad, Karma Yoga
·    A través de un esfuerzo para alcanzar el bienestar del cuerpo y la mente, Hatha Yoga
·    A tavés de la meditación, Raja Yoga
·    A través de prácticas que despiertan y regulan el flujo de la energía pránica*, Kundalini Yoga
Share your Yoga Experience
Rajanish Shukla

I had an amazing experience! The course is filled with energizing yoga poses and knowledge. We all felt very light while learning and doing the asanas.