Mega Events
Search results
Place Holder Text: Normal 0 false false false Note: We need to have following prominently displayed on the landing page to ensure ease in user interaction. Each hyperlink to be followed by a "Register" button similar to what is displayed here, http:// us. ...

http://www.germany.info/Vertretung/usa/en/04__Legal/02__Directory__Services/01__Visa/__Visa.html Visa information for non-US Citizens Requirements for non-US citizens vary with the country of ... their citizenship. Please follow this link for complete information, http://www.germany.info/Vertretung/usa/en ... sightseeing, please follow this link, http://www.berlin.de/international/attractions/index.en.php ...

Post Event Thank you for registering. Share your experiences of chanting with us: email photos, videos etc to webteam.india@artofliving.org Your experiences, photos and videos will be published on the site. ...

Thank You for choosing your topic! The Details of this online exclusive Satsang with Sri Sri will be soon published here   ...

We will use your feedback to improve the quality of webcast ...

0 Annam Brahm: Largest food festival Annam Brahma- A celebration for world peace, in which 5,000 different Indian Vegetarian dishes, followed by 'Bal Bhoj' wherein poor young children will be fed. Date: November 2, 2010 Venue: Ahmedabad, Gujarat ...

South Africa 20th of Nov 2010 What drove 700 people from all walks of life in Cape Town, South Africa to Maynardville Park on a lazy Saturday morning? The rain not withstanding,everyone stood in neat rows and followed the instructions of a Sri Sri Yoga te ...

0 We will get back to you shortly... To learn more about The Art of Living courses in your area, call our helpline number: +91 7676 440044 Monday- Sunday: 8 am- 8 pm IST.   0 0 ...

We begin on the mission of building this Meditation Hall as a family, to bring peace and comfort to all those who come. This space of peace will inspire many to return to their own communities and spread the message of love, caring and compassion. By stre ...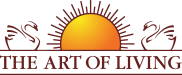 Founded in 1981 by Sri Sri Ravi Shankar,The Art of Living is an educational and humanitarian movement engaged in stress-management and service initiatives.
Read More