Virtues
Search results
If we observe our behavior, we procrastinate doing something good but we are in a hurry when it comes to doing something bad. For example if we are angry we want to express it immediately and not wait. Do you know WHY? Because virtues are your very nature ...

Virtues have to be practised till they become your nature. Friendliness, compassion and meditation should continue as practices till you realise that they are your very nature. The flaw in doing something as an act is that you look for a result. When it i ...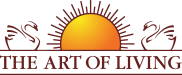 Founded in 1981 by Sri Sri Ravi Shankar,The Art of Living is an educational and humanitarian movement engaged in stress-management and service initiatives.
Read More