Wisdom
Search results
Sri Sri Ravi Shankar maybe in the North, South, East or West part of the world, but you are just a click away from His astounding tips on life! Sri Sri's discourses and a wide-range of knowledge from his journeys around the world will be dropped ri ...

Below is a playlist of wisdom videos talks of Sri Sri Ravi Shankar. To watch the playlist videos, you need to click on the playlist icon in the youtube player.   Wisdom Talks Talks on Yoga & Meditation Recorded Webcasts--> ...

Daily Sutra Subscription Wisdom Post Subscription Enter your email address: ...

Click on the topics below to read | Knowledge of the moment! A Anger Atheism Anxiety Ayurveda Austerity Aggression Abundance Attachments Appreciation B Bliss Blame Beauty Balance Blessedness Belongingness Blossoming in life C Choice Comfort Conflict Chr ...

With humour and insight, Sri Sri Ravi Shankar has revived the profound knowledge from ancient sacred texts in the form of commentaries that make the wisdom easy to apply to daily modern life. Art of Living centres offer group study sessions based on vie ...

You will start receiving an email daily with an wisdom quote from Sri Sri ...

Chanting Satyam Param Dhimahi brings the resilence and spiritual strength needed to fight corruption. Let us create a wave in India from Kashmir to Kanyakumari. From (chanting) Satyam Param Dhimahi (Let Truth, Divinity and Knowledge shine through me), it ...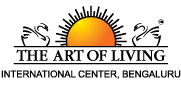 Founded in 1981 by Sri Sri Ravi Shankar,The Art of Living is an educational and humanitarian movement engaged in stress-management and service initiatives.
Read More