Education Donations - Gift a Smile
Indian National Donor : Click here to contribute


International Donor: Click here to contribute
The Art of Living runs 404 free schools across 18 states of India, providing free education to more than 39,200 children in the slum, tribal and rural belts where child labor and poverty are widespread. The schools nurture the complete child, including body, mind and spirit. Read More here
The schools offer State Syllabus (accredited by the State Govt.) allowing children to mainstream into the current educational context. Most of the children are first generation learners, paving the way for a generation of educated families.

Sports and extra-curricular activities offered in the schools promote the all round well being of the child.

How can I Participate?
There are many more children waiting to be supported.You can participate in making this beautiful vision come true.It costs Rs.10,000 per child per year(education,transport, food, medicals, uniforms, books, bags etc. inclusive).

Contributions receive tax exemption under Section 80G.
We have 'Gift A Smile' desks in different parts of India and abroad. For more information please email: info@artoflivingschools.org
Other Donations
Indian National Donor: Click here to contribute


International Donor: Click here to contribute
The campus has been a pulsating monument of collective participation in the spirit of community service for three decades now, with many more to come. This has been possible only through the numerous helping hands that have contributed.

You can be a part of this too - here are some options through which you can contribute monetarily towards various services and stretch your hand.
(All donations are tax deductible as per section 80G.)
Construction of a dwelling unit at Campus: The requirement to house more number of people at Campus is increasing exponentially every year. One dwelling unit costs around six lakhs. You are invited to be a part of Campus Nirmaan.
Contribution towards free meals: Campus Kitchen serves an average of 18-20 thousand meals each day. You can be part of sponsoring one day's meal. Estimated cost of each day is One Lakhs rupees.
Towards Animal Welfare: Campus caters to the requirement of two hundred cows. You can be part of sponsoring a cow Gou-daan (donate a cow) (Rs.35000/-)
For more information please email: donations@vvmvp.org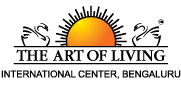 Founded in 1981 by Sri Sri Ravi Shankar,The Art of Living is an educational and humanitarian movement engaged in stress-management and service initiatives.
Read More