Introductory Programs
Suchergebnisse
Joy Teamwork Relaxation Leadership Skills Youth Empowerment and Soft Skills Workshop YES!+ is an innovative and dynamic educational and life skills program for students and professionals aged 18 to 35. that charges the youth with a fresh breath of vigor, ...

EXISTENCE IS A FACT- LIVING IS AN ART Life, in its many facets of Family, job, society- demands a lot. Worries, fear and stress are a natural result. We lose our inner balance, feel weak and lack energy. We stop living our lives, only to function until we ...

Silence Retreat The Silence Retreat- also suitable for beginners Holiday for body, mind and soul- a journey from the head to the heart! Silence and Stillness are the best conditions for our actions to be successful. This knowledge often gets lost in the h ...

A Pure form of Yoga Yoga Poses for Beginners Learn Yoga Asanas Stress Free Body and Mind Learn Yoga Postures   Pure form of yoga Sri Sri Yoga- The path to a stress free body and mind Welcome to Sri Sri Yoga- the pure and authentic form of yoga. A complete ...

For those whom have completed an Art of Living Part 1 Course and/or Yes Plus Course Refine Your Practices Experience Higher Energy Inspiring Dynamic Action Art of Living centers around the world offer weekly drop-in group practice sessions open to all who ...

Sri Sri Natya combines the healing power of mudras, yoga postures, dance and meditation Mudras, or hand positions, balance the energy and reduce stress Immerse yourself in the joys of dance and music. Give yourself a smile. The Sri Sri Natya course gives ...

St. Mary's students pose at the YES! Nepal Youth Adventure Camp St. Mary's students pose at the YES! Nepal Youth Adventure Camp YES! Nepal Youth Adventure Camp participants ponder physics YES! Nepal Youth Adventure Camp participants ponder physi ...

Art of living has initiated with Stress Free Teaching workshops an interactive 1 Hour workshop for School Teachers which covers following areas of teaching. Root cause for stress in teachers Addressing the root cause of any problem Simple exercises to rel ...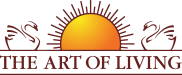 Founded in 1981 by Sri Sri Ravi Shankar,The Art of Living is an educational and humanitarian movement engaged in stress-management and service initiatives.
Mehr