Question & Answers with Sri Sri Ravi Shankar

Q: Gurudev, What is Upanishad?
Sri Sri Ravi Shankar:
Sitting close and listening is Upanishad. Upanishad is a collection of discourses of high knowledge, and the manner it was transmitted from a Master to students is very interesting.
One of the Upanishads beautifully brings this out well. Once a boy went to his father who was also his Guru and asked, 'What is God?' To which the father replied, 'Food is God', for everything grows from food, everything is sustained by food and when there is a lack of it, everything dissolves and everything again becomes food.
So the boy went and thought about it for several months, understood all about food and came back to his father, and again asked 'What is God?' The father said, 'Prana is God'. The boy went, thought and understands all about prana, how it is going in and out of body, how many types of prana there are and read all experiments about prana. He again came back to his father and asked, 'What is God?' The father looked at the child's face, so glowing and so vibrant. The father said, 'Ok, the mind is Brahman, mind is God'. The boy went and thought till he found the ultimate bliss.
Notice, that the student didn't complain to the teacher that he was earlier told 'Food is God' but later something else. He simply came and again asked the question. So this is an ancient way of teaching, step by step – food, then prana, then the mind, then the inner spirit, then the universal spirit, Bliss. Bliss is Divinity, the space. You are like the space. Then he said, 'There is no difference between you, me and the infinite self. We all are one. The Self, Guru and the universal energy are not different. All are made up of one substance.'
Today if you talk to scientists who study the string theory, who study quantum physics, they will say the same thing that is said in Upanishads. In the Upanishads, it was said thousands of years ago that 'God is not a person, sitting somewhere up in heaven but God is present everywhere. He is omnipresent and omnipotent, the energy of which you are also made of, everything is made up of.' Don't confuse God to be a person, somewhere sitting up in heaven. Godliness is your own nature.
God is Vibration. God is Love. God is Truth, Existence. God is Beauty.
People right through history have told this. Lord Krishna told Arjuna, 'People think I am a human being but I am not. People confuse the Divine to be a human being. But God is the force, He is energy. That is Divine and not a person.'
Q: Gurudev, How does one handle disappointment when something undesirable happens or you lose a dear one? How one can still smile and be centered?
Sri Sri Ravi Shankar:
Come on, wake up and see. It's all a dream. Things happen or don't happen. It is still a dream. An intelligent person won't sit and cry, 'Oh,yesterday this happened in the dream, I was the Prime Minister'.
Just imagine someone is very happy because yesterday, (in his dreams), he was the prime minister or became the richest man in the world. What will you say? What to tell them? It's foolishness, stupidity. You are overjoyed about a good dream and you are miserable about a bad dream. A dream is a dream. Come on. Wake up. Have a cup of tea. (laughter) Herbal tea. (Huge Laughter and applause) By the way, I don't drink any tea, not as a habit. Sometimes, if I go somewhere and they only have tea and nothing else, just to satisfy them I will have.
Q: Gurudev, This is my 10th Advance course. But I am not able to get rid of my fear. I don't know what to do?
Sri Sri Ravi Shankar:
Yogasana, do more yogasanas (practice of yoga postures). Yogasanas stretch your nervous system. The endocrine system gets strengthened.
Q: Gurudev, Guruji, I do all practices when I am in problem but otherwise I stay away from path. What should I do?
Sri Sri Ravi Shankar:
This you figure out. When misery comes, everyone thinks of God. But to one who thinks of God even when happy, why will misery touch him? There is an old proverb which says this Sukh mein simran sabh karein, dukh mein kare na koi,Sukh mein simran jo kare to dukh kahe ko hoyeThis applies to us also. When you are doing pranayama, Sudarshan kriya, when you are happy, then that happiness will continue.Today, there was an article in the paper which says that the only way to cure depression is by meditation. Anti-depression medicines will make the depressioncome back. There is a rebounding of depression with anti-depression medicines but with meditation there is no rebounding. Today millions of people are suffering from depression and they don't know something like this exists. They don't know there is a way which can make them free from depression. When you go back tell everyone about meditation. It takes one out of depression, suicidal tendencies. Look at Rashid (pointing to a youth who has come from Kashmir), he is smiling after 12 years and is now doing wonderful service also.
Q: Gurudev, Why this year called virodhi?
Sri Sri Ravi Shankar:
Maybe to keep a space for conflict also in society. It finishes in March. March ahead.
Q: Gurudev, Can the common man attain spirituality?
Sri Sri Ravi Shankar:
Only the common man can attain spirituality! If someone thinks they are very special, they cannot!
Q: Gurudev, What karma should I do that I don't have to take birth again?
Sri Sri Ravi Shankar:
Why not take birth again? We don't want to take birth again because we find this birth miserable but when there is joy in this birth, you are doing satsang daily, then why not take birth again? When you are in joy, doing satsang and serving people around then you will say I should have hundred more births like this. When you are so tired of this birth, when hopes and desires have tired you, whendesires have burnt you then only you say, 'I don't want to take birth again'. Whatever desires you have, fulfill those and those which are not to be fulfilled, drop those and be happy.
Q: Gurudev, You have highlighted the importance of innovation and creativity, but with that comes a lot of risk and uncertainty. It's only after numerous failures that a successful new technology or product is evolved. So how should one manage the failures that come as a by-product of striving for innovation? How to rise up after each failure and restart the journey to discover something new?
Sri Sri Ravi Shankar:
Failure is a part of the process. Meditation will help you to go ahead in spite of failures. Innovation without failure is possible if you are able to use your intuition perfectly. Both should act perfectly to achieve zero failure in innovation. If intuition is not in proportion then failure occurs more often.
Q: Gurudev, Guruji, singing Shiva and Krishna songs in satsang make many people wonder. Although we imbibe so many good vibrations this still makes some people think that we are singing Hindu songs. Why do we sing songs of so many Gods? People from otherreligions get confused between the real meaning of satsang and the symbolic meaning behind mantras.
Sri Sri Ravi Shankar:
The sound of 'Om namah shivaya' includes all the five elements – Earth, Water, Fire, Air and Ether. Hinduism is not a religion as such. People have beenchanting this for thousands of years. Mantras are those sounds which you hear from deep within during meditation and the aim is to bring one back to the source. During later days, people started putting faces and drawings to these mantras. Mantras have got certain vibrations/ energy. They are universal.
Even in churches in Latin America 'Marnah nath' is used. Its translation in Latin and Sanskrit is so close. For 'Lord' the word in Latin is nath and also in Sanskrit the word nath is used to mean 'Lord'. So the word marnah nath meaning 'My lord' which is used in Christianity is actually a Sanskrit word.
Chanting in Sanskrit is beneficial because Sanskrit is the oldest language known to mankind. It has a deep impact on the consciousness. We welcome all songs – Japanese, Korean, Spanish. Any song you want to sing is welcome. We sing a lot of songs inSpanish and Portuguese in satsangs in South America. Of course, in India everybody easily connects with ancient mantras. Take any language you want but along with it take this also. How many of you feel singing and chanting these mantras creates some vibrations? (All raise hands in affirmation) It's obvious. In Vedic chanting, many times you don't know even the meaning but it has some effect.
In the morning we did Rudra Abhishek, this has been practiced for over thousands of years. We use crystal, milk, yoghurt and flowers etc. They all create a certain impact and send out positive vibrations.
Q: Gurudev, Dear Guruji, how old are the Vedas? Do we have all the Vedas now? I hear we may have lost some knowledge?
Sri Sri Ravi Shankar:
You are correct! There are four main Vedas. Vedas means a collection of poems- verses heard by Rishis, sages when they went deep in meditation. When someone went deep in meditation, they heard something and whatever they heard, they started telling their students, disciples. So these were truths which were derived or heard and downloaded from the cosmic consciousness. They had a way to download it in those days. The downloading is - close your eyes, meditate and what you notice, what you see - you click and then you download it. Surfing! Surfing around and downloading. So Vedas were downloaded like that.More than one thousand sages or those who are called Rishis - Rishi means the one who saw or one who heard. They saw it, they heard it and they wrote them.They didn't write themselves, they recited and told their students and they recited and so for a long time it was just passed on from one to another - verbally, vocally. That's why they are called Shrutis.Originally these Vedas were divided into four. Originally the Rigveda had so many- twenty one different branches but today only three are available. Similarly, Yajurveda has some two hundred and eleven branches, but today only few - five or six - are available. Similarly, Samveda – thousand different Samvedic hymns, branches were there. Today only three branches are there. Rest is all lost. During the medieval times in India, when there was so much repeated aggression, those Vedas were all lost.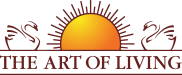 Founded in 1981 by Sri Sri Ravi Shankar,The Art of Living is an educational and humanitarian movement engaged in stress-management and service initiatives.
Mehr