Question & Answers with Sri Sri Ravi Shankar

Q: Gurudev, What is liberation? Is it possible to be liberated in this birth?
Sri Sri Ravi Shankar:
It is possible in this birth only. You should listen to Ashtavakra (A commentary by His Holiness ).


Q: Gurudev, What is 'stridhan'?
Sri Sri Ravi Shankar:
In ancient India there was a system. The man of the house used to give some money to his wife. This money was not to be touched. The lady's money was always built up. The man would give a portion of his earnings, five – ten percent of his income to the lady at home and the man had no right to touch it. She would build that money up.
This used to be our system. All this is gone. All the good traditions have been ignored and we have adopted all the bad habits.
Q: Gurudev, Guruji I want to increase my faith…

Sri Sri Ravi Shankar:
Stop the struggle to strengthen the faith. Assume you have faith, if it shakes, pray to God to make it strong.
Q: Gurudev, Guruji I feel I lack self confidence and intelligence. What to do?
Sri Sri Ravi Shankar:
Ram is the strength for the weak.
Q: Gurudev, Guruji, our tasks get accomplished with rise in sattva. Then what about those people in society who do wrong things. How are their tasks accomplished?
Sri Sri Ravi Shankar:
That happens for a small period of time. Later on you will find they will fall badly. There was Bernard Madoff in America. People used to strive to have a picture with him. He was such a big businessman that if he said something it would be immediately followed. Then what happened? Everything got revealed. He is now in jail. His own son got him caught.
So the ones, who walk on the path of untruth, enjoy some good times but later on they meet with a downfall. The problem with the path of untruth is that you don't get sound sleep and feel restless. At least, the ones following the path of truth will have a sound sleep.
Q: Gurudev, Should one believe in the horoscopes?
Sri Sri Ravi Shankar:
If your mind says you should do it, then you should. But that shouldn't be given too much importance. Sometimes the recorded time or place of birth may not be accurate. There are many issues involved. So neither should we totally ignore it nor should we take it to be exactly right.


Q: Gurudev, Yesterday you talked about leela(game). One can comprehend it intellectually but how to make it an inner experience?
Sri Sri Ravi Shankar:
You don't have to make it an experience. You simply have to wake up and see life is a game. Wake up this moment when I am speaking. Whatever happened till now, is it not like a dream? You had dinner this evening, meditated in themorning, did yoga in morning and went to bed last night, and if you go to your own memory there were good events, bad events, you had profit, you had loss but right this moment it's all gone.
Wake up this moment and see from tomorrow to the next 10 years is also like a dream! When you realize this whole phenomenon that has happened in the past and future is all like a play, a game. You don't have to think this is a concept and I have to experience it. My dear, memory is memory. Your thinking that you have to experience memory is a concept and your thinking that you don't have it is again a concept. You simply have to realize right away it is a dream. This could be a dream. That very moment you feel a sense of relief. A soothing wave overtakes you. Don't wait that someday you will experience it's all a game.
May be after you leave the body you will experience one day. Then also you will realize I could have done that much before.
Q: Gurudev, What has more importance: moksha or Divine love in spirituality?
Sri Sri Ravi Shankar:
Those who don't bother about happiness achieve moksha and those who are not even bothered about moksha attain Divine love. We will have to move ahead in two steps.
Q: Gurudev, What is the significance of Kumbh mela?
(The Kumbh Mela is one of the most sacred pilgrimages in Hinduism. The word Kumbh has been derived from the Sanskrit word Kumbh meaning 'pot' or 'pitcher' and Mela means 'festival' that is why it is known as "the pitcher festival". It is a fair that energizes your mind and soul)
Sri Sri Ravi Shankar:
Ganga is a symbol of knowledge and Yamuna symbolizes love. Prayag (where Ganga, Yamuna and Saraswati meet) is the unity of love and wisdom. When love and wisdom meets, celebration happens.
Kumbh means coming together of saints, scholars and katha vachaks(story tellers). They participate in discussion and
meditation
with the sankalpa(positive intention) of universal benefit. People needn't go to all the different places. They can all come to one place. The concept of mela started in India. Nowadays we call it expo. There are expos for motors, books, clothes, to present all the products in one place. On similar concept all the saints used to congregate in one place once in 12 years. In those days transport facilities were not so extensive and traveling would take so much time. Kumbh mela provided an opportunity for people to converse and exchange knowledge with each other.
If you see it from planetary perspective, Kumbh happens when Jupiter enters Aquarius. By bathing in the Ganges the chitta (consciousness) becomes joyful. Your consciousness is purified. The sins are washed away. It's so beautiful. The sins are so superficial that just by a dip in the Ganges they can be washed away. The ever-pure consciousness can never be dirtied.
Q: Gurudev, Guruji, you can do anything. So why don't you erase all corruption and violence from the world and make it perfect?
Sri Sri Ravi Shankar:
(Jokingly) This is a very clever way that you have adopted to skip! If I do everything, then what would be left for you to do! Why have you come in this world at this time? You also have a role to play. It will be a monologue if only one person plays all the characters in a play. I haven't come here to do that. I am not here even for dialogue but I am here for multi - logue (Laughter). Everyone should play his/her own role.
Have you heard the story of the squirrel? When Sri Rama was building setu with his army of monkeys, a very little squirrel was putting sand in the water. Some members of the team laughed at how much this little squirrel could contribute. But that squirrel was very happy playing his role in Sri Rama's army. He was happy thinking that he also has his job to do. Sri Rama felt very happy and blessed the squirrel moving his hand at his back. Because of his small size, only three fingers of Sri Rama covered his whole body, and he got mark of three lines on his back. This can be a fictitious tale but the message is - we also have a responsibility even if God is doing everything. Whatever we can do, we do that.
Responsibility is that which we can do.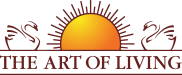 Founded in 1981 by Sri Sri Ravi Shankar,The Art of Living is an educational and humanitarian movement engaged in stress-management and service initiatives.
Mehr