Question & Answers with Sri Sri Ravi Shankar

Q: Gurudev, Guruji, in your company we feel as if Vrindavan has been created here and now only. But when we move out in the world, entanglements cling on to us again. How to be free from that?
Sri Sri Ravi Shankar:
Keep coming again and again. Have you noticed that the entanglements do not cling on to you with the same intensity as it used to be earlier? That grip is loosened. Gradually, when you become more centered, those worldly things do not distract you anymore.


Q: Gurudev,
How should a teacher be?
Sri Sri Ravi Shankar:
There are two types of teachers.
The first kind includes those who believe in scolding and pointing out mistakes. This is a tamasic style. The second kind will tell you that you have all the positive qualities. Some people who are a little thick-skinned may need a little strictness.
Q: Gurudev, Why is not every human being pure?
Sri Sri Ravi Shankar:
Every human is pure but filled with dirt. Every human being is like a diamond. The fact that the diamond is in mud, does not make it mud. You simply have to pick it up and wash it. And it shines again. The shiny nature of diamond is always there but covered with mud and slush.
Q: Gurudev, How to quicken the progress?
Sri Sri Ravi Shankar:
If you want to quicken the pace then keep listening to knowledge again and again. Read at least one page of Yoga Vashishtha, Ashtavakra daily. Keep doing satsang, seva, satsang, meditation.
Maya has long hands and the pull keeps happening. With the help of the rope, one to has walk away from the pull. Satsang, sadhna, satguru are all there for this only.
Q: Gurudev, How do I know that the service that I am doing is right?
Sri Sri Ravi Shankar:
You ask the people whom you are serving. If someone doesn't want to cross the road, don't drag them on the other side (Laughter follows). Service is that which is needed by the people.
The gentleman continued to ask what if someone wants drugs.
Sri Sri Ravi Shankar: Then that is not service in the first place. Don't call it service if someone wants to kill someone else. You have certain basic human values. Anything that destroys human life is not a service.
Don't regret about the past however it has been. You have learnt the lesson. Just accept it and move on, learning from it.
Gentleman continued to asked that should one act on the best judgment one can make at present.
Sri Sri Ravi Shankar: Your consciousness will tell you that it is wrong and you should not do it.
Q: Gurudev, Does past karmas affect our life?
Sri Sri Ravi Shankar:
Both past and present karmas affect our life.
Q: Gurudev, Guruji, with your grace I got a new car but if you don't sit in it, what's the fun of having the car?
Sri Sri Ravi Shankar:
Your body is the car of which the heart is the motor. It's enough for you to have a seat for me there. What's the fun of sitting in the other car! Make me reside in your heart.
Q: Gurudev, What is swadhyaya?

Sri Sri Ravi Shankar:
Do either of the two things:
Become such a devotee like Yudhishthir, who gets Lord Krishna who is full of cleverness or else become clever, awaken that element in you.
The world thinks you to be better than you actually are.The world thinks you to be less worse than what you actually are. If you think like this, then what you want, will happen. Whatever kind of sankalpa you release in the universe that kind of result will come to you.
Realize this now or later after a decade. Once you realize it, you will bow down to this Universal Self. Otherwise you will blame the world and become sad making yourself blemished. Some people indulge in self pity, "I am very good but people do wrong with me."
Who says people did wrong? Who asks you to be stupid and be swept away in emotions? Some fall in love crazily, they talk so much and the other person doesn't know how to handle it.
Wise know how to accept love and give. But everyone is not wise. We want everyone to behave like the wise but we behave like an ignorant.
a look at yourself. This is swadhyaya study of oneself. Swa – means self, adhyaya – means study. Swadhyaya doesn't mean turning pages of books.
Q: Gurudev, I want to understand the relation between spirituality and the material world? Does material prosperity and the spiritual world coexist?
Sri Sri Ravi Shankar:
Prosperity and spirituality can coexist but greed and spirituality can't coexist. Unethical means of earning money and spirituality simply cannot coexist. If you have a factory or a business, you can continue do that and still be very ethical. You don't have to leave your industry, which may be giving employment to a few hundred or more people, for spirituality. There is no need of saying materialism is bad and leaving that you want to go towards spirituality. That is not at all necessary. You can continue doing your duty. This is what is expressed in one of the scriptures 'Ashtavakra' where Ashtavakra told king Janaka that he can be a king and be totally spiritual. King Janaka was the embodiment of the highest knowledge. There are many examples like this. What I usually say is 'keep money in your pocket and not in your heart or head'. When the money is wrongly placed that is when the problem arises. In India, materialism and spirituality are not in conflict with each other. Lakshmi – the symbol of material prosperity is portrayed pressing the feet of Narayana - the symbol of spirituality. We always say LaxmiNarayana which refers to the combination of wealth and spirit. But it is very important to note that greed and spirituality don't go together.
Unfortunately we associate negative tendencies like greed and jealousy with materialism. Even if you have to do charity, you can't do it with an empty bowl. How can you think of feeding ten hungry children with no money at hand? Is it not your dharma to feed them? In one of the ancient scriptures in India it is said 'Righteousness comes from wealth. Proper governance is the basis of the economy'. I think it is all connected. And the most important is the faith in the being, the highest self - the faith that I am going to get whatever I need and whenever I need. Then you give miracle a chance. Materialism is measuring every step too much. (Then you don't know when the stock market is going to crash and banks are going to be bankrupt.) Don't bank your faiths on the banks but bank your faith on the divinity and the power of your own sankalpa(positive sankalapa) and thoughts.
Q: Gurudev, How do we save ourselves from bad thoughts?
Sri Sri Ravi Shankar:
We become what we think. Especially for a devotee what he thinks comes true. But this power of thought is with the devotees only. When you become a devotee then you do not get bad thoughts. With devotion, all vikalpas go away.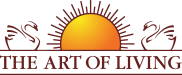 Founded in 1981 by Sri Sri Ravi Shankar,The Art of Living is an educational and humanitarian movement engaged in stress-management and service initiatives.
Mehr