Question & Answers with Sri Sri Ravi Shankar

Q: Gurudev, I am a woman who is trapped in an abusive relationship, what can I do?

Sri Sri Ravi Shankar:
Firstly, get out of the victim consciousness. Nobody else can make you come out of it. There is a part of you that no one can touch. When we talk too much about our problems, we begin to enjoy talking about those. Truth and reconciliation is important.

Q: Gurudev, I had so many questions in mind before meeting you. But now, all the questions have vanished. I know that you are incarnation of Lord Shiva. Am I right?
Sri Sri Ravi Shankar:
Let us leave at least one question in your mind.
When happiness dawns, all questions automatically dissolve.
Q: Gurudev, Guruji, I am not able to concentrate for my mind is very flickering and playful. What should I do?

Sri Sri Ravi Shankar:
Let the mind go wherever it wants to go.


Q: Gurudev, Is little bit of ego ok?

Sri Sri Ravi Shankar:
If you recognize that you have ego, for God's sake don't try to get rid of it. If you get rid of your ego, that itself will become the cause of a bigger ego trip. So if you find that there is ego, just keep it in your pocket. You know the only antidote for ego is being natural, or naturalness. Why do you want to get rid of your ego? Because it bothers you. More than others, your ego is bothering you. You are constrained, restrained and uncomfortable. You feel others don't respect you or you are better than others. You compare yourself with others. So I would say, if you find that there is ego in you, let it be. We will not meddle with it. If it comes, let it come.

Q: Gurudev, 90% of people don't have clean drinking water, enough food or any hope. What can a simple person do about it?
Sri Sri Ravi Shankar:
In some villages where there is dirty water, the water filters run on electricity. Some people came to see me two, three years ago about this issue. The water filters were expensive and half the villages don't have access to electricity(in India). So the villagers couldn't use them. They invented a water filter. It costs only $10 for one year. You can filter as much water as you want. Very dirty water runs through it, and it comes out clean. It just costs $10 to change every year. This is one breakthrough. 90% of all diseases are waterborne. When one has good drinking water, there is a shift. Just with one filter, you can run dirty water through it and get pure water.
Q: Gurudev, How do I get over addictions?

Sri Sri Ravi Shankar:
Love, fear and greed. If you have an alcohol and cigarette addiction, and I tell you that you will get one million dollars if you don't smoke for one month, you will stop. Won't you? Greed can check your bad habit. If you promise someone love, even then they will get over addictions. There is a Catholic tradition as well as in India, that of confession. You confess and say, "This is my habit, how can I change it?" Third is fear. If I say, you will die in a month if you do this, you will not do it. Fear can stop an addiction. I prefer love over other two.

Q: Gurudev, How can we strengthen the faith?

Sri Sri Ravi Shankar:
: Your very thought to strengthen the faith strengthens it. Move ahead assuming that your faith is very strong. When your intellect is purified, faith automatically gets strong. We should have a pure diet in order to purify the intellect. So, pay attention on your food. If you eat food thinking all sort of negative things in the world, that also affects the intellect. Many times people get time to converse only during meals, and they discuss about topics like diseases while preparing and eating the food. This is very wrong, and we need to get rid of this habit. You become what you eat. The type of food you take governs your mind. And again your mind has a direct impact on your body. That is why you should eat food with a happy state of mind. If we are very excited, we cannot swallow food with ease. Also if we are restless, we end up eating more food. So, it is important to have food with awareness.

Q: Gurudev, I have fallen because of such a big ego. What can I do?
Sri Sri Ravi Shankar:
Never mind! If you have recognized that you have fallen, you will rise higher. That is good enough. You have recognized that your ego has been the hindrance. But now don't fight your ego. Just keep it in your pocket. Let it be there. Don't try to do anything with it. Say, "I like it" and let it be there. If you don't like it, give it to me, but then, I would like you to keep it with you. You know our effort in trying to erase our ego becomes another big problem. You have enough other problems to solve anyway.
Q: Gurudev, Is money a prior requirement in order to feel happy?

Sri Sri Ravi Shankar:
There is no doubt that you need some money for your day to day survival. But, money cannot buy you happiness. It's knowledge or wisdom that brings you happiness.
Q: Gurudev, How to have devotion?
Sri Sri Ravi Shankar:
You assume that you have devotion. Don't strive to have devotion. We should assume that we have love and devotion in us. When you believe in this, the devotion in you enhances. When you think you don't have devotion at all, it wouldn't manifest.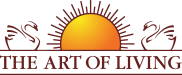 Founded in 1981 by Sri Sri Ravi Shankar,The Art of Living is an educational and humanitarian movement engaged in stress-management and service initiatives.
Mehr