Question & Answers with Sri Sri Ravi Shankar

Q: Gurudev, How can one have a successful relationhip?


Sri Sri Ravi Shankar:
Now I am not an expert on relationships. I would advise one thing for men and one for women. Women should never step on the ego of a man. The whole world may call him stupid but you must always say that he's the most intelligent person. You shouldn't question his abilities. Tell him, "You are the most intelligent person. Just because you don't use it, doesn't mean you don't have it." If you keep calling him stupid, then he will become that. Don't ask for proof of his love for you. Take it for granted that they love you. If someone has to prove their love for you every day, he will be exhausted! We shouldn't express our love too much. Very often the problem is that we express our love too much. If you keep the seed hanging on the surface, you'll never see the roots. But if you bury it deep inside, then also it doesn't sprout. Keep the seed planted. That should be how you express your love. Keep the dignity of love.
Now one suggestion for men is to never step on the emotions of a woman. If she complains about her mother, sister, family and so on, never join the band wagon. You will see she will suddenly switch side and You will be the target! Don't stop her If she wants to do some meditation, go to a place of worship, do some spiritual practices. If she wants to go for shopping, give her your credit card. You will have peace at home.
Q: Gurudev, Does the soul leave the body after death immediately? What happens in case of unnatural deaths and accidents etc?
Sri Sri Ravi Shankar:
It is a wonderful relation of body and soul. This is a profound topic. We shall discuss it sometimes later.
Q: Gurudev, How to take decisions in life?
Sri Sri Ravi Shankar:
With a calm mind. When you take decisions in restlessness, you get into trouble.

Q: Gurudev,
Which decisions are to be taken from heart, and which are to be taken from head?

Sri Sri Ravi Shankar:
When you are to do business, you do it with your head. When you are to do service, you do it from your heart.
More from the same knowledge session will be included in the next post.


Q: Gurudev, In Sri Lanka they are giving chemicals to farmers who can't read. The farmers don't know how toxic the chemicals are. They could get cancer if they even touched them. Developed nations are sending banned chemicals to these places. The farmers need to be educated.
Sri Sri Ravi Shankar:
This is exactly what we are doing. We have 65,000 youth volunteers who are working in various areas of India and parts of Africa. Yes, the US and Europe have banned DDT powder. It is sent to Third World countries where they think this white powder is good because it kills the bugs. This education is needed.
Like we preserve the seeds, we must preserve our mind by keeping the mind calm and pleasant. Activists are so worked up and so agitated. The mind is upset so their project does not take off. Some people are happy and peaceful and do nothing at all. This is not the way either. We need to preserve the mind through meditative practice and breathing and help our environment.
Every soul has five sheaths around it.
The first is the environment. The second is Prana or energy. Prana is life force. The third is mind force. The fourth is intuition. The fifth is bliss and we are naturally blissful.
So we are actively floating in the ocean of Prana. Prana is the life force, our body is like shells.
Q: Gurudev, How can I free myself from fears that seem to have settled into me years ago? I know they are irrational and just in my head. Yet here they come up over and over again. They are distracting and feel binding to me!
Sri Sri Ravi Shankar:
Meditate! Sit quietly and meditate, or listen to some chanting music. All this will help. Meditation, some pranayama, sudarshan kriya, some excercises, ujjayi breath are very good for fears. Don't think that fear is somewhere deep inside you. It is an erroneous notion of Psychology that fear and guilt are deep down. I tell you, deep down there is only a lot of joy; a lot of bliss. And in that centre – no fear, no guilt, no anger, no lust can touch you. Deep down you are wonderful. So never think you have all these anxieties. Those who say that there is something wrong deep down are blind. It is all there just on the surface. If they call that deep, then I will suggest to go deeper. In the centre of your being, you are a fountain of joy. Saying, "Oh! My Mind! Deep down there is anxiety!"is ignorance; a wrong idea and concept. The moment you accept these words as truth, it starts becoming more difficult to get over those emotions. They become more permanent there. Do you see that?
Q: Gurudev, What are the end results of the economic situation? How do you think it will end?
Sri Sri Ravi Shankar:
There is no end to it. These sorts of things go up and down. That is the way of the world. America is coming out of it.
Sri Sri then invited the audience to visit India and participate in service projects.
Mahalo (a Hawaiian word meaning thanks)
Q: Gurudev, What is the base of Advaita(Non-duality)?

Sri Sri Ravi Shankar:
Advaita is quantum physics. Quantum physics says that this is all atoms or this is all wave function, vibration (referring to the space and things around). That's exactly what Advaita says. So, the whole universe is made up of one substance. Me, you, she, he…everybody and everything is made up of one substance. And the nature of that substance is bliss. This is what Advaita is.
Just a glimpse of that experience gives you so much strength and stability, that nothing can shake you; nobody can take the smile from you.

Q: Gurudev, I strongly feel as though I have visited the Ashram before. Will you please tell me what the concept is behind?

Sri Sri Ravi Shankar:
On the level of consciousness, there are certain experiences which you feel you have already experienced. Scientists say that life is only replay, shooting has already been done and we are only being projected on the screen. Also they say, according to string theory, that it is all vibrations. And this is coming from a scientist and not a philosopher.

Q: Gurudev, How can a relationship between a man and woman be successful?
Sri Sri Ravi Shankar:
I would like to give one advice for men, one for women and one for both.

First for women: Never hurt your man's ego. You should always pump his ego.
The whole world may say that your husband has no brains, but you should not say that! You should tell your husband that he has the best brains in the world. And that just because he doesn't use it, doesn't mean that he doesn't have it!
If you call him a vegetable, he will become one. A woman should never demand proof from a man. Men are not so expressive, so don't expect compliments. Instead, she should compliment him.

For men: Never hurt the emotions of a woman. She may sometimes complain about her family, about her brother, or her father, or her mother. You should not agree with that. If you do, then she will take a U-turn. Never insult her family. Don't stop her from going for shopping, or going to a spiritual or religious program. If she wants to go for shopping, give her your credit card.

Now for both: Never ask for proof of someone's love for you. Don't ask each other, "Do you really love me? You don't love me like you used to earlier." It is such a load for someone to prove their love to others. If someone asks you to prove your love, you would say "Oh my God! How do I prove it to this person?"
Catch the rest of the conversation in the next post..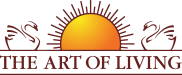 Founded in 1981 by Sri Sri Ravi Shankar,The Art of Living is an educational and humanitarian movement engaged in stress-management and service initiatives.
Mehr