Question & Answers with Sri Sri Ravi Shankar

Q: Gurudev, What brings about the misuse of power?


Sri Sri Ravi Shankar:
Misuse of power is immaturity. Someone who is not mature misuses power. Such power do not stay long because it's not power at all. It is only an illusion of power.
Q: Gurudev, In what ways and to what extent should we oppose the few people who violate rules and regulations? If we don't get the result after opposing then what should be done? Just because of fear we are not doing anything. What should be done?


Sri Sri Ravi Shankar:
Sanghe shakti kalyuge means – only unity has power in this era. We need to stand in a group. Stand against whatever you feel is wrong. Write articles, make people aware about the happenings. Even today we have many ethical people. Include them all and take action together.
Q: Gurudev, What is the best way to handle religious conflicts?
Sri Sri Ravi Shankar:
Every child should know a little about all cultures and religions in the world. They will start to feel connection with all the cultures. Every child should know a little bit about all religions like Buddhism, Christianity, Islam, Hinduism. They will grow up with a broad mindset.
I feel at home wherever I go in the world. I feel connected, and everyone can do that because we all have that need to be connected. In fact you don't have to make an effort, we are anyway connected.
I still remember an incident some 25 years ago, in Manchester, UK. A small girl came to me and asked: 'Why cannot human beings connect with everyone else in the world?' I told her this is because we are so stuck in our identities. It's good to have identity but we have to grow beyond that.
Q: Gurudev, Is it love or surrender when I feel your presence in meditation?
Sri Sri Ravi Shankar:
Surrender with love. And that which happens with surrender is love.
Q: Gurudev, How can we overcome fear of death?
Q: Gurudev, What did Jesus mean by saying- 'I am the bread that you eat.'
Sri Sri Ravi Shankar:
I have spoken about it in the book- 'Jesus - the embodiment of love'.
Q: Gurudev, Whenever I see you, tears start to roll down the eyes. I feel as if I know you since ages. Is it true?

Sri Sri Ravi Shankar:
: You are doubting your own experience. Then it is surely true. We doubt the positive, and not the negative. We doubt somebody's honesty. Nobody has ever doubted dishonesty of a person. Same way, if somebody asks you if you are happy, you say, "I don't know whether I am happy or not". But we are so sure of our depression. We doubt in the existence of God. We never doubt in the existence of this changeable and mortal world. Evolved scientists understand that there is a question mark on the apparently looking reality.

Q: Gurudev, Present moment is inevitable. In spite of this knowledge the mind oscillates between past and present. What to do?
Sri Sri Ravi Shankar:
Is it better than before? Once you are here it will continue to get better.


Q: Gurudev, How to transform negative energies into positive energies?
Sri Sri Ravi Shankar:
That is what we all have to do, and that is what we are doing. Let us get more and more youth together and change this atmosphere in society.
Q: Gurudev, How can you find a purpose for living if you have lost your self-respect?
Sri Sri Ravi Shankar:
The Self is not lost, so the self-respect is not lost. Come on, wake up. You are loved and accepted by many. You are a precious flower of this planet. Do something useful. Do not think only about yourself.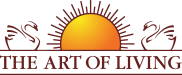 Founded in 1981 by Sri Sri Ravi Shankar,The Art of Living is an educational and humanitarian movement engaged in stress-management and service initiatives.
Mehr