Question & Answers with Sri Sri Ravi Shankar

Q: Gurudev, Whenever I meet you, I don't feel satisfied. I feel you give more time to others than me. Today also in darshan line, you never looked at me and moved ahead. And whenever I get a chance to talk to you, I just don't know what to talk! Then I think, "Oh! I forgot to ask this, forgot to tell this". The analysis starts in my mind. What to do?
Sri Sri Ravi Shankar:
How can I not see you? I leave none unseen, I see each and every one-all who come to visit me in the darshan line. And you forget to ask or tell anything on meeting me, that's OK. You have told it now, got your chance, yes?
Q: Gurudev, How can you learn to make clear and honest judgments? Why do enlightened beings still retain a personality after enlightenment?
Sri Sri Ravi Shankar:
Personality is the one that people perceive. The whole journey of life is from being somebody to becoming nobody, and from being nobody to be a part of everybody. If someone is stuck with the idea of personality, there is less scope for them to grow.
Everything is changing. People change, their ideas change. Let us acknowledge this basic fact. So, if you have judged, then even your judgment can change.
Q: Gurudev, I am an 'Art of Living' teacher. How do I feel I have done enough service? I always feel I could do more for society?
Sri Sri Ravi Shankar:
Parents never feel that they have given enough to their child, esp. to the girl child. The nature of love is like that. Whatever you do in love, you feel you have not done enough. Know that there is something lacking if you feel you have done enough. It is manifestation of love which makes you feel that you can do more. Love is continuous and it never ends.
Q: Gurudev, What is the difference between Lord Shankar and Lord Krishna? Some worship Shiva while others worship Krishna?
Sri Sri Ravi Shankar:
There are different forms and names, but they all are same.
Q: Gurudev, How to give 100 percent. I often feel I don't know how to give my 100 percent?
Sri Sri Ravi Shankar:
Do you want the answer?
(Yes from the boy)
Do you really want the answer?
(Yes from the answer)
Do you 100 percent want the answer?
(Very Intense yes from the boy)
Really?
(Calm and Enthusiastic Yes from the boy)
See, you already have it.
Q: Gurudev, Guruji, so if someone slaps us, should we offer the other cheek also for the slap?
Sri Sri Ravi Shankar:
If the person is sensitive, offer your other cheek, and he will not be able to do it. But if someone is insensitive like a buffalo, then you can give two three also!
Q: Gurudev, I find a lot of things which are not OK. I don't know how to go about correcting things which I find are not ok. Please guide.

Sri Sri Ravi Shankar:
When you say, 'It's not ok, it's not ok', the seed of 'not ok' is not letting your mind to relax. When you are hanging on to the discomfort, how can you ever be comfortable? You have to accept things as they are. 'It's not ok, it's not ok' keeps you all outside. Those imperfections are there for a cause or purpose. It is going to be ok, it will take some time.
Things are ok the way they are now,
They will be ok in the future
Whatever happened in the past was ok.
When you understand this, you relax and in that relaxation you can meditate. When you want to retire, its nivriti but when you want to come out (of rest) its pravritti. Then you can act. When you are tired but you are hanging on to 'what is not ok', then you cannot retire. When you have to chill out, what do you say? 'Everything is perfect,' otherwise you can't chill, you can't act! It is neither pravritti, nor nivriti.
Dhyan yoga is nivriti, Karma yoga is pravritti. Most people are hanging onto the 'not ok' and are unable to relax, to enjoy life, to chill, to be creative. They are holding onto the seed of 'not ok'. That person, this situation, the government, the administration - everything is not ok. Then it comes to you – 'I am not ok'. Subtly, it reflects on you that you are not OK. Then you don't like that feeling, and to cover that up, you make up many justifications and the mind is all confused.

If tamogun is too much, you don't know the pravritti or the nivriti. When there is Satva, then we know what to act, when to act, whether to act or not.
When Rajogun prevails then its half way through - you regret and act. Many of us act and then we regret. Mother scolds her child, regrets it and then becomes nice.
In Satva, you don't regret, you retire and relax, there is clarity.
In Rajogun, there is confusion and chaos.
In Tamogun, there is total inertia and lethargy.
There is no strict border between the three gunas. It is very fluid, one flows into another.
Q: Gurudev, Guruji, is it important to have a purpose in life, a destination or should we just go with the flow?
Sri Sri Ravi Shankar:
There is no choice between these two, you have to have both. You should have a purpose. Move towards the goal, and take things as they come on the way.
Q: Gurudev, Children don't care about their parents when they grow up. So many old age homes are there. Where do we fail as parents and what is your advice to parents so that this situation could be controlled?

Sri Sri Ravi Shankar:
That is why I am saying these three types of trust are very important – Trust in oneself, in goodness of others and in the Divine. A little bit of religion, moral and spiritual values, and the way you treat your parents and ask them to treat their grandparents can make an impact on them. So, you tell your children to take care of their grandparents. They will start doing that way.

Q: Gurudev, How does one stop the flow of negative thoughts?

Sri Sri Ravi Shankar:
Negative thoughts are due to three reasons. If your blood circulation is not good, if the lymphatic system is not ok or if bowel movement is irregular. In all these cases negative thoughts are likely. You can go on a fruit diet and cleanse your intestines. Then, pranayama will help. Take Triphala (an ayurvedic supplement) for a few days. Do yoga, pranayama and meditation. You will definitely find a difference. Group sadhana (practice) will also help.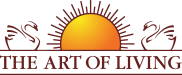 Founded in 1981 by Sri Sri Ravi Shankar,The Art of Living is an educational and humanitarian movement engaged in stress-management and service initiatives.
Mehr