Question & Answers with Sri Sri Ravi Shankar

Q: Gurudev, Does your mission of lifting up the world get heavy at times? If so, what helps?
Sri Sri Ravi Shankar:
All your work helps. When you write and talk about it. Prejudice in the world needs to be overcome. It's much less but that hurdle needs to be overcome. And all of you can help. Everyone can help in reducing the prejudice.
Q: Gurudev, I feel very uncomfortable in the presence of some people even if they are total strangers. Why does this happen?
Sri Sri Ravi Shankar:
Take it as an exercise. Meditate. Go deep into yourself. You will find this discomfort goes away. You give it too much importance. If you realize you are bigger, the vibrations will change. When you change they will also change.
Q: Gurudev, Beloved Guruji, I see you in my thoughts and my dreams. I am free and completely surrendered in my thoughts and dreams. But why is my experience different when I meet you here. Also why don't I get to spend time with you in person?
Sri Sri Ravi Shankar:
You are spending time with me here. You take up some project and you will definitely get to spend time with me.
Q: Gurudev, What to do when we start doubting ourselves or our relationships?

Sri Sri Ravi Shankar:
Doubt is always about something that is positive. You know, if someone tells you that they love you, you say, "Really?" Isn't it so? But you take it for granted when someone expresses their hatred towards you. If someone asks you, "Are you happy?" you say, "Well, I am not sure". We doubt all that is positive. We doubt in love. We doubt in the goodness of people. We doubt honesty. We never doubt dishonesty. Isn't it so? We doubt our capabilities. We never doubt our weaknesses. You never doubt your depression, but you always doubt your happiness. So a doubt is always about something that is positive.

Q: First, how can we be of service. Second, how can I be a good human being of the society?

Sri Sri Ravi Shankar: There are many ways. You can become a teacher or volunteer of the 'Art of Living'. You can help in schools for rural children. Thousands of them are studying and thousands are waiting to get admission. You can participate in the 'Dollar a Day' project. One dollar a day can educate and provide medical, food and clothing for a child. We are 1000 people right here in this auditorium. If each one of us sponsors a child, 1000 more children will get access to education. These children are otherwise forced to work at a young age, and they get into violence without a value based education. If you want to take up any other projects, you are welcome. If you want to give your time, say six months or one year, you can go to places where you can bring peace to people. You are most welcome to come to India.

Q: Gurudev, How do we stop depression?


Sri Sri Ravi Shankar:
Doing pranayama (stress elimination breath techniques) and yoga regularly. Stop thinking about yourself only, "Oh, what about me?" This is a technique to get depressed, if anyone wants to get depressed they should only have one question, "What about me?" Come on. Think about the world, about other people around you, what you can do for the world. You have a big picture around you about what you can do, then depression will run away from you. So two things:
1. Is to do your practices and
2. Is set up a goal for yourself, do something in the world that would be useful to many more.
Q: Gurudev, After coming on the path I find it difficult to fulfill religious rituals. I don't understand should we continue doing that or leave that. Please guide.
Sri Sri Ravi Shankar:
There is a couplet by Saint kabir:
karka manka chod kar,
Manka manka fer.
It is best to do meditation. But I don't say one should completely abandon rituals. You perform some rituals on festivals. A little bit of rituals are good. But don't be too much stuck with the rituals. E.g. if you had resolved to perform a ritual and due to some circumstances you were not able to fulfill that, then there is no need to think that God will be angry with you or you have acquired some sin. I give you guarantee. Maharishi Narada has also said ' God is total love'.
Devotion and surrender are greater than any ritual. A little bit ritual is necessary for two reasons. Children are introduced to religion and spirituality through the rituals. Secondly, performing rituals also purify the atmosphere at home. E.g. when all family members come together and do Pooja on Diwali, the atmosphere of our home changes. It is same when you offer Ardas in Gurudwara.
There is no need to be afraid of or feel guilty if you couldn't keep up with the ritual due to any reason.
Q: Gurudev, What is the goal of our life?
Sri Sri Ravi Shankar:
This is a question you should ponder on. What is it that you want? It is a very important question. Ponder on the answer - what is it that I need? Then all that is important in your life will stand and the unimportant will fall. Then what you think is important, within that (category) you prioritize again and again and again. And when you ponder on that and when nothing remains then you are the goal. Till then its good to keep doing this.
Q: Gurudev, What is the difference between a dream and an aim?
Sri Sri Ravi Shankar:
When you talk about an aim you think it is practical, but when you say I have a dream, you think it may be or may not be practical. When you say, 'I have a dream' there is a little doubt about it but you feel stronger about having an aim.
Q: Gurudev, Does man create wealth for security, or insecurity?
Sri Sri Ravi Shankar:
Wealth is the means, but if it becomes a goal in itself, then it leads to insecurity.
Q: Gurudev, I can't meditate, please advise.
Sri Sri Ravi Shankar:
When you watch TV, you get into meditation – There is no such thing that mind cannot meditate. Wherever your mind goes, whatever it likes, there meditation occurs. You need to move from "word' (shabdha) meditation to "wordless"(nishabhda) meditation. We separate life and knowledge, but walk in life knowing that knowledge is life, life is knowledge. Just as our relationships are manmade, join that relationship/connection with knowledge.
Q My nature is happiness but am overcome with periods of sadness – how do I overcome these periods?
Sri Sri Ravi Shankar: Offer them to the Divine. Do your practices and meditate. Sometimes waves of worry/sadness take over. Just know that it's a temporary phase, it's a passing cloud and it'll disappear.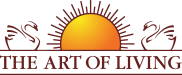 Founded in 1981 by Sri Sri Ravi Shankar,The Art of Living is an educational and humanitarian movement engaged in stress-management and service initiatives.
Mehr