Question & Answers with Sri Sri Ravi Shankar

Q: Gurudev, Guruji, it didn't seem Sudarshan Kriya is indicated for a person with psychotic problems like schizophrenia. What can be done to help them reduce their suffering?
Sri Sri Ravi Shankar:
You know, people with schizophrenia, you think they are suffering, they are enjoying themselves! Ask me how many people I have encountered who have this problem. Sometimes they stop taking their medication because they stop having fun with that. See, there is no charm, no energy, no fun, so they stop medication. We have this experience. Many times parents or spouse came and left them in the Ashram. So we have dealt with them all. I tell you, they are really not suffering! They are in their own world. They are here in the world for you to serve them. And be patient, they increase your patience. They make you well grounded to your own reality. It's an experience to be with them. Because their mind is between two worlds -this world and another world, their realities fused and confused. They can invoke a lot of compassion from within you. And that is what you can do about it. Yes, they can do some physical yoga, dance, enjoy music and take a good walk. These are things you can engage them in.
Q: Gurudev, We get inspired so soon but then that inspiration doesn't stay for long. What can one do to have persistent inspiration?
Sri Sri Ravi Shankar:
Don't make an effort. It takes its natural course. Never try to hold on to joy, happiness and inspiration. When you try to, it runs even more quickly.
Sri Sri invites all professionals to volunteer for the running projects in Mumbai. Doctors to take three free medical camps in Dharavi, Engineers to take up some project and teachers to take three tuition for free!
Q: Gurudev, Dearest Guruji, you are my favorite in the whole world and my world revolves around you. How do I become your favorite?
Sri Sri Ravi Shankar:
Walk the path!
Q: Gurudev, Guruji I want to have an intense longing for u but it comes and goes and the mind moves on to other things. How do I have this consistent intense longing for you?
Sri Sri Ravi Shankar:
Never mind, have some fun. If you say 'I don't have longing', that also is another longing. You're longing for the longing; it's like when you are angry, you are then angry because you are angry. Similarly you are longing for longing, know that is also longing.
Q: Gurudev, Please tell about relationships and why they are often so difficult.
Sri Sri Ravi Shankar:
Well! You should again start reading celebrating love. Why do you think relationship is difficult?
Q: Gurudev, I did the Art of Living course to become sharp and focused but Guruji now you have become my biggest distraction but I love this distraction. I hope it is okay?
Sri Sri Ravi Shankar:
For sometime it is okay. It is said when you put alum in water it removes all the impurities. Purifies all the water and then dissolves itself, yeah!
Q: Gurudev, There is a lot of poverty. How do we find a solution for that?
Sri Sri Ravi Shankar:
One of the main reasons for poverty is alcoholism.
Many villagers spend 60 percent of their earnings in the toddy shop. If you think they are poor, then from where have they got toddy? Villages have risen above the poverty line just by closing the toddy shops. The poorest of the poor can earn and not stay hungry, wherever alcohol has stopped. Youngsters in rural areas are now dealing with this problem.
People of all castes should celebrate together. Everyone should come together for one meal in a week. When people in the village will come together, then the feeling of Dalit and non Dalits will be removed. In every village, ask those who can to contribute for those who don't have enough. Such development cannot be done by the government alone. NGOs have to initiate this change.
Q: Gurudev, How to strike a balance between development and preserving the planet?
Sri Sri Ravi Shankar:
How do you balance a bicycle? In the same way! In ancient India, there was this thing that if you have to cut a tree, you have to do a ceremony. In ceremony, you promise the tree that you will plant five of its kind and then only ask for permission to cut? It is almost like you are talking to the tree. People in tribal areas were all caring for environment a lot.
They considered the mountains sacred, rivers sacred, trees sacred… The sacredness allows you to honor the nature, that allows you to protect and respect the nature respect. Native Americans used to consider the nature sacred, they would never put the mines and blast the earth.
Q: Gurudev, Dear Guruji, I would love to ask you why is the song 'Om Namah Shivaya' so special and intense and how does it help in situations like you explained this morning? I remember that last year we had a very rare combination of some bhajans and you advised us to sing this song there also. Thank you so much.
Sri Sri Ravi Shankar:
Yes! 'Om Namah Shivaya' is one of the very powerful mantras. Mantras are those energizing sounds which help to uplift the consciousness, which help to uplift the subtle. So 'Om Namah Shivaya', these words are very important because 'Na', 'Ma', 'Shi', 'Va', 'Ya', these five letters represent the five elements Earth, water, fire, air and ether. 'OM' is the sound of the universe; 'OM' is the symbol of life force. 'OM' means peace and love, so when there is peace, love and harmony in all the five elements, there is bliss, there is joy. yeah! So, 'Om Namah Shivaya' indicates the transcendental universal one consciousness and energizes that subtle aspect of the universe.
Q: Gurudev, What if one of our levels of existence has been affected by shock or something, like memory, is it necessary to transcend and reach the self or how does that impact?
Sri Sri Ravi Shankar:
>Meditation! Just exactly what you are doing - yoga, pranayama, meditation, it heals everything. See, we have given so much shock to our body, used it and misused it that it needs this kind of attention. Similarly, we have used and misused our breath, our mind and our intellect that our whole system has been in Topsy turvy, in turmoil and all this gets stored in the memory but remember they all can be easily handled through the practice of meditation. Once you go to the SELF, it heals the memory also. Once you are aware what you are worried about, a shock or an experience, you find you are so much bigger than any experience, and see, in the world how many millions of people are there and how many experiences they all have. Do you see what I am saying?

See what is happening now in Pakistan, flood, how people are traumatized. What happened in India in Leh Ladakh! Suddenly a cloud burst and everything is gone, people's homes are gone, and see how the terrorists or the Taliban, and these other groups are terrorizing people. If you see the Time magazine's cover page, it's so horrifying. In Afghanistan, women, their noses are being cut by Taliban. With all these experiences in the world, people are still living alive. What are we worried about, we are worried about our little unpleasant experience. See, life has both pleasant and unpleasant experiences. Everybody gets a little unpleasant experience, but when you open your eyes, you see our unpleasant experience is nothing, it is minuscule when compared to the other things. So your problem is almost nothing when you look at the big problems in the world, yeah!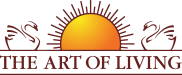 Founded in 1981 by Sri Sri Ravi Shankar,The Art of Living is an educational and humanitarian movement engaged in stress-management and service initiatives.
Mehr