Question & Answers with Sri Sri Ravi Shankar

Q: Gurudev, Scientifically, Has it been seen? Can we write it in medical journals?
Sri Sri Ravi Shankar:
Yeah! It has already been published by NIMHANS (National Institute of
Mental Health and Neuro Sciences) and IAMS, they have published a paper on it.
Q: Gurudev, I have gone through several relationships. I now feel detached from all relationships, but then I feel selfish. What should I do?
Sri Sri Ravi Shankar:
Love can resolve all relationships. See, it does not matter that people think you are a donkey. It does not matter! Just don't kick them and prove them right! From your side, be pleasant. Expecting nothing from anyone is the way to be happy. When we start expecting, we become miserable.
When you are sad or miserable, have the strength to sacrifice the cause of sadness. All you can pray is, "When I am happy, let me do seva; when I am sad, let me have the strength to renounce."
A lady once asked, "Why did God make this place so sad?" So that you can turn to Him. Even though the world is so sad, you still cannot drop it! Can you imagine what would happen if it was all good? You have to turn to the Creator through the creation, recognize the Creator inside the creation. It's like a hologram.
During moments of misery, we need the strength of sacrifice. During moments of happiness, we need to share our happiness.
Q: Gurudev, Compared to the universe, if our existence is nothing then what impact does it create if we are born or not? How does our karma effect?
Sri Sri Ravi Shankar:
See, in the universe nothing matters, yet everything matters. This universe will collapse even if one species disappears. Suppose all the house flies disappear from the universe, the universe will collapse, it cannot exist. This is what scientists say today, even if a particular type of butterfly is missing or one type of flower becomes extinct, the universe cannot stay.
A house fly has no significance; how many planets are there! How many solar systems are there! Milky ways are there! Yet, if house flies are missing the universe collapses. So, though house flies are very insignificant they are very significant. Similarly, everyone is significant yet insignificant.
Q: Gurudev, Why are some forms of Devi so ferocious like that of Mahakali?
Sri Sri Ravi Shankar:
Love and fear are two shores of the same consciousness. If you can love such a frightening form of Divinity, then you can love anyone. There is no fear left! When the acceptance level has increased manifold to accept both beautiful and ugly as your own forms, you come up stronger and solid. So to present beauty and ugliness as forms of the Divine is the intelligence of the ancient seers.
Fear and even ego also is all of that one Divinty. From serene to frightening, birth to death - when someone is awakened to such a level of consciousness that He sees divinity in all the forms, then only all this can be seen as maya. When the mind is calmed then the divinity is here only.
People decorate even with a cactus. So, recognizing beauty in everything – Flowers as well, and thorns as well. If you can accept such frightening aspect of divinity, it completely removes fear from the mind and the body. One who has undergone such states, their acceptance has become so strong. Beautiful and ugly both are your nature. Most beautiful and most ugly forms – everything is a part of one truth.
Q: Gurudev, How does it differ from our guided meditation?
Sri Sri Ravi Shankar:
In guided meditation, you don't have to do anything. Meditation will be done for you. Just feel, "Divinity is doing meditation for me, let me just relax". Someone else is piloting the plane and you simply have to fasten the seat-belt, sit back and relax.
Don't use Om as a mantra for meditation be cause then there is an effort. It is good to enhance the prana as pranayama in the beginning or in the end. But don't sit and say, om om om. It may shoot up your energy too much and you may not know how to handle it. You may not get sleep.
In the beginning we chant Om three times, five times or seven times, and relax.
Q: Gurudev, The soul takes staying forever and takes birth tillgetting moksha. Then, who lives in hell?
Sri Sri Ravi Shankar:
Why do you want to explore hell now? Ihave never been there, so I can't tell you what it is.
Q: Gurudev, Does everybody need a Guru?
Sri Sri Ravi Shankar:
Do you need an answer? If yes, then yes. If some people do not feel the need, then also it is alright. When you ask a question, and somebody gives an answer, the one who gives you the answer anyway plays the role of the Guru. You need medicine, and you go to a doctor. The one, who gives you medicine, becomes a doctor. Similarly who gives the answer, you accept him as your Guru.
Q: Gurudev, What is the best way to make someone aware of their responsibilities?
Sri Sri Ravi Shankar:
Anything that works! Anything that makes them aware is good. Don't sit and think what is the best way? Whatever ideas occur, you apply those and see which one works. The one that works is the best.
Q: Gurudev, Dearest Guruji, Jai Gurudev! Once I am on this path is my spiritual progress your responsibility or my responsibility? If it is yours then why is my progress full of obstacles and slow, and if it is mine then why is my effort so poor. Please help me!
Sri Sri Ravi Shankar:
Now that you are asking this question it is both of our responsibility. Yes, do your 100% and relax and when you feel that you can do a little better or a little more that indicates that you have been responsible. When you feel you are doing everything that you can then the responsibility shifts away from you.
Q: Gurudev, Guruji what is the use of Seva? How does it help meditation?
Sri Sri Ravi Shankar:
Listen, suppose you are stranded in some place and you need someone to give you a lift in their car or taxi and nobody stops their car to give you a lift, how would you feel?
You are carrying two bags and you have to go to the restroom in a railway station. You can't leave the bags unattended and you have to go to the restroom, what will you do? You will find some nice elderly person, go to them and keep the bags with them requesting them to take care while you go for five minutes to the restroom. Don't you need other's help? If they refuse to help you then how can you survive? You know in this world as human beings we have to help each other and that is what seva is.
Seva means what? 'Sa' means 'him' which refers to God and 'Eva' means 'like him'; doing things like him. God does so many things for you but does not expect anything in return from you. Whether you pray to him, thank him or not he will still continue to do. He is not doing you a favor. When you thank God, that is for your own joy, it does not matter to God. In the same way whether people acknowledge your work or not, whether they thank you or not you still do it because you find that it is important to do!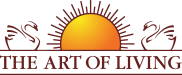 Founded in 1981 by Sri Sri Ravi Shankar,The Art of Living is an educational and humanitarian movement engaged in stress-management and service initiatives.
Mehr