Question & Answers with Sri Sri Ravi Shankar

Q: Gurudev, Children don't care about their parents when they grow up. So many old age homes are there. Where do we fail as parents and what is your advice to parents so that this situation could be controlled?
Sri Sri Ravi Shankar:
That is why I am saying these three types of trust are very important – Trust in oneself, in goodness of others and in the Divine. A little bit of religion, moral and spiritual values, and the way you treat your parents and ask them to treat their grandparents can make an impact on them. So, you tell your children to take care of their grandparents. They will start doing that way.
Q: Gurudev, the self control that I keep on myself gets broken sometimes. What to do in such case?
Sri Sri Ravi Shankar:
It does not matter if it happens sometimes. It is not happening always?
Q: Gurudev, I feel very strong in your presence and it feels good. I am very grateful to have you in my life.
Sri Sri Ravi Shankar:
Good good. Knowledge, meditation and relaxation will give you cool heart, and soothe your heart!
Q: Gurudev, I understand that everything is going to change. It gives me so much relief. But if everything is going to change, then why am I here? What is it that we need to do? I cannot continue without the answer to this question.
Sri Sri Ravi Shankar:
The question or the idea that 'everything is changing' has done its job. It has created the spirit of enquiry. What am I here for? What is it that I am to do? What is the purpose of life? These questions are important to arise. These scratch the brain and opens a new avenue for you. Don't be in a hurry to get the answer. Everything is impermanent that means everything is changing, and vice versa. For everything to be changing, there must be something that is not changing. Realizing it and living it is all life about. That is the reference point. So wonder about these questions. This will take away all the unnecesaary things like worrying about trivial issues. It helps you not to be jealous or greedy or angry.
Q: Gurudev, I heard you say this and I also strongly believe God is everywhere. How important is it to do Puja, or go to a pilgrimage place like Rishikesh, or take a bath in sacred places?
Sri Sri Ravi Shankar:
It's like you have food at home and sometimes you go to a restaurant also. You don't go to a restaurant because you don't have food at home. Everything is everywhere and you enjoy the flavors equally.
Q: Gurudev, Can you talk to us about realizing our purpose in life?
Sri Sri Ravi Shankar:
This is something everyone has to find for themselves. What is the purpose of our life? You can ask this question but don't take an answer from anybody. One who knows will not give you an answer and anyone who tries to give you, does not know. That's the criteria. The very question "What's the purpose of life?" is very precious. It means a lot to you. If this question has arisen in your mind you can give a big pat to your back because this question can remove the cobwebs from your mind, your confusion. It can remove all those unnecessary things and put you on track again and again and again. There is no single answer. It is a path on which we need to travel. "Who am I, what do I want, what is the purpose of my life?" It will move you forward in life. So give a big pat on your back, "Oh I am so lucky this question came to my mind." What's the purpose of life? You know, many don't even think about this question. They simply exist. They eat, sleep, watch television and then they die.
Q: Gurudev, You say, choice is ours and blessings are yours. For two-three years, I have not been able to decide my career. I take up jobs and then leave. Can you choose one for me?
Sri Sri Ravi Shankar:
Any career you choose, after sometime you may feel oh, this is not the right one. People who have become doctors say, 'we should have become engineers', those who are engineers may feel they should have been lawyers and make easy money! So every profession has its dark side. That's why I say you move on in any profession of your choice and do it. And I chose one career for you? No way! I refuse to. You chose the profession; I give the blessing. My blessings are there.
Q: Gurudev, I have to struggle all the time for every work, and I don't get the satisfactory results either. What should I do?
Sri Sri Ravi Shankar:
Why do you have to put these ideas in your mind- 'I have to struggle for everything, and I don't get satisfactory results'? You only put this sort of affirmation on yourself –got it? It may be like that at sometime in the past, but it may not be like that in the future.
Q: Gurudev, is there any particularly good direction to sit in to practice our spiritual practices, and also when you are sleeping?
Sri Sri Ravi Shankar:
Any direction is OK. Usually, you face the sun if the sun is there, east and west during sunrise and sunset respectively. When sun has already set and it's dark, usually we face the north.
But that is not so important.
Why do we face the sun in the morning or evening? This is because force of energy is from one direction. So, if you are sitting facing one side and force is from the other side that means there is no balance on the other side. Suppose, you have one light here, and no light there, then there is an imbalance between the right and the left. So, sitting accordingly balances the right and the left. You are to balance right and left for meditation. So, it is said that way. But it is secondary, not even secondary, it is tertiary. It is not that important.
Q: Gurudev, Any predictions when the world will be one?
Sri Sri Ravi Shankar:
When you and I start working together. Technology has made the globe into a village.Spirituality will make it a family.
Sri Sri then invited people in the audience to visit India.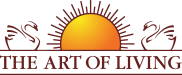 Founded in 1981 by Sri Sri Ravi Shankar,The Art of Living is an educational and humanitarian movement engaged in stress-management and service initiatives.
Read More