Question & Answers with Sri Sri Ravi Shankar

Q: Gurudev, Does the Art of Living work with Native American tribes?
Sri Sri Ravi Shankar:
We are working with the Native Americans in Canada but not in the US. We would very much like to do some work here. There is so much alcoholism in this community.
Q: Gurudev, We have you as Guru in the 'Art of Living', but in family there are family Gurus and traditional rituals, different style of worshipping etc. Should these be followed also?
Sri Sri Ravi Shankar:
See if there is a family tradition being followed from a long time, then what is the harm in continuing that? One must keep up the family traditions.
Q: Gurudev, What brings about the misuse of power?


Sri Sri Ravi Shankar:
Misuse of power is immaturity. Someone who is not mature misuses power. Such power do not stay long because it's not power at all. It is only an illusion of power.
Q: Gurudev, What would you say to Osama Bin Laden if you were having breakfast with him?


Sri Sri Ravi Shankar:
I would bring him in a plane to America and tell him, "Look there are so many beautiful people here in America, what are you doing? " At that moment I'm not sure exactly what I would say to him, but I am sure I would make an impact on him.
Q: Gurudev, Whenever I see you, tears start to roll down the eyes. Ifeel as if I know you since ages. Is it true?


Sri Sri Ravi Shankar:
You are doubting your own experience. Thenit is surely true. We doubt the positive, and not the negative. We doubtsomebody's honesty. Nobody has ever doubted dishonesty of a person. Same way, if somebody asks you if you arehappy, you say, "I don't know whether I am happy or not". But we are so sure ofour depression. We doubt in the existence of God. We never doubt in theexistence of this changeable and mortal world. Evolved scientists understand that there is a question mark on the apparently looking reality.
Q: Gurudev, I am new to the concept of joint families? I would love having a joint family. But I am little afraid if there is any disadvantage involved?
Sri Sri Ravi Shankar:
There are some disadvantages of joint family also. But when a family is broken into nuclear families, husband, wife and kids, there is nobody else to fight with! So, they end up fighting with themselves, and then kids and parents also separate. So, this is the advantage of joint family, they live together even after fights. Western culture is adopting the system of joint families. People are going back to the family values, and joint family system. Also it is very important to keep this tradition of celebrating festivals with the whole family coming together
Q: Gurudev, I feel like I am not doing enough service as compared tothe blessings I have received.
Sri Sri Ravi Shankar:
Keep going!

Q: Gurudev, There has been life for so many centuries on this planet. I wish to know why is it that some creatures live a prosperous and extravagant life, and yet there are some creatures who do not even have enough to eat? What is the basis on which a creature gets birth?

Sri Sri Ravi Shankar:
This is one of the five secrets – the secret of birth. Nature has been very kind that birth has been kept as a secret. Otherwise, you would be living a miserable life remembering all previous incidents that happened in the past lives. But a time will come in your life when your mind would be completely established in the present moment, memory would awake, and you will remember what you were and who you were in your previous births. It is alright if it does not happen with some people.
The whole world is made up of cause and effect. If somebody is rich, that has a reason. If somebody is poor, that also has a reason. But does that mean we don't have any independence of Karma? You definitely have freedom. We have been given discrimination. So, we do have freedom of karma, and also we are bearing fruits of past actions also. It is like you get some capital from someone. Now, it is up to you what do you want to do with it. A poor man can become rich, and a rich can become poor. There are all possibilities. Your karma decided where you were born. But it depends on you where do you want to reach.
Q: Gurudev, If we are not getting something even after putting in continuous effort, should we accept the reality as it is, or should we keep on praying to get it?
Sri Sri Ravi Shankar:
If that is very much needed by you, you would not be able to go without praying. And have this faith that God will give you what you need.
Q: Gurudev, My heartiest gratitude to you. Who are you Gurudev?


Sri Sri Ravi Shankar:
First, you know yourself. Why are youputting your effort in knowing me? You don't know who you are. First, know thathow many times have you come in this world? When you know yourself, it will bevery easy to know me.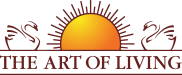 Founded in 1981 by Sri Sri Ravi Shankar,The Art of Living is an educational and humanitarian movement engaged in stress-management and service initiatives.
Read More