Question & Answers with Sri Sri Ravi Shankar

Q: Gurudev, Some volunteers from the 'Art of living' want to enter into politics with your blessings.
Sri Sri Ravi Shankar:
Yes, it is alright, they should go into politics, clean up the politics like the 'Art of Living' volunteers cleaned up Yamuna!
*Devotion
**Karma
***Meditation
Q: Gurudev, How to give 100 percent. I often feel I don't know how to give my 100 percent?
Sri Sri Ravi Shankar:
Do you want the answer?
(Yes from the boy)
Do you really want the answer?
(Yes from the answer)
Do you 100 percent want the answer?
(Very Intense yes from the boy)
Really?
(Calm and Enthusiastic Yes from the boy)
See, you already have it.
Q: Gurudev, What is the difference between desire and resolution?
Sri Sri Ravi Shankar:
All the work in life happens through intention. You had this intention in mind to come here, and then only you could come here. If something keeps on bombarding your mind and doesn't let you sleep, then that is desire. You should not think that one should have no desire in the mind. Resolve to accomplish bigger tasks. Take on greater jobs in your hands. But you should also keep those aside at times and relax for some time.
Q: Gurudev, Guruji, it is said 'Advaita' (Non Duality). Why it is not expressed as 'only one' but as 'not two'?
Sri Sri Ravi Shankar:
Because you need two to count one.
Q: Gurudev, I have lost my trust, how can I regain it?

Sri Sri Ravi Shankar:
Don't make an effort to regain it. Listen to your heart. Trust can never be lost. Doubt as much as possible, but truth always stands up to the doubt. Truth is so strong that doubt cannot destroy it. So, it is good to doubt. And the trust which moves through the doubt and stands, that is true trust.
How many of you here have not visited India yet? How many of you would like to come to India? Oh, very good. You know, we will organize a group from here. You have a home there in India. All of you come for a week, ten days, 15 days…whatever is possible. You can all come to India, and have a glimpse of all the service activity.
Q: Gurudev, How can we bring this knowledge, of breathing & meditation that is taught through the Art of Living programs, to low-income families and communities?


Sri Sri Ravi Shankar:
You know, the Art of Living Courses are around $200-$300. This is a very small amount and students and seniors, anyways, pay a reduced course contribution. There are expenses when courses are organized. The volunteers have to hire a hall, get supplies and pay rent. Nearly 60-70 percent of the course contribution is spent on course expenses. Remaining funds go to support service projects in places like post-Katrina New Orleans.
Also, if you offer the course free, people don't value it. People don't take responsibility to sit and learn. You can't do charity from an empty bowl. And there is no point in taking charity to do charity. So our teachers teach these courses for a contribution.
Of course anyone who wants to donate to a charitable cause is most welcome, but our donations are only about 15 percent of our total income. Mostly, all our expenses are covered by course contribution. And, in case someone says they cannot afford to pay the course contribution, we never stop them from attending the course. There is always 10-15 percent scholarship in every course. If some of you want to sponsor a course for street kids, we would definitely love to organize that. We have so it in many places across the world.
Q: Gurudev, I am an 'Art of Living' teacher. How do I feel I have done enough service? I always feel I could do more for society?
Sri Sri Ravi Shankar:
Parents never feel that they have given enough to their child, esp. to the girl child. The nature of love is like that. Whatever you do in love, you feel you have not done enough. Know that there is something lacking if you feel you have done enough. It is manifestation of love which makes you feel that you can do more. Love is continuous and it never ends.
Q: Gurudev, How can you learn to make clear and honest judgments? Why do enlightened beings still retain a personality after enlightenment?
Sri Sri Ravi Shankar:
Personality is the one that people perceive. The whole journey of life is from being somebody to becoming nobody, and from being nobody to be a part of everybody. If someone is stuck with the idea of personality, there is less scope for them to grow.
Everything is changing. People change, their ideas change. Let us acknowledge this basic fact. So, if you have judged, then even your judgment can change.
Q: Gurudev, Can you talk to us about realizing our purpose in life?


Sri Sri Ravi Shankar:
This is something everyone has to find for themselves. What is the purpose of our life? You can ask this question but don't take an answer from anybody. One who knows will not give you an answer and anyone who tries to give you, does not know. That's the criteria. The very question "What's the purpose of life?" is very precious. It means a lot to you. If this question has arisen in your mind you can give a big pat to your back because this question can remove the cobwebs from your mind, your confusion. It can remove all those unnecessary things and put you on track again and again and again. There is no single answer. It is a path on which we need to travel. "Who am I, what do I want, what is the purpose of my life?" It will move you forward in life. So give a big pat on your back, "Oh I am so lucky this question came to my mind." What's the purpose of life? You know, many don't even think about this question. They simply exist. They eat, sleep, watch television and then they die.
Q: Gurudev, It seems people are more sad than happy. How is there a God?

Sri Sri Ravi Shankar:
Read "Celebrating Silence" and "Celebrating Love." God is the Generator, Operator and Destroyer. Some people have a wrong understanding of God. Our understanding of God is that he is omnipotent, waits for you to make a mistake and then gets angry. But no, God has given you intelligence and the discriminative power. This is established in the laws of nature. Animals do not violate the laws of nature, they do not have indigestion. Forests do not make mistakes unless man meddles with it. In which everything has come up, exists and dissolves – That is God. God is space. That space which you experience in meditation.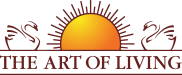 Founded in 1981 by Sri Sri Ravi Shankar,The Art of Living is an educational and humanitarian movement engaged in stress-management and service initiatives.
Read More