Question & Answers with Sri Sri Ravi Shankar

Q: Gurudev, My husband practices Sudarshan kriya but does wrong deeds. What should I do?
Sri Sri Ravi Shankar:
How can this be? Then he may be doing Sudarshan kriya just as an excercise. Bring him for a follow up, or meditation camps. Or, may be what you see as a wrong deed is not perceived so by him. Talk to him.
Q: Gurudev, In the 'Art of living', which yoga do we practice -
hath yoga
, raj yoga, karma yoga, or dhayan yoga?
Q: Gurudev,
I am going through a hard time in life. My wife cheated on me but now wants to be back. What to do? I don't have much trust anymore, but I find it hard to breakup. I am confused and worried about the future. Can the love develop again?

Sri Sri Ravi Shankar:
Ya, certainly. Have a broad mindset. Suppose you were in that state. You made a mistake and you repented it, and you want your wife to forgive you. How would you feel if she doesn't and hold on to it. How would you feel? Same way a mistake has happened through her. Some mistakes happen through you and some through her. Forget about it. Live in the present moment. Give her a chance. Move on to the future. But if it keeps happening too many times, then you can take a decision. If it is once or twice, you should give her a fair chance. If it happens more than three times, then you put your foot. I have no experience in this field. I can't give any better advice on this. So, this could be a suggestion. I don't know in what way has she cheated you, but it may not be so intentional. Our 'Art of Living's' policy is not to see intention behind others' mistakes. Once, twice, thrice as much as your capacity is there, you keep forgiving. But then when it comes upto your neck, you say, "No more".
There was a king who was all the time hurling abuses at Lord Krishna, when Lord Krishna was here on the planet. This Jarasandha was insulting him, and spreading wrong rumours about him. Lord Krishna forgave him not once, twice but 100 times. His patience was 100 times. But then Lord Krishna said, "I have forgiven you 100 times. I am not going to stop now. I want to finish off you now. I have given you enough room, you didn't change. The only way is you to be punished". So, it depends upon our capabilities. Jesus also said to forgive. See how much patience you have. How much can you take to forgive? Not just your wife but everybody for that matter.
Q: Gurudev, Can you please say something about Sri Aurobindo and what his message and life were about?
Sri Sri Ravi Shankar:
You know, when you are asking about Sri Aurobindo, you already know. He wished more and more people would meditate. So the seed he had sown meant greater access to the collective consciousness. It's happening now. Those days it was very dull, although a few French people really caught on to it.
Q: Gurudev, If God is omniscient, why do we praise Him or pray to Him?


Sri Sri Ravi Shankar:
Your praise is not for God's sake. It is for your sake. You praise God, and that praising uplifts your own spirit. You imbibe all those good qualities in you. It's not that God, when praised, becomes very happy and places those boons on you. You cannot bribe God like that. We pray to God. We do it in every religion. We seem to think that by praying we are appeasing God and by not praying we are annoying God. I don't think so. Prayer is your innate call. You want something and you pray. Meditation is even better than prayer. The culmination of prayer must be meditation. Meditation is telling God, "I am here to listen to you. What do you want to tell me? Let thy will be done". That is meditation.
Q: Gurudev, Sometimes, I feel that you are with me and watching meall the time. At some other times I feel that I am not connected. I feeldistracted during those times. I am unable to do sadhana also in such times. A lot of thoughts come in the mind.What should I do then?


Sri Sri Ravi Shankar:
you have given answer in the questionitself. Nature of love is such that you feel longing in its absence. Once youget a glimpse of devotion, then its absence causes perturbation in mind. It isnot that devotion is absent there but you feel as if it is not there, and youfeel restless with this feeling.
If we look in the light of knowledge, Shri Narada has said in BhaktiSutras that the very indication of devotion is that you experience bliss inits presence and its absence makes you restless. This shows that you havedevotion, and consider yourself as lucky when you experience such restlessnessin mind.You feel absence of devotiononly for some time. Devotion is anyway always there, it never dies, but you mayfeel that it has decreased. This is natural. This happens only to those whohave a very good luck. Otherwise, inert person doesn't feel any devotion. Mindof such a person is tormented with worries.


Q: Gurudev, What to do when love, devotion and faith gets shaken?
Sri Sri Ravi Shankar:
That is very good. It goes deeper when it is challenged, true love and devotion gets deeper. Testing times comes in everybody's life. You pray and sometimes your prayers don't get answered. 10 times you get what you wanted, and when 11th time you don't get, you start complaining. Is it the case? (The boy said, "Yes, one of my friends ditched me and I am feeling intense pain"). That is when you pull on yourself. Keep on your practices. God is in every heart, everywhere, all around you, and inside you. He knows what is best for you and he will give you the best.
That is why when you ask for something, ask this or something better.
Q: Gurudev, What is the difference between religion and spirituality?

Sri Sri Ravi Shankar:
Spirituality joins everything. Different beliefs are there like somebody may be Vaishnav, somebody may be Hindu, somebody may be Christian, but spirituality is experience. I often say, religion is like a banana peel and spirituality is the fruit inside.

Q: Gurudev, What did Jesus mean by saying- 'I am the bread that you eat.'
Sri Sri Ravi Shankar:
I have spoken about it in the book- 'Jesus - the embodiment of love'.
Q: Gurudev, Is world peace possible?
Sri Sri Ravi Shankar:
World peace comes with individual peace. If individuals become peaceful, communities become peaceful. Then the leaders of the world will also become peaceful, and we can have world peace. When people have broad vision for the whole world, world peace is a possibility. We need to spiritualize the politics, socialize the business and secularize the religion.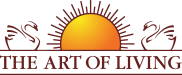 Founded in 1981 by Sri Sri Ravi Shankar,The Art of Living is an educational and humanitarian movement engaged in stress-management and service initiatives.
Read More