Question & Answers with Sri Sri Ravi Shankar

Q: Gurudev, When will everyone embrace the Art of Living?
Sri Sri Ravi Shankar:
There is nothing inside or outside the Art of Living.
Q: Gurudev, Why do people bow down to the Divine?
Sri Sri Ravi Shankar:
There is a tradition in this country – people bow down to show humility. However there is no point in just bowing down from the body, if your mind bows down then it is useful.
Q: Gurudev, Is it right if one's parents do not appreciate the virtues of a child but compares demerits of the child with the good qualities of other children?
Sri Sri Ravi Shankar:
Once in a while it is ok. When the intention is that their child should learn, then it's ok. But if it happens every time, then it is not ok.
Q: Gurudev, Your presence gives so much peace and joy. I want to always have the same joy. What should I do?
Sri Sri Ravi Shankar:
When you remember your experiences here, you relive that joy wherever you may be. All other experiences of the world get dissolved with the impression of devotion.
Q: Gurudev, Which has a higher place – Devotion for the country or for the religion?
Sri Sri Ravi Shankar:
Why to prioritize out of these two? You tell me which has higher value out of seeing and listening. Both have their own place and both go simultaneously.
Q: Gurudev, Is it true that my previous and the coming generations also get the merit when I meditate. Are my parents also benefitted when I meditate?
Sri Sri Ravi Shankar:
Yes, there is something like that also.
Q: Gurudev, How does one live without expectations and still achieve great things in life?
Sri Sri Ravi Shankar:
You have all that you need to blossom. Do Sudarshan Kriya, do meditation. In 'Part 2/ Art of Silence' program, participants experience blossoming of their talents and new skills start developing.
Q: Gurudev, How do I break the cycle of feeling victimized whenever I go through difficulties?
Sri Sri Ravi Shankar:
You have already broken it the moment you realize the pattern. You realize it is your own mind's making and that it has happened over and over again. This realization will come in its own time. And when this happens, be happy and grateful. Imagine where you were five or ten years back. How have you changed? How much better it has become since then. Put your attention on this. The more we are grateful, the more grace we will have in our life.
The first step to fun is relaxation. What tires you is anxiety and ambition for tomorrow. The anger and hatred of yesterday are also clogging our mind. In the same way feverishness pulls down our enthusiasm. In deep relaxation, you will find everything funny.
Q: Gurudev, How do we ensure that the knowledge that you have transferred is transferred in the same pure form when we transfer it to somebody?
Sri Sri Ravi Shankar:
That is why there is a methodology of teaching. When you undergo teacher's training, it flows thoroughly in the same way. Teachers are trained very thoroughly.
Q: Gurudev, I am in a dilemma. I am a second year student of engineering. I took engineering with my choice but now I find that it is not for me. I find journalism my choice. What should I do?
Sri Sri Ravi Shankar:
Choice is yours blessing is mine.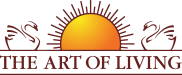 Founded in 1981 by Sri Sri Ravi Shankar,The Art of Living is an educational and humanitarian movement engaged in stress-management and service initiatives.
Read More