Question & Answers with Sri Sri Ravi Shankar

Q: Gurudev, What to do when a loved one is diagnosed with a potentially terminal condition?

Sri Sri Ravi Shankar:
Bless them. Carry on, Sing, dance, meditate. If you think too much about the illness, it pulls down your energy. Medical attention is required, but have faith also. A turnaround can happen at any time. There is divine grace that is present with you. Anytime, anything is possible.
Q: Gurudev, Should one have blind faith in the Master?


Sri Sri Ravi Shankar:
Faith is never blind, faith is just faith. When faith breaks then one starts feeling that it was blind faith. Now don't try to bring faith in you, it just comes by itself. In fact, I would say doubt as much as you can. Even then if it remains, that faith is authentic. That is why I say doubt as much as you can and my work is not to bring faith in you but to put you in more doubt. Your job is to swim through it.
Q: Gurudev, Guruji, please talk on the story of Ajmila in Srimad Bhagwad.
Sri Sri Ravi Shankar:
In Srimad Bhagwad there is a story of king Ajamila. He had many vices. When he was on his death bed he called his son's name – Narayan. And when he uttered God's name, he got liberated. This story is there to build trust in people that however their past has been, there is no need to waste time in tension and guilt about the past. Even at the last moment if you chant Narayana's (Lord's) name, you have a chance to be liberated. This does not at all mean that you do whatever you want in life and at the last moment chant Narayana's name. It doesn't give you the license to indulge in vices. It only indicates that you don't have to be guilty of your past and go on repenting the past. The past is gone. At least now be devoted and connected to the Divine.
Q: Gurudev, How to keep the God and world together?

Sri Sri Ravi Shankar:
How can you keep them together? They are already one. Where is the question of combining them? In the nature of form, it is world, and same is God in its formless nature. You don't have to do anything to bring them together.
Q: Gurudev, Guruji why is it that Sanskrit language that originated in India finds its second reference in Chicago? This is still the case.
Sri Sri Ravi Shankar:
You are asking my question! We are giving away our ownership over Sanskrit..
You know Dr. B.R. Ambedkar asked that Sanskrit be made our national language.It was seconded by Nasiruddhin Ahmed.
Malayalam contains 80 % of Sanskrit, Telugu 70%, Kannada 70%, Tamil 30% and Hindi 80%. Even many words in foreign languages are similar to Sanskrit: Swasa – Sister, Duhita – Daughter. However, we have lost the link somewhere and failed to establish the reputation of Sanskrit. You know what rain is called in Italian? Piyorja! The Sanskrit word is parjanya. They are so similar in many aspects.
Q: Gurudev, What is the purpose of dreams?
Sri Sri Ravi Shankar:
There are five kinds of dreams:
1. Dreams in which old experiences repeat in the consciousness.
2. The ones that display your desires and fears.
3. Intuitive dreams - that foretell what is going to happen.
4. The dreams which are not related to you but to the place where you are sleeping. For instance, if you are sleeping in China you may see dreams in Chinese.
5. This type is the mixture of all the other types.
99 percent of the dreams that you have belong to the fifth category, so it is wise not to give much importance to them. The wise believe this world itself to be a dream. Whatever we experience through the sense organs is the impression of the world on us. What you did a few hours ago is just like a dream in the present moment. It's a memory. There is not much difference between a memory and a dream.
*Traditional colorful floor decorations
Q: Gurudev, Who is Shiva?
Sri Sri Ravi Shankar:
One should ask, what is that which is nor Shiva? The whole world is filled with Shiva. Shiva – whose body is in the whole universe. It was very difficult for artist community to portray Shiva in a picture, because Shiva is beyond imagination. For this reason Shiva was given blue color. Blue signifies all pervading, infinity which has no limits. It has no shape. The ved(Ancient Indian scriptures), the knowledge has no shape. But it infiltrates each and every particle of the universe.
'Saam sada shiv' – Shiv tattva includes both shiva and Shakti(Male and female energy). Parvati is not different from Shiva. Parvati is that which is born out of celebration. Celebration cannot be there without Shiv tattva. It is impossible to separate Shiva and Shakti even for a second. If Shiva is everywhere, how can Shakti be there beyond its scope. Puranas include various stories of Shiva with a vision that even a child could understand something about this tattva.
You all experience three states of consciousness – awake, dream, and sleep. The fourth state which is called 'turia' ,that you experience in deep meditation, is Shiva. When you experience that state, innocence blossoms. And without innocence you cannot dissolve in that tattva. Hence, He is called Bholenath.
Q: Gurudev, How do we balance having a wish (really wanting something) with surrender?
Sri Sri Ravi Shankar:
When you wish for something the wish just happens naturally. You have no control over it. It doesn't ask your permission. It doesn't need a visa for entry!
So, just say "Let thy will be done"!
Q: Gurudev, What are you the most optimistic about in the world?
Sri Sri Ravi Shankar:
I'm realistic about my vision. So far 'The Art of Living' has reached about 151 countries. So many people are learning these techniques today. If the technology of cell phones can reach everywhere in the world, why would techniques & wisdom that make people happy and peaceful not reach every home? They definitely will. We should have a vision to do something that appears impossible and make it possible. It is my habit and hobby!
Q: Gurudev, A question from someone on ART Excel Course: When the cops or anyone in the military shoot or kill anyone in war does it count as their good or bad karma?
Sri Sri Ravi Shankar:
Let us take the policeman. A policeman is doing his job to keep peace in society, so it is not a bad thing. In the military, one who is following orders, is only doing his job. The man who gives the orders, gets the karma.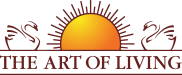 Founded in 1981 by Sri Sri Ravi Shankar,The Art of Living is an educational and humanitarian movement engaged in stress-management and service initiatives.
Read More