Question & Answers with Sri Sri Ravi Shankar

Q: Gurudev, How can we strengthen the faith?


Sri Sri Ravi Shankar:
Your very thought to strengthen thefaith strengthens it. Move ahead assuming that your faith is very strong. Whenyour intellect is purified, faith automatically gets strong. We should have apure diet in order to purify the intellect. So, pay attention on your food. Ifyou eat food thinking all sort of negative things in the world, that alsoaffects the intellect. Many times people get time to converse only duringmeals, and they discuss about topics like diseases while preparing and eatingthe food. This is very wrong, and we need to get rid of this habit. You becomewhat you eat. The type of food you take governs your mind. And again your mindhas a direct impact on your body. That is why you should eat food with a happystate of mind. If we are very excited, we cannot swallow food with ease. Alsoif we are restless, we end up eating more food. So, it is important to havefood with awareness.
Q: Gurudev, Are thoughts internal or external?

Sri Sri Ravi Shankar:
Thoughts are in the mind. The mind is all around you. Both inside and out.
Q: Gurudev, How to keep the God and world together?

Sri Sri Ravi Shankar:
How can you keep them together? They are already one. Where is the question of combining them? In the nature of form, it is world, and same is God in its formless nature. You don't have to do anything to bring them together.
Q: Gurudev, What do you consider success?
Sri Sri Ravi Shankar:
A smile that nobody will take away from you - that is the greatest achievement.
Q: Gurudev, What to do, when someone blames and hurts me intentionally?
Sri Sri Ravi Shankar:
Pity them. Have compassion and pity for them.
Q: Gurudev, Guru, you said being a perfectionist is a cause of stress. Yet everything about you is so perfect. You are perfect, your actions are perfect, your words are perfect, your understanding of God is so perfect, this Ashram is perfect and so many other things. What is the difference between your perfect thinking or, mine or ours?
Sri Sri Ravi Shankar:
Just that you have to look at yourself in the mirror. That's it. You move from perfection to perfection. You move from one perfection to another higher perfection. That's how you have to look at life. Otherwise you see this is not perfect, everything is imperfect, everything is hopeless. And we tend to get into negative framework. Isn't it?
Q: Gurudev, What to do when a loved one is diagnosed with a potentially terminal condition?

Sri Sri Ravi Shankar:
Bless them. Carry on, Sing, dance, meditate. If you think too much about the illness, it pulls down your energy. Medical attention is required, but have faith also. A turnaround can happen at any time. There is divine grace that is present with you. Anytime, anything is possible.
Q: Gurudev, Do planets have any effect on us?
Sri Sri Ravi Shankar:
Yes, planets do have an effect on us. But the effects are minimal on those who are on the path of sadhna, satsang and knowledge. For those, negative effects reduce and positive effects start to increase. It's like when you take umbrella under the hot sun, you feel less heat on your head. Practices and mantras are the solutions.
Q: Gurudev, How does the world look from your eyes?
Sri Sri Ravi Shankar:
It looks like my own. However it is, it belongs to me.
In the Bhagvad Geeta, Lord Krishna tells Arjuna, "This creation is permeated by the Divine consciousness. It belongs to Me. Crossing-over this cycle (of birth and death) is not so easy. It can be done only through Me."
Q: Gurudev, Life has a dual nature. How do you feel oneness in that duality?
Sri Sri Ravi Shankar:
Like high tide and low tide in an ocean, they come and go but the ocean remains. How was it five, ten, fifteen years ago? You went through a down time and a high time. It came and it went. Looking back in time you gain strength. "This will pass."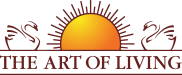 Founded in 1981 by Sri Sri Ravi Shankar,The Art of Living is an educational and humanitarian movement engaged in stress-management and service initiatives.
Read More