Beauty
Search results
When your mind is not complaining, responsible, courageous, confident and hollow and empty, you are inexplicably beautiful. A person who cannot correct or act has no right to complain. And when a person can correct or act, he will never complain. Complain ...

There is a place you can come where everything is beautiful. Tourists go from place to place looking for beauty. They try to take beauty from that place. They only get tired and tanned. Yet the most beautiful spot anywhere is right here. When you come her ...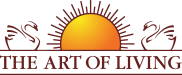 Founded in 1981 by Sri Sri Ravi Shankar,The Art of Living is an educational and humanitarian movement engaged in stress-management and service initiatives.
Read More