Question & Answers with Sri Sri Ravi Shankar

Q: Gurudev, Guruji, in night we see stars, does it mean to see truth we have to live in darkness?
Sri Sri Ravi Shankar:
Is the sun, during daytime, not visible to you? Don't you see the moon in the evening?
It's only in the absence of the sun and the moon that the stars are visible. Then you run behind the stars. Only those who haven't seen the sun and moon of their own Self run behind the stars.
Opposite values are complementary. If there is a question, there is an answer.
Q: Gurudev, Please talk about spirituality. People have so many notions of spirituality and meditation. I don't understand what does it actually mean?
Sri Sri Ravi Shankar:
We want to achieve success in professional life. Isn't it? That's why we take up an enterprise or profession. That provides you means to have comforts for the body. Yoga, meditation and spirituality are about giving comfort to your soul. When the room is very hot, you switch on the air conditioner to give some comfort to the body. AC (Air conditioner) for the mind is meditation – Absolute Comfort to your mind.
Q: Gurudev, In Patanjali yogasutra you said 'Knowledge of sleep leads to Samadhi. Please explain.
Sri Sri Ravi Shankar:
Yes, Samadhi can also be attained with the avlamban (need) of knowledge of sleep and dream.
Q: Gurudev, Is it important to take bath in Haridwar during Kumbh or will bathing in Rishikesh suffice?
Sri Sri Ravi Shankar:
It's perfectly ok to bathe in Rishikesh. You can take a dip wherever the Ganges flow.
When such parva comes, Ganga comes to every home. In South India, during Diwali the Ganga snan (bath) is done. The usual greeting is, "Have you done Ganga snan?" If you take a cold water bath in the morning, it means you have done Ganga snan.
On the banks of the Ganges, many sadhus do penance and they transfer all the merit in the waters of the Ganga. Teerth ko Sant Puneet banate hai – Teerthani pounaynti sataha!
Jaise teerth sabko puneet karte hai, sadhu ganga ko puneet karte hai. (Just as the Ganges purifies all, the saints purify the Ganges.)
The Ganges is chaitanyamayi (enlivened) hai, brahma roop hai.
As soon as you bathe you feel fresh and new. All the impurities of the mind are washed away. The mind becomes healthy.
I wouldn't say the same for the Ganges at Kanpur and beyond. The Ganges water should be kept pure. If the Ganges is polluted then its benefit won't be to the extent of its fame.
Q: Gurudev, Please talk about the increasing student suicides in Maharashtra.
Sri Sri Ravi Shankar:
The rate of suicides among students was increasing in Maharashtra so we published an advertisement in newspaper which encouraged people to contact us even if they had a slightest suicidal tendency. We got around 250 phone calls in a very short time, two days itself. Then they came to the course and did meditation. One person shared that his father and he, both, were going to commit suicide but now after going through the course they won't do any such thing. So this is the way. Make people do the courses and experience meditation.
Q: Gurudev, Guruji I want to increase my faith…

Sri Sri Ravi Shankar:
Stop the struggle to strengthen the faith. Assume you have faith, if it shakes, pray to God to make it strong.
Q: Gurudev, Should one believe in the horoscopes?
Sri Sri Ravi Shankar:
If your mind says you should do it, then you should. But that shouldn't be given too much importance. Sometimes the recorded time or place of birth may not be accurate. There are many issues involved. So neither should we totally ignore it nor should we take it to be exactly right.


Q: Gurudev, I would like to know about your views on this wonderful time on the planet when service is accelerated and technology is connecting the world, when we have the opportunity to make this world a one world family, when teachings from the teachers like you are spreading all over the planet and we have a chance to evolve spiritually. At the same time planet is facing dangers that the old ecological and political structures are not sustainable anymore. We are coming to a choice point where we are ending one paradigm and accelerating in a spiritual paradigm. Also so many souls are incarnated at this time. And wonderful events are happening like this to accelerate that. Would you please speak on that?
Sri Sri Ravi Shankar:
I think I have said it all. All the lines between different disciplines are blurred now. I remember when I was in school there was a thick line of difference between physics and chemistry, and they were thought not to be connected. Today, whether it is astrophysics, physics, knowledge about the spirit or information technology, all have come together. Environment and spirituality are not two different things. Perhaps the ancient people of this country knew this. They worship the trees, mountains, rivers etc in nature. And it is true for all native civilizations in the world. They honored nature. They took care that they care for nature and progress and development was aligned with the sustainable conditions on planet Earth. The most needed thing today is – Globalizing wisdom. There are two types of calamities – one is natural calamities like earthquakes. And second is man - made calamities. Man - made calamities can be overcome by wisdom and a Cultural Revolution, and by spreading this knowledge of a one world family. We are anyway one. There is no two.
Natural calamities can be overcome by caring for the planet, planting more trees, preserving water, by spiritual energy and with the thought that you are one with the vishavatma(Universal soul). An intention or thought that you are one with vishatma and a little attention manifests itself.
Q: Gurudev, I often speak the truth, but because of this people become angry. What must I do?
Sri Sri Ravi Shankar:
Speak the truth and speak sweetly as well. When you speak harshly then people get angry, not because of the truth. When it is very necessary to tell a bitter truth, speak it with sweetness. You don't have to cut vegetables with an axe.
Q: Gurudev, Guruji, even after surrendering, the mind gets stuck? What should I do?
Sri Sri Ravi Shankar:
At least for some time the mind gets free. This is the how it is with the mind. The reach of maya is widespread. It holds on to you from so many directions. When you think it gives you some happiness then the mind gets attracted towards it. Finish it with surrender, bhog ke (bearing the pleasure & the pain) or with understanding. If nothing, then with time it automatically gets finished.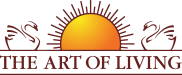 Founded in 1981 by Sri Sri Ravi Shankar,The Art of Living is an educational and humanitarian movement engaged in stress-management and service initiatives.
Read More