Question & Answers with Sri Sri Ravi Shankar

Q: Gurudev, Is physical distance a hindrance in feeling close to someone?
Sri Sri Ravi Shankar:
There is no distance for the mind. When you connect with the feelings, all the distances vanish. If there are no feelings, then you do not feel the connectivity even if you are sitting next to the person. That is true for god, divine and all relations. When such a connection is established with the whole universe, you experience the Shiv tattva.
Q: Gurudev, How to draw the line between not being a football of other's opinion and also listening to them? Isn't it also important to listen to other's opinion?


Sri Sri Ravi Shankar:
Yes, it's like a riding on a bicycle.
Q: Gurudev, Can you please speak to us about ego?
Sri Sri Ravi Shankar:
Some say drop the ego, some say destroy it. I say, let the ego stay in your pocket. If you say you have dropped the ego, it becomes a very big ego. Let the limited ego dissolve in the Universal ego. Bhagwad Geeta has elaborated on this in great detail. There are three types of ego - tamasic, rajasic and sattvic. From tamsic and rajasic come to the sattvic ego. The sattvic ego automatically dissolves into Brahman in the state of samadhi.
Q: Gurudev, How to increase devotion?
Sri Sri Ravi Shankar:
Open your ears wide and listen. You are a devotee and a true devotee. Don't ever raise a doubt on this. The badness is imposed from outside. Inside you are one with the Truth. Your devotion is also true devotion. This is the way to think. Otherwise, the self doubt transforms into guilt and then you spoil your mind. Move with the belief that I am a true devotee. Hear this with open ears.
Q- Krishna ki chaturta, Ram ki gambheeta (Lord Krishna's mischievousness, the seriousness of Lord Rama) … Guruji, which way to follow?
Sri Sri Ravi Shankar:See there is no fight here. They came at different times, so that there is no competition. They came to tell us that, "We are all one". Here there is no conflict of which is better which is worse, everything is essential. Each one has a style, place and time.
It is like you sing different songs for different occasions in life. In a marriage you don't sing a song that is sung at funerals.
Q: Gurudev, Guruji, in your company we feel as if Vrindavan has been created here and now only. But when we move out in the world, entanglements cling on to us again. How to be free from that?
Sri Sri Ravi Shankar:
Keep coming again and again. Have you noticed that the entanglements do not cling on to you with the same intensity as it used to be earlier? That grip is loosened. Gradually, when you become more centered, those worldly things do not distract you anymore.


Q: Gurudev, You often say we all are like your hairs and you come to know even if one hair is stretched. I have been pulling your hairs since many days, but it seems as if you haven't noticed it?
Sri Sri Ravi Shankar:
(With a naughty laughter) yes, some of the hairs seem to have been uprooted!
Everything has its own time. If you pray and wish all your prayers get fulfilled today itself, it is not possible. Have patience. (Making a gesture with his hands where right hand is facing audience and second is slanted downwards, and both palms shown above) Have you seen hands of all Gods and Goddesses like this? Same for Laxmi, Vishnu…Do you know its meaning? Have patience, I am giving. This is one meaning, when you need something. Another meaning is – come, surrender and you find there is no need to be afraid of anything whatsoever. (Right palm raised and facing audience) This is called abhaya mudra. Abhaya means without any fear. (Left hand slanting downwards with palm facing sky) And this is called Varada mudra which indicates - I am giving you whatever you want.
I don't mind even if you ask for more.


Q: Gurudev, Which is the energy centre in our body?


Sri Sri Ravi Shankar:
There is energy centre in every cell of the body. Heart, mind, everything is an energy centre. The whole consciousness is a manifestation of energy.
Q: Gurudev, What is the importance of bathing in Ganges especially during mahakumbh?
Sri Sri Ravi Shankar:
it is believed to be good to have a dip in the ganges. However, taking a dip in knowledge is even greater for it purifies the mind.
Q: Gurudev, If we have come from God, we are a part of God and to dissolve in God is our aim then why do we do stupidity of moving away from God?
Sri Sri Ravi Shankar:
Sometimes you get bored of sitting at your home and you go for a walk. But then you come back. If you don't come back home then people like us come to take you back home.
Q: Gurudev, Is there life on other planets?
Sri Sri Ravi Shankar:
There is plenty here. Let us care for them first. Not to worry about other planets now.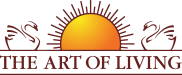 Founded in 1981 by Sri Sri Ravi Shankar,The Art of Living is an educational and humanitarian movement engaged in stress-management and service initiatives.
Read More