Question & Answers with Sri Sri Ravi Shankar

Q: Gurudev, Does the master find disciple or disciple finds the master?
Sri Sri Ravi Shankar:
How does it matter whether you find master or the master finds you? It is sufficient that both have met.
Q: Gurudev, How do I know that the service that I am doing is right?
Sri Sri Ravi Shankar:
You ask the people whom you are serving. If someone doesn't want to cross the road, don't drag them on the other side (Laughter follows). Service is that which is needed by the people.
The gentleman continued to ask what if someone wants drugs.
Sri Sri Ravi Shankar: Then that is not service in the first place. Don't call it service if someone wants to kill someone else. You have certain basic human values. Anything that destroys human life is not a service.
Don't regret about the past however it has been. You have learnt the lesson. Just accept it and move on, learning from it.
Gentleman continued to asked that should one act on the best judgment one can make at present.
Sri Sri Ravi Shankar: Your consciousness will tell you that it is wrong and you should not do it.
Q: Gurudev, Why is not every human being pure?
Sri Sri Ravi Shankar:
Every human is pure but filled with dirt. Every human being is like a diamond. The fact that the diamond is in mud, does not make it mud. You simply have to pick it up and wash it. And it shines again. The shiny nature of diamond is always there but covered with mud and slush.
Q: Gurudev, Is there life on other planets?
Sri Sri Ravi Shankar:
There is plenty here. Let us care for them first. Not to worry about other planets now.
Q: Gurudev, Doesn't there arise any conflict between different religious and spiritual organizations?
Sri Sri Ravi Shankar:
There are different methods and patterns but the ultimate aim is same – to uplift humanity. All are good. Inter religious seminars are conducted time and again. As far as my knowledge is concerned there are no conflicts between them.
Q: Gurudev, Guruji, in your company we feel as if Vrindavan has been created here and now only. But when we move out in the world, entanglements cling on to us again. How to be free from that?
Sri Sri Ravi Shankar:
Keep coming again and again. Have you noticed that the entanglements do not cling on to you with the same intensity as it used to be earlier? That grip is loosened. Gradually, when you become more centered, those worldly things do not distract you anymore.


Q: Gurudev, Guruji, in life we see good people suffering a lot. It seems God is hard on the good people. Why?
Sri Sri Ravi Shankar:
No no, it only seems so. It's not real. A person who seems successful and happy despite doing wrong actually is restless in the heart. He can't sleep peacefully, can't eat with joy and his fall will be greater than his rise. Have faith that if I am doing good, then good only will happen. If you think otherwise, it is an illusion. But being good doesn't mean one should be stupid, use your intelligence. One's heart should be clean.
Q: Gurudev, You always look so calm and collected, despite your busy schedule? How do you manage it?


Sri Sri Ravi Shankar:
Do you know beauty lies in the beholder's eyes? How are you able to see that everywhere? Consciousness is truth and beauty together.
Real beauty is when you're centered, when your mind is with the truth. That is how every baby is beautiful – because they are centered.
Q: Gurudev, I feel hurt with people talking negative things.
Sri Sri Ravi Shankar:
We give rise to others with our perceptions. If you look upon someone as a friend, that would be beneficial for you. If you take them to be your enemy, then that will happen.
Q: Gurudev, How do we save ourselves from bad thoughts?
Sri Sri Ravi Shankar:
We become what we think. Especially for a devotee what he thinks comes true. But this power of thought is with the devotees only. When you become a devotee then you do not get bad thoughts. With devotion, all vikalpas go away.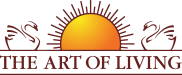 Founded in 1981 by Sri Sri Ravi Shankar,The Art of Living is an educational and humanitarian movement engaged in stress-management and service initiatives.
Read More