Question & Answers with Sri Sri Ravi Shankar

Q: Gurudev, You often say we all are like your hairs and you come to know even if one hair is stretched. I have been pulling your hairs since many days, but it seems as if you haven't noticed it?
Sri Sri Ravi Shankar:
(With a naughty laughter) yes, some of the hairs seem to have been uprooted!
Everything has its own time. If you pray and wish all your prayers get fulfilled today itself, it is not possible. Have patience. (Making a gesture with his hands where right hand is facing audience and second is slanted downwards, and both palms shown above) Have you seen hands of all Gods and Goddesses like this? Same for Laxmi, Vishnu…Do you know its meaning? Have patience, I am giving. This is one meaning, when you need something. Another meaning is – come, surrender and you find there is no need to be afraid of anything whatsoever. (Right palm raised and facing audience) This is called abhaya mudra. Abhaya means without any fear. (Left hand slanting downwards with palm facing sky) And this is called Varada mudra which indicates - I am giving you whatever you want.
I don't mind even if you ask for more.


Q: Gurudev, I want to understand the relation between spirituality and the material world? Does material prosperity and the spiritual world coexist?
Sri Sri Ravi Shankar:
Prosperity and spirituality can coexist but greed and spirituality can't coexist. Unethical means of earning money and spirituality simply cannot coexist. If you have a factory or a business, you can continue do that and still be very ethical. You don't have to leave your industry, which may be giving employment to a few hundred or more people, for spirituality. There is no need of saying materialism is bad and leaving that you want to go towards spirituality. That is not at all necessary. You can continue doing your duty. This is what is expressed in one of the scriptures 'Ashtavakra' where Ashtavakra told king Janaka that he can be a king and be totally spiritual. King Janaka was the embodiment of the highest knowledge. There are many examples like this. What I usually say is 'keep money in your pocket and not in your heart or head'. When the money is wrongly placed that is when the problem arises. In India, materialism and spirituality are not in conflict with each other. Lakshmi – the symbol of material prosperity is portrayed pressing the feet of Narayana - the symbol of spirituality. We always say LaxmiNarayana which refers to the combination of wealth and spirit. But it is very important to note that greed and spirituality don't go together.
Unfortunately we associate negative tendencies like greed and jealousy with materialism. Even if you have to do charity, you can't do it with an empty bowl. How can you think of feeding ten hungry children with no money at hand? Is it not your dharma to feed them? In one of the ancient scriptures in India it is said 'Righteousness comes from wealth. Proper governance is the basis of the economy'. I think it is all connected. And the most important is the faith in the being, the highest self - the faith that I am going to get whatever I need and whenever I need. Then you give miracle a chance. Materialism is measuring every step too much. (Then you don't know when the stock market is going to crash and banks are going to be bankrupt.) Don't bank your faiths on the banks but bank your faith on the divinity and the power of your own sankalpa(positive sankalapa) and thoughts.
Q: Gurudev, How much difference is there between science and spirituality? Why do not scientists believe in spirituality?
Sri Sri Ravi Shankar:
Evolved scientists surely believe in spirituality. Those who are not yet fully evolved may not believe in spirituality. Scientists like Einstein had said that he had never seen or heard a book like Bhagwad Geeta. If you hear a quantum physicist talking, you will feel as if the text is being quoted from the scriptures only. 'What is this?' is science.' Who am I?' is spirituality. We need both science and spirituality to bring contentment to our soul.
Q: Gurudev, Bali culture is connected to India, would you throw a little more light onto this?


Sri Sri Ravi Shankar:
If go into the aboriginal culture all over the world you will find that they are all similar - in British Columbia, Australia, New Zealand, India etc. They all are similar to one another. They all honor the directions, the moon, the earth, the sun, the water, the mountains. They all honor creation. India and Bali are in Southeast Asia, and are of course connected. It's good to find similarities, and celebrate differences.
Q: Gurudev, When will my family come on this path?


Sri Sri Ravi Shankar:
Don't worry. Everyone will come to the path slowly.
Q: Gurudev, Is physical distance a hindrance in feeling close to someone?
Sri Sri Ravi Shankar:
There is no distance for the mind. When you connect with the feelings, all the distances vanish. If there are no feelings, then you do not feel the connectivity even if you are sitting next to the person. That is true for god, divine and all relations. When such a connection is established with the whole universe, you experience the Shiv tattva.
Q: Gurudev, I am in love with a guy and I want to marry him. But my parents are against this. Whatever I chose I lose the people I love most. What should I do?
Sri Sri Ravi Shankar:
Try to convince your parents or try to understand why they are opposing. If they are doing this because of caste system or any superstition then you talk to them and make them understand. But if they have some other concern then you should try to understand their point of view also. Sometimes you are blindfolded when you fall in love. You are driven away by feelings and you cannot see what others can.
If you are not able to come to any conclusion then give time a chance. Have patience, relax and pray. Prayer has enormous power and it works.
Q: Gurudev, What question should I ask?
Sri Sri Ravi Shankar:
My dear, you are asking me to tell you question also! Is it your New Year resolution not to use your brain come what may? You want to borrow even questions! No way. The questions have to be yours. It's not school where they give you questions and you give answers. Here you have to come up with the question. And you don't have to; if it comes up in you then that is your question. Nobody can tell you what question you should ask, what you should prayer for or what you should seek. It is a spontaneous outcome from within. Need is not to be dictated by somebody or anybody. Need is that which arises from within. In reality when you come in this energy all questions in you disappears.


Q: Gurudev, How can we stand together if we can't stand for ourselves and don't have a sense of satisfaction inside?
Sri Sri Ravi Shankar:
when you have inner satisfaction then everything happens effortlessly for you. When you don't have that, even small things become a struggle. Wisdom is about having that inner satisfaction. Wake up and see what is bothering you and why are you not satisfied? You don't have food, you don't have shelter, you don't have money or you don't have a companion? Pin point the area and then deal with it. You think when you have x amount of money or that much fame, then you will be happy. Wake up and see life from a broader perspective and you will see that this is not the truth. This is another illusion. Then you settle down. Meditation is the answer.
Q: Gurudev, Is it possible to accept someone's behavior in the future if you are not able to do it at present. If we don't show anger then they will keep repeating their behavior, isn't it?
Sri Sri Ravi Shankar:
You show anger but you don't have to become angry.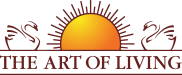 Founded in 1981 by Sri Sri Ravi Shankar,The Art of Living is an educational and humanitarian movement engaged in stress-management and service initiatives.
Read More