Question & Answers with Sri Sri Ravi Shankar

Q: Gurudev, How do we balance worldly activities and spiritual practices?


Sri Sri Ravi Shankar:
How do you walk? You lift up one leg and keep the second on the ground, and then you alternate this. This is balance. Can you walk without balance? A man walking in his senses knows what balance is. Just like this you balance your life.
If you leave all your work and only meditate, you will not even be able to meditate. And if you only do work and don't do your practices, you will feel that longing for meditation. So listen to your heart. It gets pulled towards both. Balance both, do this as well as that.
Q: Gurudev, How can I free myself from fears that seem to have settled into me years ago? I know they are irrational and just in my head. Yet here they come up over and over again. They are distracting and feel binding to me!
Sri Sri Ravi Shankar:
Meditate! Sit quietly and meditate, or listen to some chanting music. All this will help. Meditation, some pranayama, sudarshan kriya, some excercises, ujjayi breath are very good for fears. Don't think that fear is somewhere deep inside you. It is an erroneous notion of Psychology that fear and guilt are deep down. I tell you, deep down there is only a lot of joy; a lot of bliss. And in that centre – no fear, no guilt, no anger, no lust can touch you. Deep down you are wonderful. So never think you have all these anxieties. Those who say that there is something wrong deep down are blind. It is all there just on the surface. If they call that deep, then I will suggest to go deeper. In the centre of your being, you are a fountain of joy. Saying, "Oh! My Mind! Deep down there is anxiety!"is ignorance; a wrong idea and concept. The moment you accept these words as truth, it starts becoming more difficult to get over those emotions. They become more permanent there. Do you see that?
Q: Gurudev, Where do you get courage from?

Sri Sri Ravi Shankar:
From Advaita - Knowing that there is something in you that is not changing. A little experience of silence, calmness and meditation will give you enormous courage from within.
Q: Gurudev, How can one have a successful relationship?
Sri Sri Ravi Shankar:
I can give some advice on this.
First for women: Are you all ready? Never step on the ego of your man. Never tell him that he is good for nothing. If you do so, he will become like that. Always praise. Tell him he is the best. Give him compliments.
Now advice for men: Never step on a woman's emotions and never comment on her family. She may complain about her family, but you better keep quiet. The moment you start joining her she may attack you. Never step on her emotions. If she wants to go shopping, give her your credit card. Her emotions need to be taken care of.
To both men and women: I advise not to ask for proof of love. "Do you really love me?" Imagine what a burden it is to prove that you really love and care for someone. Even if you find some lack just say, "Why do you love me so much?" Even if the Spring has died out, it will start again. Ask only questions that are useful. Never ask someone to prove their love. Take it for granted.
Q: Gurudev, In trying times we find people are letting us down in government, business and religion. How do you think these leaders should be handled?


Sri Sri Ravi Shankar:
Compassion. Mahatma Gandhi created a brand of politicians who were widely respected. I say spiritualize politics, globalize wisdom and secularize religion. Everyone should know a little bit about every religion in the world. If everyone could learn a little about Buddhism, Hinduism, Sectism, Janism, Christianity, then the whole mosaic of religion would be available. That's the only way we can understand each other and move on to spirituality. If every child knows a little bit about each religion, they would grow up with an acceptance of all religions.
Q: Gurudev, What do you advice to farmers?
Sri Sri Ravi Shankar:
The crops which were produced in abundance in India are now being imported and hence their prices have also been raised manifold. Earlier three crops were grown in one field and even if the yield of one crop is destroyed, the others would give the farmers a living. So this system of growing multiple crops would never let farmers be in debt. But with the hybrid crops you get a good yield only in the first one or two years and then it decreases the soil fertility. It leads to depletion of essential salts in the soil. So I suggest to all to adopt the ancient methods of farming. Multiple cropping yields a good profit.
We have also started a seed bank in Maharashtra. 1 kg seeds have been given to 50 farmers this year. 1kg seeds will give them a yield of 40 – 45 kg and next year they would be returning 2 kg seeds. This way 100 farmers can get free seeds next year. It will be good if such banks are started in Punjab and Haryana also. Farmers will be happy and we will also get a good crop. Otherwise the crops which we get with chemical farming cause pain and other illnesses in the body here and there. So multiple cropping and chemical free farming are the best solutions.
Q: Gurudev, Guruji, I am not able to concentrate for my mind is very flickering and playful. What should I do?

Sri Sri Ravi Shankar:
Let the mind go wherever it wants to go.


Q: Gurudev, Why do we want to be liberated?


Sri Sri Ravi Shankar:
Wanting freedom is a natural phenomenon. What you feel after your exams are over is a little experience of liberation (moksha). In life also you burn in your own hopes and desires. These desires have only brought you misery. When you relax taking a step outside all this, there is liberation (moksha). When you sit for meditation with the feeling, I am nothing, I want nothing, and I do nothing - this feeling is the feeling of freedom. It is fun, it is freedom.
Q: Gurudev, You spend so much time for reducing terrorism; do I need to become a terrorist to get your time and attention? It would be nice to be transformed through you.
Sri Sri Ravi Shankar:
A terrorist use gun to shoot, but you shot arrows of your devotion! Your devotion and love are much stronger.
I remember an incident when I was in Rishikesh. A devotee fainted and fell down. Everyone's attention was attracted by this. I knew that it was just a drama to attract attention. First I kept on walking, but when the drama continued for a long time, I went to that place. When I asked, she said, 'You don't look at me, so I had to do this.' You don't have to do such a thing to catch my attention! How do you know I don't look at you? When you are looking elsewhere, I look at you for sure. The goal is only one - to center your mind and consciousness in one place. When your mind is centered, calm and you are smiling, I look at those whose mind is still racing here and there and is not centered.
Q: Gurudev, What is beyond the experience we call death?
Sri Sri Ravi Shankar:
Why do you want to know everything right away? I don't want you to be bored even after you die! Let's first understand life. We can understand death later.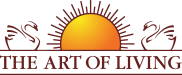 Founded in 1981 by Sri Sri Ravi Shankar,The Art of Living is an educational and humanitarian movement engaged in stress-management and service initiatives.
Read More