Question & Answers with Sri Sri Ravi Shankar

Q: Gurudev, What do you think of religious scandals? How can you avoid such scandals?

Sri Sri Ravi Shankar:
If somebody has made such a mistake, he/she should simply admit it. There are such people in every field who don't speak the truth. Don't blame the field for it. There are doctors who steal kidneys and sell it for a price. Some people are scared of being operated. But you cannot doubt all the doctors. Noble professions like medicine and education are becoming corrupt. There is a fine line between being cautious and being paranoid, and prejudice occurs when you cross the line.

Q: Gurudev, In trying times we find people are letting us down in government, business and religion. How do you think these leaders should be handled?


Sri Sri Ravi Shankar:
Compassion. Mahatma Gandhi created a brand of politicians who were widely respected. I say spiritualize politics, globalize wisdom and secularize religion. Everyone should know a little bit about every religion in the world. If everyone could learn a little about Buddhism, Hinduism, Sectism, Janism, Christianity, then the whole mosaic of religion would be available. That's the only way we can understand each other and move on to spirituality. If every child knows a little bit about each religion, they would grow up with an acceptance of all religions.
Q: Gurudev, I am new to the concept of joint families? I would love having a joint family. But I am little afraid if there is any disadvantage involved?
Sri Sri Ravi Shankar:
There are some disadvantages of joint family also. But when a family is broken into nuclear families, husband, wife and kids, there is nobody else to fight with! So, they end up fighting with themselves, and then kids and parents also separate. So, this is the advantage of joint family, they live together even after fights. Western culture is adopting the system of joint families. People are going back to the family values, and joint family system. Also it is very important to keep this tradition of celebrating festivals with the whole family coming together
Q: Gurudev, What is the significance of the story of poison getting stuck in Shivji's throat?
Sri Sri Ravi Shankar:
It has a deep meaning. Poison spreads with speech. Mind gets agitated with speech. All riots happen because of harsh words and lack of right knowledge. Shivji is also called neelkanth – which signifies when Mahadev drinks poison, it doesn't reach his whole body. When there is fight between right and wrong thoughts, a poison is generated. Shiva tattva has power to hold on to that poison. Even if you have to criticize, do it from your lips and not your heart. When you do it from your heart, it harms you. When it is from the level of lips, somebody is benefitted in the society. You cannot have flowery speech all the time. That would be cheating yourself and others also. You have to show mirror to people. But that should not be from the level of the heart. Even if Shiva gets angry, that is not from inside. Same peace is there inside. It is like kids getting angry with their mother. In no time they retain their smile. This is innocence. It is the grownups who hold on to fights for long time.
Q: Gurudev, I am a woman who is trapped in an abusive relationship, what can I do?

Sri Sri Ravi Shankar:
Firstly, get out of the victim consciousness. Nobody else can make you come out of it. There is a part of you that no one can touch. When we talk too much about our problems, we begin to enjoy talking about those. Truth and reconciliation is important.

Q: Gurudev, What is your inspiration?


Sri Sri Ravi Shankar:
There are two ways of going about work. One is wanting to do something for which you can always find an inspiration. Another is since you already have something, so you want to do it as an expression of joy. It makes all the difference whether work is done as an expression of joy versus expecting some joy. So, I'm not expecting joy in doing something. Rather, I am doing everything as an expression of joy. Everything is happening spontaneously. People find it very hard to understand this. These people ask me, "What is your motivation?, What is it that you want by doing all of this?". I say, "nothing. I want nothing". It's a little hard to understand at that time. For instance, suppose you have seen a nice movie. So many people who saw Avatar told me, "Guruji, you must go." By canvassing for a movie you enjoyed, you are not getting anything. You are not getting paid for canvassing for that movie. You go around telling everybody, "oh, that movie is so good, you should watch it." What do you get by that? You just tell people because you enjoyed watching it, and you want to share that happiness with everybody. Infinite joy is what we've all been born with. I give joy by sharing myself with everybody. So, we need to bring this shift from the joy of receiving to the joy of giving.
Q: Gurudev, I feel like I am not doing enough service as compared tothe blessings I have received.
Sri Sri Ravi Shankar:
Keep going!
Q: Gurudev, How do I get over addictions?

Sri Sri Ravi Shankar:
Love, fear and greed. If you have an alcohol and cigarette addiction, and I tell you that you will get one million dollars if you don't smoke for one month, you will stop. Won't you? Greed can check your bad habit. If you promise someone love, even then they will get over addictions. There is a Catholic tradition as well as in India, that of confession. You confess and say, "This is my habit, how can I change it?" Third is fear. If I say, you will die in a month if you do this, you will not do it. Fear can stop an addiction. I prefer love over other two.

Q: Gurudev, Doing
Sudarshan kriya
, we feel relaxed and happy but after that the mind again wanders in its imaginations.
Sri Sri Ravi Shankar:
You turn around and see.
(The questioner turns around, and audience laughs)
Sri Sri continued: Not now! You turn around in your life, one year, two years, three years before, and see what were you then and what are you now? Do you see the difference? How much difference? You say a lot of difference in a month since you did Sudarshan kriya, so there will be more in the future.
Q: Gurudev, If we should not blame ourselves nor blame anyone else, whom can we blame? Is it ok to blame you?


Sri Sri Ravi Shankar:
By all means. I'm ready. I can watch the fun, as much as you want. Do you have to blame? If you have to blame then get it out of your chest.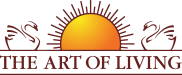 Founded in 1981 by Sri Sri Ravi Shankar,The Art of Living is an educational and humanitarian movement engaged in stress-management and service initiatives.
Read More