Question & Answers with Sri Sri Ravi Shankar

Q: Gurudev, Guruji, have you ever lied? If yes, then why?

Sri Sri Ravi Shankar:
In my childhood, I used to tell everyone that my family is in the whole world. My friends would complain to my parents saying I was telling lie, and I would get scolding from my parents. But, see today, my family is in the whole world!

Q: Gurudev, Why to turn vegetarian to practice spirituality? Don't I need proteins to follow spirituality?

Sri Sri Ravi Shankar:
There is more than one reason for the same. There are different animal groups. Some are scavengers which eat dead animals. Some kill and eat fresh flesh. Some animals eat only vegetarian food. The most powerful land animal, elephant, is vegetarian. Horse, cow, Gorilla, Hippopotamus are all vegetarians.
So, you find this nature. Our system is made for vegetarian food. There are many logical and scientific explanations. People world over are turning to be vegetarian. You don't want to make your stomach a burial land? You can change your whole diet and you will find how intelligent and genius you turn out to be. Most scientists, especially the genius ones like Einstein were also vegetarian.

Find more in the next post..


Q: Gurudev, How were you able to establish three centers in Pakistan?

Sri Sri Ravi Shankar:
The people of Pakistan are very good. They just do the Sudarshan kriya. We have teachers there. When you are stuck in concepts, you are in the box. It is when you get an experience that you can come out of the box.

Q: Gurudev, We read in some mythological stories that the yogis curse. Why do the yogis curse? On one hand they ask everybody to be happy, do meditation etc. then why curse?
Sri Sri Ravi Shankar:
When a yogi curses, even it helps one in some way. The anger of a learned one is also useful, and the love of an ignorant is harmful. For example, in a village when the children cry and say they don't want to go to school, the mothers ignorantly tells them, instead of sending the child to school , to stay back and play at home, or take the herd to jungle. This may be harmful for the children in the long run. Likewise a yogi's anger may be inspirational and may do good to others.
Q: Gurudev, How should be a disciple's relation with the master?
Sri Sri Ravi Shankar:
What relation you want to have with yourself? A relation in which you are natural and without any hesitation.
Q: Gurudev, According to Vedanta we are all one. But we have different personalities and ideas. Can you explain?

Sri Sri Ravi Shankar:
Everything is made up of atoms. Like furniture is made of wood. The door, the bench, the table, the chair are all made of wood. Wood is in each of these things. But the roles are different. The door cannot be used as a chair, nor can a table be used as a door. Quantum Physics is based on the principle of Advaita (non duality).

Q: Gurudev, Is anger related to ego? Several Rishis in the Hindu tradition have been known to be very short-tempered. How did this affect their peace?

Sri Sri Ravi Shankar:
Not several. One of the Rishis is known for his anger. But always good happened through his anger. That's why I say, even the anger of a wise man does so much good, and love of an ignorant person causes more problems.

See, an illiterate mother, an uneducated mother, she doesn't like her children going to school because the young ones cry while going to school. Then she says, 'No, no. Ok, don't go to school.' They say they don't want to study, and she says, 'Ok, don't study.' Her love for her children has spoiled their whole life. Isn't it? So, even the love of an ignorant person does harm. And even anger of a saint always does good.

There are so many stories about one sage, his name was Durvasa. In India, if someone is very angry, they say 'Oh, he is a Durvasa!' means he is someone who gets angry at the drop of a hat. But he would come back to normal state immediately. This is to say, don't feel bad about yourself if you have anger.

Even a Rishi had some anger. So, you don't have to be too hard on yourself by blaming yourself. That is just to give you self confidence. To make you feel, you are ok, inspite of your little bit anger. That is only one rare case. That is to say that enlightenment is unconditional. It is what? It is unconditional. You can't put any condition on that freedom. Just to tell you, there is no conditioning. So it's possible to get angry also. And, sometimes anger can also do good.

To be continued in next post..


Q: Gurudev, Do I need a guru?
Sri Sri Ravi Shankar:
Do you need an answer? If you need an answer that means you need someone who have to give you the answer, and that anyone who gives the answer automatically becomes a Guru.
Guru means the one who gives the answer. The English word guide comes from the original sanskrit word guru.
You need a guide for everything, for learning guitar, music, or any field you take. Similarly, Guru is one who can guide you into meditation, wisdom, and knowledge.
Q: Gurudev, What is the link between ego and self confidence?

Sri Sri Ravi Shankar:
Ego is feeling uncomfortable in the presence of someone else. Self confidence is, feeling at home. Ya? Being natural is antidote to ego, and being natural is so complementary to confidence. It goes with confidence and is inseparable from confidence. When you are confident, you are natural. If you are natural, you are confident.
Q: Gurudev, My husband practices Sudarshan kriya but does wrong deeds. What should I do?
Sri Sri Ravi Shankar:
How can this be? Then he may be doing Sudarshan kriya just as an excercise. Bring him for a follow up, or meditation camps. Or, may be what you see as a wrong deed is not perceived so by him. Talk to him.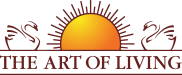 Founded in 1981 by Sri Sri Ravi Shankar,The Art of Living is an educational and humanitarian movement engaged in stress-management and service initiatives.
Read More