Question & Answers with Sri Sri Ravi Shankar

Q: Gurudev, What should I do with the conflict in my mind?
Sri Sri Ravi Shankar:
The moment you realize that there is so much conflict in your mind, your eyes open. Satsang and pranayamas can put an end to it.
Q: Gurudev, There is so many violence and natural disasters happening in the world. Why does God let this all happen? If God exists then why does all this happen?

Sri Sri Ravi Shankar:
You chop off some leaves and branches of plants. Don't you prune rose plant? Does it die by pruning? It grows up. Same way nature brings all this from a bigger picture.
It is not always ripe fruits that fall from a coconut tree. Sometimes even small coconut drops off. Baby fishes are also swollen by big fishes in an ocean. So, these natural calamities are all part of the nature. If we exploit nature too much, more natural calamities occur. We are putting dynamites in the Earth. We are blasting it every day. Imbalance gets created and so Earth starts shaking. Sustainable development is what is needed today. We need to care for the planet.

Nature moves with the law. God means a rule, a law. Everything goes by that. This planet Earth has to be protected and cared for.
One is natural calamity. Another is man-made calamity. Man-made calamities can always be avoided. People are not valuing human life for a little piece of gold. Human values need to be brought back into society.

Q: Gurudev, What is Enlightenment?


Sri Sri Ravi Shankar:
The book 'Celebrating Silence' contains little excerpts on many topics. You read that and then we will discuss about it.
Q: Gurudev, Sri Sri, if joy is our nature, why do we lose touch with our nature? Why are we distracted?

Sri Sri Ravi Shankar:
Spiritual voyage can give you the joy and keep you in touch with your nature.

Q: Gurudev, How do we locate the queen bee within us?

Sri Sri Ravi Shankar:
Meditate, meditate, meditate, meditate, and meditate.

To be continued in the next post..


Q: Gurudev, How can someone free the body from an overactive mind?
Q: Gurudev, Why are there so many different philosophies?

Sri Sri Ravi Shankar:
Why not? God loves diversity. What if there was only okra to eat? But you have potatoes, tomatoes, beans, all kinds of fruits, vegetables and flowers. God seems to love diversity. He has created so many of us in different shapes, features and colors. He is definitely not a military person, an army general. A spirit that loves diversity must be diverse in itself too. That is what the rishis (Ancient saints) found in meditation. There is only one Ganesh and one Vishnu, but in so many different forms. See unity in diversity and celebrate diversity. Our rishis in the past had spoken of tolerance, acceptance, diversity and equal opportunity.

Why the difference? Find the common thread in different religions. According to different places, there are different customs. Time has created differences. There was one Buddha, now we have thirty-two forms of Buddhism, one Jesus Christ and now seventy-two sects of Christianity, and one Prophet Mohamed and now five different sects of Islam. In Hinduism, the variations cannot even be counted! But everyone believes in the Vedas, the Upanishads. How many different sects? Why should they not be there? Let it be there. See unity in diversity.

Q: Gurudev, Is religion necessary to get deep into spirituality?
Sri Sri Ravi Shankar:
Religion is different from communism. Being religious means being compassionate, honest and not treating others as you do not want to be treated as.
Q: Gurudev, Guruji, how do I silence my mind?
Sri Sri Ravi Shankar:
The will to silence itself pays in many ways. Meditation and Sudarshan Kriya helps, too.
Q: Gurudev, What is difference between self and mind?
Sri Sri Ravi Shankar:
Self is the ocean and mind is a wave.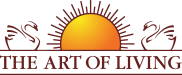 Founded in 1981 by Sri Sri Ravi Shankar,The Art of Living is an educational and humanitarian movement engaged in stress-management and service initiatives.
Read More