Question & Answers with Sri Sri Ravi Shankar

Q: Gurudev, How do I know that I have acquired knowledge?
Sri Sri Ravi Shankar:
How do you know if you have some pain in the body? How do you know that you love somebody? How do you know you are feeling fear? It is inbuilt. Same way you get to know. When you get knowledge joy, happiness, cleanliness, sweetness, sincerity, integrity, all reflect by itself.
Q: Gurudev, I am feeling confused between two men. One is father of my son. But I am not really happy with him as a woman. One is somebody to whom I feel really connected. What can I do? Shall I stay with the father of my son to protect the family life or shall I follow my heart?

Sri Sri Ravi Shankar:
Very difficult question! It depends on how old your child is. And if the child needs both parents' love and care, then you should attend to that first. Children's life is very much important. We need to sacrifice some of our personal wishes for the sake of the child when they are growing up. You know that. You have been doing it. So, protecting the family must be the first thing as far as possible. Many times you have to let go of some of your temptations. Let go some of your personal ambitions. Ya?

It's very important. Children need both, father and mother.If it's impossible because the husband is so bad or the wife is so bad, then you have to go your separate ways. Then there is no option. But, as far as possible, give the children a good family life.

Q: Gurudev, How do you deal with people who think they are right all the time?
Sri Sri Ravi Shankar:
They may be saying that but they realize when they have taken a wrong step. They cannot justify that they took a wrong turn but they know it. They don't have courage to admit the wrong thing. So you be compassionate to those who say that they are right all the time.

Q: Gurudev, How can you find a purpose for living if you have lost your self-respect?
Sri Sri Ravi Shankar:
The Self is not lost, so the self-respect is not lost. Come on, wake up. You are loved and accepted by many. You are a precious flower of this planet. Do something useful. Do not think only about yourself.
Q: Gurudev, What is the most simple act of service that one can do?


Sri Sri Ravi Shankar:
Service can be anything. The world does not expect you to do what you cannot do. Doing what you can do without expecting anything in return is service. There are two ways. Either we expect joy out of what we do or we do it with an expression of joy. This is the difference between a job and service.
Q: Gurudev, According to Vedanta we are all one. But we have different personalities and ideas. Can you explain?

Sri Sri Ravi Shankar:
Everything is made up of atoms. Like furniture is made of wood. The door, the bench, the table, the chair are all made of wood. Wood is in each of these things. But the roles are different. The door cannot be used as a chair, nor can a table be used as a door. Quantum Physics is based on the principle of Advaita (non duality).

Q: Gurudev, How to control desire?

Sri Sri Ravi Shankar:
Be in the now. Desire is wanting to be happy tomorrow. Be happy and joyful now. Like children, if you ask them what they want, they will say nothing. Because they are happy with 'now'.

Q: Gurudev, Why are there so many different philosophies?

Sri Sri Ravi Shankar:
Why not? God loves diversity. What if there was only okra to eat? But you have potatoes, tomatoes, beans, all kinds of fruits, vegetables and flowers. God seems to love diversity. He has created so many of us in different shapes, features and colors. He is definitely not a military person, an army general. A spirit that loves diversity must be diverse in itself too. That is what the rishis (Ancient saints) found in meditation. There is only one Ganesh and one Vishnu, but in so many different forms. See unity in diversity and celebrate diversity. Our rishis in the past had spoken of tolerance, acceptance, diversity and equal opportunity.

Why the difference? Find the common thread in different religions. According to different places, there are different customs. Time has created differences. There was one Buddha, now we have thirty-two forms of Buddhism, one Jesus Christ and now seventy-two sects of Christianity, and one Prophet Mohamed and now five different sects of Islam. In Hinduism, the variations cannot even be counted! But everyone believes in the Vedas, the Upanishads. How many different sects? Why should they not be there? Let it be there. See unity in diversity.

Q: Gurudev, I was wondering what exactly the mind is. Is it a little space in our brain or is it universal? And yes, I want to tell you that you rock.
Sri Sri Ravi Shankar:
Mind is energy which is all over the body. See, every cell in your body is emitting some energy and the totality of all that energy around you is what you call the mind. Mind is not present at some point in the brain, but mind is all over the body. There is so much deep knowledge about consciousness; we should sometime go much deeper into it. We will understand more. The more you understand, the more wonder-struck you are. Wow!
You know, people have phantom hand, that means they really don't have a hand, but they feel they have a hand and they feel sensations like itching or paining in that hand. People who have lost their hand or leg in a war or accident, later sometimes, they feel they have a phantom hand or a leg. Though, they don't have it physically. That explains or gives a clue that the mind is not just in one spot, it is all around the body. The aura of body is mind. We think that mind is inside the body, it is the other way around - Body is inside the mind. Body is like the wick of the candle and mind is like the glow all around.
Q: Gurudev, I feel very strong in your presence and it feels good. I am very grateful to have you in my life.
Sri Sri Ravi Shankar:
Good good. Knowledge, meditation and relaxation will give you cool heart, and soothe your heart!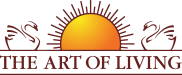 Founded in 1981 by Sri Sri Ravi Shankar,The Art of Living is an educational and humanitarian movement engaged in stress-management and service initiatives.
Read More