Question & Answers with Sri Sri Ravi Shankar

Q: Gurudev, Apart from the joy one gets in service, is there anything else also that one gets?
Sri Sri Ravi Shankar:
You get what you call good luck. Doing service increases your luck. But doing service in order to enhance luck will be cheating. You do service because you cannot live without that.
Do whatever you can in your capacity.
Q: Gurudev, Craving and ego are troubling me. What to do?
Sri Sri Ravi Shankar:
Be natural. Take things as they come.
Q: Gurudev, Dearest Guruji, I had a question in my mind when we were speaking about energy centers today, in the knowledge tape. I feel constant energy in my secondchakra but I don't have any desires to do sex because I know it leaves me tired and dull. On the other hand my creative energy has not manifested itself. I would like to use my creativity and write, sing, dance, etc. How will it come to this point? Please show me a way. Give me ability to make my creative energy alive.
Sri Sri Ravi Shankar:
Ya! Continue your meditation. If a particular chakra has been used a lot then automatically energy goes there quite a bit. But it will keep moving,definitely moving. You focus more on navel center and then dance, sing. Singing and dancing, that is all part of our practices. You know, it uplifts you in more than one way.
Q: Gurudev, How does one deal with separation anxiety?

Sri Sri Ravi Shankar:
Ujjayi breath. You are in the ocean of breath.

Q: Gurudev, I get physically attracted to many people. What to do? Is it ok to be physically attracted?
Sri Sri Ravi Shankar:
If you see your mind, so many thoughts come. You can't act on all the thoughts. If you try to act on all the thoughts, you end up in a mental hospital. Whether thoughts of attraction or repulsion come, you do not get attracted but you also feel repulsion for many people. For example, the mind says to strangle somebody, you have to act out of wisdom. You have to see what is right and what is wrong. You have to see what is evolutionary and what is not. You have to see what is giving you happiness in the long term and what is giving misery. You have to see what is permanent and what is temporary. That is discrimination, Viveka, is so important. Otherwise, it will be just senseless, thoughtless action leaving you in misery.
Q: Gurudev, No matter how sincerely I do sadhana and attend satsang, I am unable to get rid of eating non-vegetarian food. It makes me guilty, please help.
Sri Sri Ravi Shankar:
You talk to some of the YES!+* people. They will tell you all the ways. You know the main thing is to save your mind, don't let guilt enter your mind. Just be natural.
Q: Gurudev, I have been doing sudarshan kriya for last 6 years and living totally a new life in terms of getting over negative emotions etc. But I have a small problem of forgetting things; my memory is not as sharp now as it used to be. How to get on with this problem or I should leave it?
Sri Sri Ravi Shankar:
You should take ayurvedic medicines- brahmi, and shankhpushpi etc. as per your age. And the food habits that we have in our country is not good for memory power because we eat so much starch, so much of carbohydrate and so little vegetables. So, change your diet. Have more intake of proteins, vegetables and fruits, and some ayurvedic supplements like brahmi etc. This, along with your pranayama and yoga will improve memory.
Q: Gurudev, I hold a high position of authority in my state and am well respected and known. When I go to another place, I sometimes find myself less important. I tend to question my identity. How to get over this?
Sri Sri Ravi Shankar:
You should know how to wear a suit – and take it off too! Everyone is a king in their place. Know how to remain in a state of Akinchan - I am nobody. The whole life journey is from 'I am somebody' to 'I am nobody' and then to 'I am everybody'. Usually the journey is from 'I am something' to 'I am nothing' to 'I am something' again! Sit in satsang and let your identity dissolve. Dissolving and losing the identity is Samadhi, is fun. You will realize that you are immortal.
Q: Gurudev, What if you give a promise and then take it back?
Sri Sri Ravi Shankar:
It is not the promise which is important. What is important is: what is best for ever body, for all human beings. Suppose you have promised your daughter to take her skiing but if the weather forecast says that there will be a snow storm, what will you do? Will you take her out because you promised or will you be intelligent and say, "The promise will not bring happiness now, so I take back my promise and not take you there now".
Q: Gurudev, What went wrong that so many people lack self-esteem and what can we do to lessen this effect?
Sri Sri Ravi Shankar:
'Yes!+' and 'Yes We Can' programs are good for that. We have 'Yes We Can' program in Europe. 140 youths from all over Europe participated. You should see how they came, and how they are after the program, how much self-esteem they gained.
You know, in companies the big difficulty is the middle people, someone in between the supervisors. They want to gain the favor of the top management, so they complain about people below them. Then people below them complain about the boss and everything becomes messier. Many companies broke down because of that; because of lack of skillful, honest communication. There is no honest and skillful communication. You have to tell your boss your honest opinion and he will appreciate you because of that. First, he may not like it, but later on he will appreciate you. If you tell him lies and one day he discovers that you misled him, then he will be unhappy with you also. So, a skillful presentation of facts, honest, even if it is bitter, and put in nice manners, is needed. These skills come when you become a yogi, skillful in action. Yoga means skill in action. When does this come? It comes when you unite with your Self in meditation.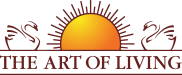 Founded in 1981 by Sri Sri Ravi Shankar,The Art of Living is an educational and humanitarian movement engaged in stress-management and service initiatives.
Read More