Question & Answers with Sri Sri Ravi Shankar

Q: Gurudev, What are the points to keep in mind in order to have a successful relation?
Sri Sri Ravi Shankar:
First for women: Never step on your man's ego. You should always pump and encourage his ego. You know, the whole world may say that your husband has no brains, but you should not say that! You should tell your husband that he has the best brains in the world, and just because of the fact that he doesn't use it, doesn't mean that he doesn't have it! You should always tell him that he is the best man. Always pump the ego of a man .If you call him a vegetable, I tell you he will become one.
Now one advice for men: Never step on the emotions of a woman. You know, she may sometimes complaint about her family, about her brother, or her father, or her mother. You should not agree with that. If you do, then she will take a U turn. Never insult her family. Don't stop her to go for shopping, or going to a spiritual or religious program. If she wants to go for shopping, give her your credit card.
Now for both: Never ask for proof of someone's love for you. Don't ask each other, "Do you really love me? You don't love me these days just like old days". You know, it is such a big load for someone to prove their love for others. If someone asks you to prove your love, you would say "Oh my God! How do I prove that to this person?" Do everything with some style and some smile.
Q: Gurudev, Guruji, I did the Eternity Process and I saw many things from past lives. I experienced a lot of devotion and I even saw you. How much of it is true? Am I just making stuff up?

Sri Sri Ravi Shankar:
You don't have to doubt it. As I said, these experiences are a mixture. One is from your consciousness and your deep experiences. Sometimes it could also be through your fantasy. So, sometimes fantasy gets into it. Then the experience comes up. You know, it's usually mixture of it. Even if 20 percent of fantasy is mixed with 80 percent of reality, you don't need to think or do anything. It's an experience. Take it as it has come and move on.You are much more than all the experiences. You are much more than all the identities and the roles that you play. That is the Self-knowledge. That is the real spiritual knowledge. This is the Upanishadik knowledge.


Q: Gurudev, What is the best form of prayer?
Sri Sri Ravi Shankar:
Prayer happens in two conditions. One is when you are utterly grateful and second is when you are utterly helpless, nowhere to go. Both are authentic and always get fulfilled. Being both, helpless and grateful, is very rare and very powerful. It is a total form of prayer.
Q: Gurudev, 'Art of Living' is doing a great job. But with 30 percent of population in depression, and this figure being expected to reach 50 percent in the coming decade, do you still see a hope for mankind? Do we still have hope?

Sri Sri Ravi Shankar:
Yes, and we all have to work for it. You know, when we started in India, it was a small program. We had no resources and manpower. But we had a vision – We have to reach many people in the world. So, in these 30 years we have reached millions of people. So, it is possible.

You know, the cell phone has reached the whole world. If cell phone could reach the whole world, do you think wisdom and compassion cannot reach the whole world? We must make an effort. Ok?

Q: Gurudev, What is the difference between idea and thought?
Sri Sri Ravi Shankar:
First you tell me their meanings and I will tell you the difference. We attach meaning to words. You got it?
Q: Gurudev, What is emptiness, empty mind? Can you speak more on this.
Sri Sri Ravi Shankar:
Sri Sri hand gestures empty space.
You got it? That's emptiness. If no, then the mind is already empty.
Q: Gurudev, Whatever you preach sounds very good. Bur at times I find it difficult to implement. What should I do?

Sri Sri Ravi Shankar:
You do not do anything which is difficult. Easy go lucky. Spirituality makes everything easy. Everything in the 'Art of Living' makes life easy. There are certain things which are easy to begin with but later on turns to be difficult. There are certain other things which may appear to be difficult in the beginning but later on makes everything easy. Spirituality is the later one.
When you were kid, you were forced to brush your teeth. Suppose you had not undergone that, what would be the scenario of your mouth now? Half your teeth would have dropped. Like this you may find it difficult in the beginning but it makes things easy later on.

Q: Gurudev, Why is it that doing something wrong is easier than doing the right thing?
Sri Sri Ravi Shankar:
Is it? I thought to do a wrong deed, requires a lot of effort. See if you like something very much then all your energies go into that direction. Is it easy to slap someone? I don't think so, I find it very difficult. If you think it is very easy to call someone names then it would be because of an old habit. A lot of people cannot use bad words, even if they wish to.
We have to bring a transformation within ourselves and bring in human values in our life. Make an attempt for it. Even if you try and do a good action, its result will be good. Even if someone does a wrong action very easily, its result would be very bad.
Q: Gurudev, Guruji, what is 'moksha'*, and how to attain it?
Sri Sri Ravi Shankar:
How do you feel the day you have a holiday? That is a small glimpse of moksha. You also get this feeling when your exams are over, and you cast away your books and give a big relief sigh of' Ha'! After travelling a long distance in the bus, when you get down at your destination and loosen up yourself, that is a sign of relief. Like this when you get full relief in life, when the mind is happy and contented, that is called 'moksha'.
Q: Gurudev, My wish and will for my spiritual growth is not consistent. Sometimes it is not very strong? How to be more aware of myself; how to see more and stop the chattering in my head for longer periods?
Sri Sri Ravi Shankar:
Just drop this more. I want to be more; I want to be more… Relax. Love for growth in the field of spirituality and mind is deep relaxation. All positive qualities are already within you. When you go deep in meditation, they unfold naturally. We can't say: 'I want this flower to blossom quickly. What do I do? Should I open the petal?'
If I want the flower to blossom, just allow, let it be. Pour some water; in time it will blossom.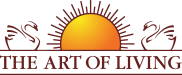 Founded in 1981 by Sri Sri Ravi Shankar,The Art of Living is an educational and humanitarian movement engaged in stress-management and service initiatives.
Read More