Question & Answers with Sri Sri Ravi Shankar

Q: Gurudev, To whom do I surrender?
Sri Sri Ravi Shankar:
To the Divine who resides within everybody, to that Divine I surrender.
Q: Gurudev, Dear Sri Sri, please guide me on how I can serve humanity. Lots and lots of love.
Sri Sri Ravi Shankar:
Yes, come join the band wagon. Come join and think about what we can all do together. See alone when we do it, individually, it is a small effort. There is not much result. In fact, we burn out, we get tired. But as a group we can do a lot. Ok?
Q: Gurudev, Is there a way to understand the course of karma?
Sri Sri Ravi Shankar:
Gehana Karmonogati - who knows the way of karma? It is so deep. Even great sages get confused over what is karma and what is to be done. It is never ending. Every action will have some flaw.
There is no one standard to measure it. Jains had put Krishna in hell because of his sins of creating many wars. Then they saw his good deeds and put him in heaven. Do karma according to the intellect. An action which inspires you with enthusiasm and energy, even if it has flaws is worth doing. Leaving your karma by sitting idle is inappropriate.
There is some flaw in the best of the action. For instance, a teacher earns his salary by teaching students. If children were born wise there would be no need for teachers.
A doctor's job depends on someone's illness. Lawyers would not be required if there were no quarrels. Their sukh (joy) depends on others' fights. In every interaction, you will see some flaw. If you focus on the flaws everywhere, the world will not work.
Be gungrahi (imbibing virtues) - put your attention wherever there are positive qualities. The wise give inspiration to everyone for their work. There is no big or small work - every work is respectable.
Q: Gurudev, How can one be both friendly and centered?
Sri Sri Ravi Shankar:
When you don't expect anything from your friends then you will be centered. You know, when you are friendly some sort of expectation is there, you enjoy being friendly. Stop enjoying being friendly. But be friendly because it's your very nature. Then you will be centered.
Q: Gurudev, Guruji I work in a hospital where people are dying and I am hoping to bring this yoga there. I am facing a little difficulty in understanding what is the difference between the yoga of living and the yoga of dying?
Sri Sri Ravi Shankar:
You must have heard by now, yoga has eight limbs.. I don't know how much of pranayama and asanas(postures) you can make someone do when they are sick and dying. It may not be possible at all. Some good bhajans(uplifting music), soft and instrumental music will also help. This is called laya yoga. Some words of wisdom will help. This is gyan yoga. Your mere presence there will help. Your being there without any effort will help. When we are in the 'doing' consciousness, thinking what to do, we reduce our energy. When we are in the 'being' consciousness, suddenly the light, air and energy come in you. You can make them feel better with that presence and energy of yours.
There are three things which are very important whenever you sit for meditation:
1. I want nothing for next 20 minutes or half an hour.
2. I do nothing.
3. I am nothing.
Any effort is an impediment in meditation and so 'I do nothing'. And then if you have any notions about yourself, I am rich, I am poor, I am intelligent or I am stupid, you can't go into meditation. You cannot progress on the spiritual path. So you have to come to this – I am nothing.
These are the three golden rules which I feel are very important and with which you can sink deep into meditation.
Q: Gurudev, How to get rid of laziness?
Sri Sri Ravi Shankar:
If there is greed, laziness will go away. If there is fear, laziness goes away. When you are in love, there is no sign of laziness.
Q: Gurudev, How does the world look from your eyes?
Sri Sri Ravi Shankar:
It looks like my own. However it is, it belongs to me.
In the Bhagvad Geeta, Lord Krishna tells Arjuna, "This creation is permeated by the Divine consciousness. It belongs to Me. Crossing-over this cycle (of birth and death) is not so easy. It can be done only through Me."
Q: Gurudev, Guruji what is one such thing that is beyond Asakti (attachment) and Anasakti (detachment)?
Sri Sri Ravi Shankar:
Me! (Huge laughter)
Q: Gurudev, How to deal with attachment on the spiritual path?
Sri Sri Ravi Shankar:
When you are aware of the attachment, then your behavior will naturally become balanced.
Q: Gurudev, What is samadhi?
Sri Sri Ravi Shankar:
When the mind is at ease and centered, that is a glimpse into samadhi. The experience you have when you lie down after the Sudarshan Kriya. When you feel – I don't know where I am but that I am.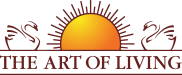 Founded in 1981 by Sri Sri Ravi Shankar,The Art of Living is an educational and humanitarian movement engaged in stress-management and service initiatives.
Read More