Question & Answers with Sri Sri Ravi Shankar

Q: Gurudev, You talked about the village. What changed them? What was done in that village practically?
Sri Sri Ravi Shankar:
Meditation, breathing, just educating them and singing together. Everyone comes together in the evening and starts singing, everyday. Once a week they have this preeti bhoj when everybody eats together. An inspirational programme called Youth Leadership Training programme gave them the inspiration.
Q: Gurudev, I take a lot of allopathic medicines for body aches, but still I suffer pain here and there in the body.
Sri Sri Ravi Shankar:
We don't take care of our body, we don't do enough exercise. We eat all this food with so many chemicals, pesticides, fertilizers and all that… all those pesticides get into the body and they cause all this pain, once you detoxify yourself, you will see how this pain will go.
Q: Gurudev, Guruji, you asked us to be dispassionate and you also say that dispassion is a happening. I really want to be dispassionate but I am confused how can I create a happening in my life? Please guide
Sri Sri Ravi Shankar:
Dispassion is not a happening; I would say dispassion is what you invoke in yourself. When you widen your awareness, when you see everything is going to disappear and death is imminent, we are all going to die and everything is changing; when this knowledge comes - then dispassion is spontaneous. You need to understand and see life from a broader perspective and then automatically dispassion comes within you; but there is some effort. A little effort from you and then it will happen.
Q: Gurudev, What advice would you give to a skepticalnon-believer?
Sri Sri Ravi Shankar:
A very good beginning point. See that you don't becomecynical and frustrated. Skepticism is perfectly alright, but not cynicism. Thatdrains your energy. One can be skeptical to begin one's journey and I wouldvery much appreciate and welcome that. Because you would have gone throughskepticism, the faith will be strongly built.
Q: Gurudev, Ifeel very shy while interacting with people. What is the remedy for the same?
Sri Sri Ravi Shankar:
You know, when you have a sense of belongingness, shynessdisappears.
Q: Gurudev, What is love, and how to find peace?
Sri Sri Ravi Shankar:
I have spoken about all this in the Narada Bhakti Sutras. Different types of love and what is love? Listen to those tapes.
Q: Gurudev, In today's world, people really think of survival. How to deal with it?
Sri Sri Ravi Shankar:
It isa natural concept where survival is the first thing. It is a natural instinct butwhen self-confidence and vision is infused, survival will naturally be includedin it, without any kind of fear. I have spoken about this in our books - Celebrating Silence and Celebrating Love. You can read thesebooks when you have a question.
Q: Gurudev, Human beings live in a state where everything is not under our control. It is not possible to relax or meditate or even take deep breaths. Is there any other way to handle things smoothly?
Sri Sri Ravi Shankar:
There is a saying "You can't learn archery in the war field". You have to learn archery before you get into that position. So, at that moment when you are stressed, you can't do, but you have to do something before so that you don't go to that level at all, you don't get stressed. You can't learn a new tune on the stage, though I don't believe in this, this is a saying, actually nothing is impossible. I would say change in the way you behave, change in the food habits, and change in the way you perceive things in life, your communication ability, your ability to withstand criticism and take criticism… Generally, the outlook towards life itself makes a difference.
Your getting connected to the universal spirit, how much you are connected to the universal spirit, that much more is your ability to function.
So, I would give you number of things that you can do. Small techniques like head massage, eye exercise, taking proper food, taking a walk, sitting and observing sunset…maybe in KL, you don't get to see the sunset because of tall buildings all around! Being with nature, playing with kids etc will also help. Unfortunately, we simply sit on the couch, watch television and keep popping all the junk food. This has taken a toll on the health of the society.
We need to change our ways for a healthy society.
Q: Gurudev, Guruji, I have had a wonderful experience of doing the Part 1 course. I humbly request you to not enter politics and continue the good work that you are doing.
Sri Sri Ravi Shankar:
I have no intention of going into politics. But when politician are doing something wrong, I have every right to squeeze their ears.
Q: Gurudev, Something binds the body to the soul. What is this binding factor and what prompts it to part ways after sometime?
Sri Sri Ravi Shankar:
Impressions in the soul binds it to the body. That is what is called Karma.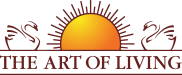 Founded in 1981 by Sri Sri Ravi Shankar,The Art of Living is an educational and humanitarian movement engaged in stress-management and service initiatives.
Read More