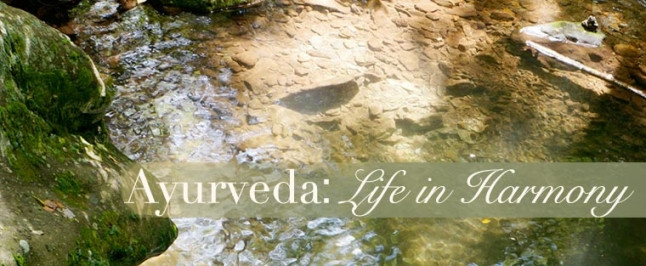 Discover Life in Harmony
...with Nature, with Your body and with You.
Ayurvedic Detox Panchakarma Retreat
with Dr. Ashlesha Raut
Dates: August 15-21
This profound treatment program reawakens the body's natural healing ability and intelligence so that it can help restore balance. Based on the ancient science of Ayurvedic detox, this cleanse will prepare you to meet the spring, summer and fall healthy and strong.

The Need for Ayurveda
To confront the demands with which the ever-changing world confronts the body, Ayurveda boosts the body's capacity to restore its health. Ayurvedic treatments address current imbalances triggered by changes in weather, disease or lifestyle. Imbalance appears in many forms such as lack of energy, tiredness, loss of memory and a compromised immune system.
Through this Ayurveda retreat, you can:
-      Develop an optimum personal wellness routine tailored to your needs.
-      Explore and develop a personal lifestyle for greater health and vitality
-      Develop a routine that aligns your body with nature and the changing seasons
-      Find self-knowledge through pulse diagnosis, a time-tested, non-invasive diagnostic technique practiced for thousands of years and recognized by the World Health Organization
-      Experience daily massage by therapists steeped in the classical Indian tradition of Ayurveda
-      Experience daily yoga and meditation in the beauty of the mountains 
Come experience firsthand the oldest and most relevant system of natural medicine. Begin your journey to wholeness by experiencing powerful solutions to meet and support your personal goals. Stay at the center includes:
• A diet of Seasonal Vegetarian, Ayurvedic Cooking, a healthy way to eat specifically designed for your constitution.
• Ayurvedic health lectures
• Cooking Demonstrations
• A supportive, comfortable environment for personal renewal
Cost for the full package is: $3,455.
Special Offer: 
For registrations before August 1, you can e-mail info@theblueheavenspa.com for your 15% discount code on the full Panchakarma Retreat.
Sample of the Daily Schedule:
August 15th: report at ashram by 6 pm
Dinner 7 pm,
Orientation and satsang
A typical day:
6:00 - 7:30 :  Yoga and Meditation
7:30 - 8:30:   Pulse diagnosis (1st night only) and breakfast
9:00 -11:30:  Treatments
11:45am - 12:30pm: Meditation
12:30 - 1:30: Lunch
1:30 - 2:00:   Daily check in, rest
2:00 - 3:00:   Presentation on Ayurveda
3:00 - 6:00:   Nature walk, journaling, rest, reading
6:00 - 7:00:   Dinner
7:00 - 8:00:   Satsang/ knowledge
8:30:             Nightly routine and rest
Last day August 21st:
6:00 - 7:30am : Yoga and Long-Kriya
7:30 - 8:30:       Breakfast
8:30 - 9:30:       Take home instructions, diet plan, Q and A
10:00:                Departure
  Dr. (Vaidya) Ashlesha Raut
M.D. Ayurveda (India), B.A.M.S.(India), N.C. (Nutritional Consultant), HHP (Holistic Health Practitioner),
RAS (Registered Ayurvedic Specialist), BCIM - Board Certified in Integrative Medicine (American Association of Integrative Medicine).
 
Dr.(Vaidya) Raut is an integrative Ayurvedic practitioner, Nutritional consultant and a holistic health educator. She is a third generation Vaidya who is classically trained Ayurveda M.D. from Mumbai University, India. Dr.(Vaidya) Raut has bagged a Gold Medal for her M.D. thesis work. She has been practicing Ayurveda for more than a decade and has been an integral part of the Ayurveda healing community with a mission towards providing a Holistic Path for Wellness and Optimal Health through Ayurveda and integrative medicine.
Dr.(Vaidya) Raut is passionate about teaching and promoting Ayurveda and is an Ayurveda faculty at many colleges in North America. She has been presented by the North America award of "Charaka" in recognition of her excellence in Ayurvedic teaching in 2012. She is a 'Second degree Reiki healer'. Dr.(Vaidya) Raut was also awarded a prestigious 'Shiromani Award' by Indian Board of Alternative Medicines for her contributions towards the integrative medicine in the industry.
Dr.(Vaidya) Raut has been an authorized teaching faculty for CPR/AED for Professional Rescuers and lay responders and First Aid training programs at the American Red Cross Heartland Chapter in IL, USA and has won recognitions for her voluntary contributions on community health and safety at the American Red Cross. Dr.(Vaidya) Raut has conducted a large number of workshops, authored publications, participated in talk shows, and presented research papers in the field of Ayurveda.
She holds a position as a "Secretary" of AAPNA (Association of Ayurvedic Practitioners of North America) and also an Executive committee member AAPNA.  She is a Life time member of NIMA (National Integrated Medical Association-India), founder and core member at CAC (Counsel for Ayurveda Credentialing) and holds many advisory positions in various Ayurveda holistic health organizations.  She is a Director of Ayurveda at Main Street Yoga, Bloomington and founding Director of Ayurveda for Healing and is actively involved in practicing and promoting Ayurveda in the country.
PROGRAM OVERVIEW:
The stay at the Boone Art of Living Retreat center will begin with education about the program and Ayurvedic consultation, which includes  a Pulse assessment, an ancient diagnostic technique acknowledged by the World Health Organization. By assessing the pulse on the wrist,  the Ayurveda Health Consultant can feel the level of imbalance in the body, even before specific symptoms of imbalance become manifest. Each participant will get an individualized and  specific treatment plan based on this assessment 
Each day guests receive recommended treatments that last from two to three hours, which have profound healing and purifying effects on the body and nervous system. The results of these treatments continue even after the program ends.
3 delicious, organic and vegetarian meals are prepared fresh daily for the participants, according to the specific recommendations  The vegetarian diet is organic, low fat and specifically designed to support the treatment program. 
During non-treatment times guests can take a walk, weather permitting, on acres of trails threading through the mountains enjoy classes a on Ayurveda principles, ayurvedic cooking, journaling. and knowledge videotapes. Yoga classes are offered in the morning, and there will be two guided meditations offered  daily. Specific yoga for your body types will be taught along with a personalized home yoga practice, and a diet plan will be given as a take home practice. Although the yoga classes are not mandatory, they are highly recommended.
Dinner is followed by a satsang, which literally means "company of truth," where ancient, yet simple Sanskrit chanting will be followed by a knowledge video and discussion. Bed time routine will be practiced daily with an expert, to be continued at home after the program ends. Lectures are given in a relaxed living room-style setting. Before retiring to bed for the evening, guests share hot, spiced milk.
Guests will be given a take home kit with all the equipments needed for daily dinacharya ( purifying routines)