God Gives His Toughest Battles To His Strongest Soldiers
Mon, 07/14/2014 Montreal, Canada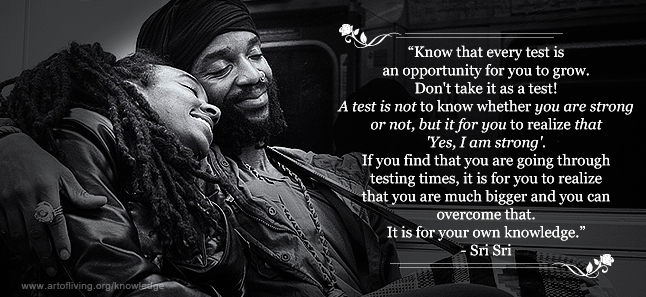 Why in life you are always tested and challenged when God wants to make us happy?
Sri Sri Ravi Shankar:
Know that every test in an opportunity for you to grow. Don't take it as a test!
A test is not to know whether you are strong or not, but it for you to realize that 'Yes, I am strong'. God is not ignorant that he needs to check and see whether you have the strength or not. God already knows your capacity; nature knows your capacity. The tests are for you to realize that you are strong.
If you find that you are going through testing times, it is for you to realize that you are much bigger and you can overcome that. It is for your own knowledge.
Gurudev, how to be contented and happy?
Sri Sri Ravi Shankar:
You are not happy? You are not contented now? This very moment; right now (Sri Sri snaps his finger)!
Greed takes away the contentment. It is the, 'I want more, I want more', which makes you miserable, which makes you put so much effort! You should think that whatever is needed for me, I will get it. You should have that faith, that it will come to you.
Why do you get so disturbed? It is greed which disturbs you. So, not wanting too much of anything; balance!
Happiness and contentment comes, the only thing you have to ensure is 1. You are not lazy. If you are lazy and you say, 'Let happiness come to me', it is not going to come to you. Lazy people will not be happy
2. Don't be selfish. If you are selfish, happiness is not going to come to you. If you only say, 'Me, mine, only me', you are not going to be happy. Selfish people will not be happy
3. Don't be greedy. A greedy one will not be happy. If you are greedy and say, 'I want more and more and more', you will not be happy
4. People with the feeling of revenge will not be happy. If you want to take revenge on anybody, then you cannot be happy
Gurudev, will you help me become a healer? I want to help people.
Sri Sri Ravi Shankar:
Yes, but you should not make it a profession. You shouldn't say, 'Okay, I am going to heal you, but you have to give me some money'.
You know, with that type of healers, the healing does not work. It may appear to work for a little while but really it does not.
If anyone wants to become a healer, I say yes go ahead, but don't make it your profession, don't make it your livelihood. If they give something, take it, never mind.
How is it that in Vedic times, men and women both were priests and teachers. What caused that transition that women were cut out from the knowledge?
Sri Sri Ravi Shankar:
In Vedic times men and women were equal. There were women priests, women saints and all that. But later on, in the middle ages, when the Arab influence fell on India, at that time, slowly women's powers were taken away, because India was ruled by the Arabs for about one thousand years. This is talking of the Mughal time.
There were some exceptions, like Kerala. Kerala and Tirpura was never under Mughal rule. There matriarchal society continued.
In Kerala, all the wealth goes to the girls. The mother is the head of the family. The husband lives in the wife's house after marriage and not the other way round.
In Tripura also it is the same with the tribal. All the property, etc., goes from girls to girls.
Are there many such Earths? Are you present in each one simultaneously?
Sri Sri Ravi Shankar:
Yes, I have many dimensions. We are all in many places, but let us make use of this place properly, that is good enough.