Question & Answers with Sri Sri Ravi Shankar

Q: Gurudev, I have become aware of people who want to take control of our food and water supply, putting a great burden on it. What to do?
Sri Sri Ravi Shankar:
The 'Art of Living' is putting a lot of attention on this. In India some people wanted to produce genetically modified plants. This has been banned in France and other countries. The 'Art of Living' stood firmly together and opposed it, and the government had to stop it. You cannot do it alone, you have to stand against it as a mass movement, and bring justice to the human planet. The greed of a few people gets into their heads. We are not against scientific experiments, but without proper testing and making sure that it does not have any side effects, and producing it on a mass scale for commercial purpose is not acceptable. For example, genetically modified cotton yielded three times more crops in the first year, andalso good cropin the 2nd year. However, it completely wiped out the crop in the third year and many farmers committed suicide. The 'Art of Living' worked to give farmers hope and helped them see the value of their lives. The cattle ,which ate the genetically modified cotton, died, and the virus emitted by these crops attacked the trees. The whole area became a desert. The company earned huge profits. This is called economic violence. There are many forms of terrorism. Economic terrorism is that where greed of a few people make other people suffer, they make a mess of the economic system, and devastate so many families.
Q: Gurudev, How do we locate the queen bee within us?

Sri Sri Ravi Shankar:
Meditate, meditate, meditate, meditate, and meditate.
To be continued in the next post..
Q: Gurudev, Guruji, when you meet terrorists and naxalites, don't you get frustrated with their attitude and lack of knowledge?
Sri Sri Ravi Shankar:
: This is like asking a doctor- Don't you feel sick of seeing the sick patients?!!
Q: Gurudev, Guruji, the self control that I keep on myself gets broken sometimes. What to do in such case?
Sri Sri Ravi Shankar:
It does not matter if it happens sometimes. It is not happening always?
Q: Gurudev, My father recently passed away. How can I know how he is, where he is and what he thinks ofme?

Sri Sri Ravi Shankar:
Those who have passed on to the other side shower their blessings on you. They don't judge you and have no concerns about you. They know you will be taken care of.
Q: Gurudev, What is the difference between Lord Shankar and Lord Krishna? Some worship Shiva while others worship Krishna?
Sri Sri Ravi Shankar:
There are different forms and names, but they all are same.
Q: Gurudev, How should be a disciple's relation with the master?
Sri Sri Ravi Shankar:
What relation you want to have with yourself? A relation in which you are natural and without any hesitation.
Q: Gurudev, It seems people are more sad than happy. How is there a God?

Sri Sri Ravi Shankar:
Read "Celebrating Silence" and "Celebrating Love." God is the Generator, Operator and Destroyer. Some people have a wrong understanding of God. Our understanding of God is that he is omnipotent, waits for you to make a mistake and then gets angry. But no, God has given you intelligence and the discriminative power. This is established in the laws of nature. Animals do not violate the laws of nature, they do not have indigestion. Forests do not make mistakes unless man meddles with it. In which everything has come up, exists and dissolves – That is God. God is space. That space which you experience in meditation.
Q: Gurudev, What is Enlightenment?


Sri Sri Ravi Shankar:
The book 'Celebrating Silence' contains little excerpts on many topics. You read that and then we will discuss about it.
Q: Gurudev, I have lost my trust, how can I regain it?

Sri Sri Ravi Shankar:
Don't make an effort to regain it. Listen to your heart. Trust can never be lost. Doubt as much as possible, but truth always stands up to the doubt. Truth is so strong that doubt cannot destroy it. So, it is good to doubt. And the trust which moves through the doubt and stands, that is true trust.
How many of you here have not visited India yet? How many of you would like to come to India? Oh, very good. You know, we will organize a group from here. You have a home there in India. All of you come for a week, ten days, 15 days…whatever is possible. You can all come to India, and have a glimpse of all the service activity.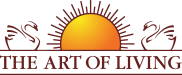 Founded in 1981 by Sri Sri Ravi Shankar,The Art of Living is an educational and humanitarian movement engaged in stress-management and service initiatives.
Read More