Question & Answers with Sri Sri Ravi Shankar

Q: Gurudev, Praying for peace does not seem to work. Is there a more practical way to achieve peace?

Sri Sri Ravi Shankar:
Praying for peace does work! In 2004, there was a war between India and Pakistan. The chief of the Indian army called me and asked me to pray for the soldiers. We prayed for both the sides. The war did not happen at all. Action, education and prayer are all necessary for peace.
Q: Gurudev, I have lost my trust, how can I regain it?

Sri Sri Ravi Shankar:
Don't make an effort to regain it. Listen to your heart. Trust can never be lost. Doubt as much as possible, but truth always stands up to the doubt. Truth is so strong that doubt cannot destroy it. So, it is good to doubt. And the trust which moves through the doubt and stands, that is true trust.
How many of you here have not visited India yet? How many of you would like to come to India? Oh, very good. You know, we will organize a group from here. You have a home there in India. All of you come for a week, ten days, 15 days…whatever is possible. You can all come to India, and have a glimpse of all the service activity.
Q: Gurudev, Beloved Guruji, I have been practicing to give a percentage of my income to uplift the society for the last twenty years. Would you please elaborate on the idea and power of charity as a spiritual practice? Love and Gratitude!
Sri Sri Ravi Shankar:
Ya ya, giving something back to the society is very important. You know, there is a proverb that says, "Rice is purified by a drop of ghee on it". You know ghee, butter, a little fat. It was a practice in India, but we didn't see any scientific basis for it.
Lately, when we spoke to a scientist doctor, he said it is good to have a spoon of ghee, the clarified butter, on rice, because that prevents one from having diabetes. You know why? Rice or any food, starch or carbohydrates quickly gets digested, but it takes a little longer to digest that if it has a little bit fat. Then there is less chance of you getting diabetic or heart problems. So, a cardiologist said, "it is necessary to have a little fat in carbohydrates so that it becomes complex to digest it". I said, "look, this was said some thousands of years ago. They said, 'rice gets purified with a drop of ghee.' ".
In the same way the money gets purified by charity. When you give a portion of what you have earned for a good cause then the rest of the money that you have is pure money. Similarly, the mind becomes pure by meditation, body get pure by bathing, by a shower; mind becomes pure by prana, pranayama and meditation; Intellect becomes purer by knowledge, by wisdom. See, what we are listening make us pure. There is something that happens in you when you are listening to knowledge or read Yoga Vasistha. Right? You listen to Ashtavakra and that wow sprouts from within. Knowledge makes the intellect pure. And life becomes pure when there is dedication.
Q: Gurudev, What is the most simple act of service that one can do?


Sri Sri Ravi Shankar:
Service can be anything. The world does not expect you to do what you cannot do. Doing what you can do without expecting anything in return is service. There are two ways. Either we expect joy out of what we do or we do it with an expression of joy. This is the difference between a job and service.
Q: Gurudev, The history of ancient India is filled with the accounts of enlightenment, yogis taking on supernatural states of awareness and capabilities. Yet, to help me understand, how does one interpret such stories? Are these methodologies with allegorical significance, or they point to the untapped potential hidden in each one of us?
Sri Sri Ravi Shankar:
Do you know about the first airplane? Who flew the first airplane? ('Wright brothers' came the answer). This is what we hear or read in the books. Absolutely wrong. 50 years before Right brothers, one man from Bangalore, Subray Shastry, he went into meditation, in silence and then he went to meet a yogi. The yogi took him to deeper meditation, and he started recognizing the engines, he downloaded all that! He wrote a book called 'Vaimanik Shastra' and then he flew the plane in 1800 with a parsi gentleman. Parsis are the migrants of Iran to India who follow Zoroastrian religion. The parsi gentleman funded him to make the first plane. They flew it on the chaupati beach in Mumbai (or Bombay). This appeared in the 'London times' newspaper also. These two were put in jail by Colonial power, and they took and confiscated all the diagrams that he had made. A documentary of this came on television recently, with the newspaper cutting from England and the diagrams that he had cognized. He had made five different diagrams and this is available even today in a book called 'Bhardawaj Vaimanik Shastra' – The science of plane by Rishi Bhardawaj. He explained what type of engine that a plane has which takes off straight like a helicopter, and one which goes running and then takes off.
You can find all the details in the website http://www.bharathgyan.com/
More from the same conversation in the next post..
Q: Gurudev, How can I control my anger?

Sri Sri Ravi Shankar:
Anger comes out of your love for perfection. Create some space for imperfection around you. Make a list of all the things you consider to be wrong. Then have people around you doeverything on that list! When you get angry, just observe that sensation. Observe how your teethare clenching and how the mind becomes. Take a few long deep breaths and see if it changes.However, I have no experience, since I myself have never had this problem. So my advice maynot be authentic. You should ask others. There are many here who will tell you. After regularpractice of Sudarshan Kriya, anger tends to settle down.
Q: Gurudev, Guruji, so if someone slaps us, should we offer the other cheek also for the slap?
Sri Sri Ravi Shankar:
If the person is sensitive, offer your other cheek, and he will not be able to do it. But if someone is insensitive like a buffalo, then you can give two three also!
Q: Gurudev, Is mediation concentrating on some point?
Sri Sri Ravi Shankar:
Absolutely not!
Q: Gurudev, How much am I suppose to work?
Sri Sri Ravi Shankar:
Well, it is up to you.
Q: Gurudev, According to Vedanta we are all one. But we have different personalities and ideas. Can you explain?

Sri Sri Ravi Shankar:
Everything is made up of atoms. Like furniture is made of wood. The door, the bench, the table, the chair are all made of wood. Wood is in each of these things. But the roles are different. The door cannot be used as a chair, nor can a table be used as a door. Quantum Physics is based on the principle of Advaita (non duality).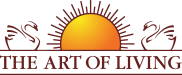 Founded in 1981 by Sri Sri Ravi Shankar,The Art of Living is an educational and humanitarian movement engaged in stress-management and service initiatives.
Read More