Question & Answers with Sri Sri Ravi Shankar

Q: Gurudev, How can Indian youth contribute to the world?
Sri Sri Ravi Shankar:
Human values. Indian youth can bring human values to the world. India has a very charming personality, and this should be projected properly.
Sometimes, our culture is depicted so badly in the media. If we degrade ourselves, and make other people laugh, we are happy about it. This weak nature has to be removed. WE should decide what our values are. We should keep our self-respect. We should decide what we like, and what we don't like. We should not depend on others to judge us.
Of course, it's fine that people appreciate us. But just because someone appreciates us, we are happy. We should have more self respect, and we should believe in ourselves.
Q: Gurudev, How do you know if an answer is coming from within or from the rational mind?

Sri Sri Ravi Shankar:
There is no criteria. The calmer and serene the mind is, the right answer will come to you.
Q: Gurudev, Guruji, what is Time and can we modify time and its speed?
Sri Sri Ravi Shankar:
Time is distance between two events or happenings. It appears longer in sad moods and shorter in happy moods, and its speed can be modified by silence.
Q: Gurudev, Do we all have a purpose in life or we all come and go whenever? If there is one purpose, what is it?
Sri Sri Ravi Shankar:
You know, it's best to take out a paper and pen, and list out what is not the purpose of your life. By negating it will be easier for you.
Q: Gurudev, What made God alive? When did you start believing in God? Have you seen God? What does God look like?
Sri Sri Ravi Shankar:
This same question was asked 10,000 years ago by a little boy of 8-9 years old to his father.
The boy to his father: What is God and how does God Look like?
His father takes him by hand and brings him out of his house, and asked him what was there at the place of their house before it was built.
The boy said 'Space'.
Father: Where is the house built?
Boy: space.
Father: What will exist and what will remain when this house will demolish?
Boy: space.
Father: That is God.
God is not a person sitting somewhere. It is so depicted in paintings only. God is love, God is the space in which everything exists, from which everything has come into existence, and in which everything dissolves. God is the space, joy, and love, which is all pervading. The space around you is not the dead space. It is filled with energy and intelligence. That energy and intelligence is divinity. It is everywhere –your inside as well as your outside.
Most of the native cultures of the world have the same concept. They say God is in the mountains, in the rivers, in the flowers, in the trees, in the animals, and in the human beings. God is love. You can feel it but cannot see it. You can experience that enormous energy when you go deep in meditation.
Q: Gurudev, How should one pray to god?
Sri Sri Ravi Shankar:
By doing service, pranayama, and meditation.
Q: Gurudev, How do we rise above our senses?
Sri Sri Ravi Shankar:
You were sitting in meditation now? Your eyes were closed? Did u have any wish except to listen to my voice? That means in a way ears were also closed. Mouth was also closed? You were not speaking anything? So all senses were shunned, and then only you were able to meditate. Meditation happened, yes?. When you sleep for 6-8 hours, you remain in your senses or in non-sense. Are you getting it? So rest. Be satisfied in the mind. Be happy. And when you are in that state of Divine love, nothing will bother. See, during exam time lust doesn't bother you. When does it disturb you? When you have nothing to do, when you are sitting
idle, isn't that right?
Q: Gurudev, Why are there bad people in this world?
Sri Sri Ravi Shankar:
Why don't you ask a movie maker to make a movie only with the hero in it? Life is a struggle of both good and evil but only good will prevail.
Q: Gurudev, I know one cannot be happy and married. But can one be married and enlightened?
Sri Sri Ravi Shankar:
Why do you think that one cannot be happy and married? Why cannot you be happy and married as well? There are many bachelors who are not happy, and also there many married people who are happy. Happiness is an attitude which you chose. It all depends just on you. There are people with no jobs but are happy. There are people with jobs and are unhappy. Be wise and be happy. Do whatever – married, unmarried, employed, unemployed…But independent of what you are doing, you need to be happy.
Q: Gurudev, What is the one quality that you need to have to love everyone alike?
Sri Sri Ravi Shankar:
An ease with yourself and everybody, simplicity. When you are open from within, then you can't but love everyone and everyone can't but love you. Neither you have a choice nor do they. You have done this as a baby. Do you remember how you were as a baby? Being natural, simple, innocent, without any barrier and free with everybody.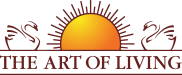 Founded in 1981 by Sri Sri Ravi Shankar,The Art of Living is an educational and humanitarian movement engaged in stress-management and service initiatives.
Read More