Question & Answers with Sri Sri Ravi Shankar

Q: Gurudev, Please can you teach me how to be connected to the faith?
Sri Sri Ravi Shankar:
Trying to connect to the faith is trying to connect to the air around you. 'I want to be connected to the air.' My dear, you can't be but! You are already connected. Relax.
Why do you try to connect to air? Are you getting what I am saying? Doubt as much as you can. I would say, you should doubt as much as you can. A point comes when you no longer can doubt, the truth will stand up. Truth can never be destroyed by doubt. Do you understand what I am saying? Truth will stand. Doubt can cover it, delay it for some time, drag on for some time, but it can never destroy the truth.
Therefore, when people have doubts, I say, 'doubt as much as you can. One day those doubts will fall off.' If you are lucky, it will fall off immediately the way it comes. Unlucky ones hang on to it for a little longer time. That's all. Unlucky ones will carry the garbage on their back for some long distance. Lucky ones know that they carry garbage and throw it right there. Two steps, and they drop their garbage. Otherwise one carries on the shoulder for a long distance.
Catch more from the same conversation in the next post..
Q: Gurudev, is it true that it is not the devotee who chose the Guru but the Guru chooses the devotee? If yes, then what took you so long to choose me?
Sri Sri Ravi Shankar:
: Ha, Ha, Ha!! Let's not go in the past! Let's look ahead, having great times. Great days, yes?
Q: Gurudev, How can I become more disciplined?
Sri Sri Ravi Shankar:
Why do you want to be disciplined? It will make you happier? It will improve your fitness or health? So it is the love for being in shape or the fear of becoming unhealthy that will keep you disciplined. Love, fear and greed bring discipline. If someone says you will get $1 million for being disciplined in your life, that will make you so.
Q: Gurudev, I know that destiny plays an important role in life. Our failures and success in life are connected to destiny. But what role are we playing in our lives?
Sri Sri Ravi Shankar:
You make the destiny. What you did yesterday is a tomorrow's destiny, and what you do now is destiny day after.
Q: Gurudev, What if we feel we have got more in life than we deserve and are afraid to lose it?
Sri Sri Ravi Shankar:
Be grateful and prayerful. Know that whoever has given it to you cares for you and would not take it away. Do service. Put your attention on giving back to society. This is giving back to God. If negative thoughts, insecurities, doubts come into the mind, chant Om Namah Shivaya. This itself will put you on the right track. Take the past as destiny and the future as free will. What was meant to happen, happened. We tend to do the reverse. People who are foolish think the past is free will and the future is destiny. This only makes you miserable in the present.
'Om Namah Shivaya' has been there for thousands of years. The five elements are represented there and each sound in the mantra corresponds to one of them. For instance, Om is the life force or divinity. Chanting energizes our psyche, our inner self. It is very powerful and we should chant this everyday. It will keep away depression. Just try this. You will see that whenever you are low, saying Om Namah Shivaya removes the negativity.
Q: Gurudev, Many Indians, settled here in the States, are not happy because they feel their children or families are being prevented from making progress in life. They are not coming up for whatever reason. What is the solution for handling this stress?
Sri Sri Ravi Shankar:
Is your question that people are not happy in spite of prosperity? Bring them to me. Bring them to the teachers. They will have no choice but to smile. Stress can be eliminated through stress management, dispassion and through a broader outlook to life. When you are 90 yrs old what do you want from this life? What do you want to take? What do you want to give? What impressions do you want to give to the world? What impressions do you want to take from the world? Just ponder. Just be with these few questions and the stress will leave you. Dispassion and breath uplift you. A little bit of devotion or bhakti uplifts you.
Q: Gurudev, What do you say about doubts? Should we have no doubts?
Sri Sri Ravi Shankar:
: No, I never said you shouldn't have doubts, you should have doubts, have as many doubts as you can, for truth can never be concealed by doubts . Yes, doubt can't defeat the truth, so you doubt as much as you want, but finish it quickly otherwise you will be wasting so much of time. Have as much of doubt as you want and then get over it.
I remember one incidence which happened in Sweden. There was a public meeting/ gathering and a journalist was sitting right behind. He came forward to me and said- "I want to ask you a question".
I said- "yes, go ahead."
He asked, "Are you enlightened?"
I said, "No".
But he insisted, "No, please tell the truth. I know, you are always making fun, always kidding, please tell me the truth".
I again said, "No".
You see, my answer of NO should have finished the conversation there, but he won't listen and kept insisting, "No, no, you are not telling the truth, tell me the truth, are you enlightened? I want to know the answer right away".
See when you say , 'no' –it finishes , there is no need for further proof or explanation, chapter over, but this person won't take 'no' for an answer. I said, "So what takes you not to take a 'no' for answer? You should be happy with the answer now".
But he said, "No, I don't believe it!
I said, "You see, there is something inside you which is telling you something, some deeper inner feeling saying –this is not correct, right? So you have the answer then!"
So often, you listen to your own inner voice but doubt it from the surface mind but deep inside your heart and mind are saying something, you feel something different- a gut feeling and that is what you always rely on and not on what someone else says, isn't it so? If someone says, "I love you", do you take them on face value? No, you look at their face, you look at them and even without looking at them, you feel something deep inside. So, what I am telling you is generally true. And every one has this faculty of intuition and what can overshadow this faculty is your greed.
Greed can overshadow the faculty of your intuition, being over ambitious can overshadow your intuition. Do you understand what I am saying? Wisdom gets covered with greed, feverishness or with over ambition. So, doubt as much as you can!
Q: Gurudev, How can we come out of yes and no in the mind?
Sri Sri Ravi Shankar:
Just smile through. Take things as they come.
Q: Gurudev, in Geeta what does Lord Krishna mean by the world as play of gunas?
Sri Sri Ravi Shankar:
If we start about Geeta, it will take a long time. So, not now. You read again. Sometimes you read and immediately understand it, and sometimes you read hundred times and then understand the same thing.
Q: Gurudev, can you see the aura of other people?
Sri Sri Ravi Shankar:
Is this a big deal? You can also see.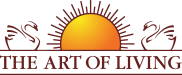 Founded in 1981 by Sri Sri Ravi Shankar,The Art of Living is an educational and humanitarian movement engaged in stress-management and service initiatives.
Read More