Question & Answers with Sri Sri Ravi Shankar

Q: Gurudev, in Geeta what does Lord Krishna mean by the world as play of gunas?
Sri Sri Ravi Shankar:
If we start about Geeta, it will take a long time. So, not now. You read again. Sometimes you read and immediately understand it, and sometimes you read hundred times and then understand the same thing.
Q: Gurudev, Can you give me a suggestion – how to be calm when your spouse is always mad at you?
Sri Sri Ravi Shankar:
: Well, an answer coming from me won't be authentic! There are many experienced (spouses) ones here, you can exchange notes with them! But if someone gets angry so often then you get used to it, and it doesn't bother you so much anymore, isn't it? But if they are sweet and then get mad at you then you get more bothered about it, right?
There is a very popular story in India. A gentle man got married to a woman who was very shrewd. She would do everything against his will. Whatever he will say, she would do just its opposite and he was so bothered and sad about it. Divorces were not that common those days in India, so he was stuck with this situation. Then, when you are stuck in a situation, you go to a wise man, so he went to meet a yogi.
The yogi whispered something in his ears and three months later when the yogi met this gentle man again, he was beaming with happiness. He came and told the yogi- "Your formula worked, now we have peace at home!" The formula was-whatever he wanted, he said just the opposite to his wife! So if he didn't want to wear a green shirt that day, he would say- " I want to wear a green shirt", and she wouldn't do that for him anyway! So, you only need to know the pulse and do accordingly.
If your spouse is all the time angry, then I know you might have experienced and found how to handle it , and how to increase or reduce the volume, right? Interesting!May be (with such people), you should try this for one month or two months, and take them by surprise. If they are angry, praise them, and love them so much. Don't be too predictable with anger.
Q: Gurudev, How does one get over past childhood problems?
Sri Sri Ravi Shankar:
It's already gone. If you think it is still in the mind, then rub it off. De-link the pain from the memory. But if you put effort in trying to do that, you bring the memory back. However, in meditation you feel the pain as a sensation and not as connected to an event. In the Art of Silence Course, during the Hollow and Empty Meditation, you observe pain as a sensation. The very first experience of life was pain, coming out of our mother's womb through such a small passage. Before that you were in bliss. You didn't even need to eat. Then suddenly the water got drained and you came out crying. Have you noticed the expression on a newborn's face? It is as though they came out from ten hours of hard work! The first experience is that of pain. Then the child looks into the mother's eyes, and then the mother experiences the love.
Don't see pain as an event.
Q: Gurudev, what importance, if any, should we hold on to what the Pundits, Astrologers and the Psychics say about our future and its course?
Sri Sri Ravi Shankar:
Take it with a pinch of salt. Take it lightly, everything will change. You know, what your Astrologer says, you don't have to believe one hundred percent. Astrology is a science, but not all astrologers are scientists. You have to take it with a pinch of salt. It can change also.
Q: Gurudev, Where do negative thoughts come from? If they come in me, does that mean I am negative or bad? I refocus on thoughts again and again, but they come back. I judge them, I don't like them and I think about judgment, but I am not able to get rid of those? What should I do?
Sri Sri Ravi Shankar:
Now, there is a problem. You chase them and they come to you multiplied. Just give them a tight hug and you will suddenly find they have disappeared. They are scared of your hug, but they are fond of you chasing them. So, they come back again for you to chase them again, again and again.
If too many negative thoughts are coming, reason is lack of circulation in you. Do a lot of exercises. I think you have too much free time to sit and think. If you keep yourself busy, less of negative thoughts will come. If you are constipated, for sure you will have negative thoughts. So, set your bowel movements correct. That will also help you. If vatta, pitta or kapha imbalance comes, then also you will have too many negative thoughts. Ayurveda herbs will help for that. You can take 2-3 triphla tablets in night, and something to soothe your nervous system, like shatavari. These herbs calms and soothes the system.
The company you are in can also affect the mind. Company of people who are negative, can also affect the mind.
One last thing that affect is time. Certain times, certain planetary positions and certain cosmic energies can all affect your mind. But all this will pass. Don't be paranoid about anything. Just know that time moves on.
Q: Gurudev, please promise to come to Vancouver every year now.
Sri Sri Ravi Shankar:
You know, my year has 700 days. (laughter)
Q: Gurudev, Is there a higher purpose to art?
Sri Sri Ravi Shankar:
There is no purpose to art. It is an expression of happiness. For the onlooker, art brings a sort of solace and comfort. For the creator, it is just an expression.
Q: Gurudev, Many Indians, settled here in the States, are not happy because they feel their children or families are being prevented from making progress in life. They are not coming up for whatever reason. What is the solution for handling this stress?
Sri Sri Ravi Shankar:
Is your question that people are not happy in spite of prosperity? Bring them to me. Bring them to the teachers. They will have no choice but to smile. Stress can be eliminated through stress management, dispassion and through a broader outlook to life. When you are 90 yrs old what do you want from this life? What do you want to take? What do you want to give? What impressions do you want to give to the world? What impressions do you want to take from the world? Just ponder. Just be with these few questions and the stress will leave you. Dispassion and breath uplift you. A little bit of devotion or bhakti uplifts you.
Q: Gurudev, How does one handle fear of death?
Sri Sri Ravi Shankar:
If you isolate and think only of yourself then you will have the fear of death. Once you are in service, there is no fear of death. Terrorists are committed to something so they are not afraid of life or death. If you want to do good for others, your commitment to it will take care of this fear.
Q: Gurudev, I know that destiny plays an important role in life. Our failures and success in life are connected to destiny. But what role are we playing in our lives?
Sri Sri Ravi Shankar:
You make the destiny. What you did yesterday is a tomorrow's destiny, and what you do now is destiny day after.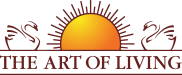 Founded in 1981 by Sri Sri Ravi Shankar,The Art of Living is an educational and humanitarian movement engaged in stress-management and service initiatives.
Read More