Question & Answers with Sri Sri Ravi Shankar

Q: Gurudev, What is the significance of asking if all the answerscome from within?
Sri Sri Ravi Shankar:
What if I don't answer? What is thepurpose of all answers? So that the mind says YES! The purpose of all questionsand all answers is to bring our mind to YES consciousness. That is meditation -to be in YES mind!

Q: Gurudev, I am 63+ years. Can a good art of living lead to a decent art of dying?

Sri Sri Ravi Shankar:
You forget that you are 65. Wake up, it's not late. There is something deep inside you which has not aged. It is pure and dynamic. Don't underestimate yourself. Don't think that you are useless. I tell you, you can sit and meditate, and you can bless the world. Things will happen much differently then. I am with you. You are not alone. If anyone anytime feels lonely, depressed, unhappy or sad, just remember that you are not alone. You are not alone at all. Ok?
Q: Gurudev, Why do liars, sinful people progress more than honest people?
Sri Sri Ravi Shankar:
People who practice unethical ways, cannot come up in life. This is the truth. It will not be sustained.
You have patience. Don't think that all honest people are suffering. Suffering is not because of honesty, but because of foolishness.
You have to have smartness, intelligence, dynamism, and creativity alongwith honesty.
Sudarshan kriya* - a stress-elimination breath technique that is taught in Art of Living programs
Q: Gurudev, Maharashtra assembly fight, Bangladesh, Pakistan…My heart weeps looking at all this. I feel afraid at times.
Sri Sri Ravi Shankar:
When you look at all this you feel pain in your heart. The pain should be there. When the pain is there you take a step. Otherwise you keep sitting until your own home is on fire.
Observe how Mahatma Gandhi gave a direction in those days. This way you will also get ideas in your mind on how to move ahead. All should sacrifice a little. Whatever we can we will all do. You feel afraid at times, that's ok. It happens at times only isn't it? Do meditation, Pranayama and you will be out of it.
Q: Gurudev, Guruji whenever I think of you I become very emotional, tears begin to roll down and my heart starts melting. What to do? Is it good or bad?
Sri Sri Ravi Shankar:
Don't tag your emotions as good or bad. When your heart opens up tears come, it's natural. Let it be. It is said in scriptures that tears of love are so precious that even angels run to collect them. Even on heaven, there are no tears of love. The most wonderful thing on the planet, on earth is to have tears of love, tears of gratitude. That indicates that our life is glorious. That makes our life rich and fulfilled. Fulfillment in life is when you have tears of gratitude and that comes by luck. You can't manufacture tears of gratitude; you can't put glycerin and have tears of gratitude coming in. When you realize what all you have received in life, your heart opens up.
Q: Gurudev, Is religion necessary to get deep into spirituality?
Sri Sri Ravi Shankar:
Religion is different from communism. Being religious means being compassionate, honest and not treating others as you do not want to be treated as.
Q: Gurudev, Even after doing the Art of Living course why do some people live in such hatred and ego? How to teach them the language of love?
Sri Sri Ravi Shankar:
Bring them to satsang again and again. Sometimes, even after having good intentions in the mind, a person tends to fall because of the company (he keeps). This is called sanghdosh. People are good and wish to walk the right path, but due to bad company, are not able to imply their good thoughts. Thus, satsang is very effective and vital. Inspire others and bring them to satsang. Just like people push others to do wrong acts, similarly for good also we sometimes need to pull people.
Q: Gurudev, In Sanskrit, each word has the meaning hidden in itself. So what is the meaning of Akshar?
Sri Sri Ravi Shankar:
Akshar means something that cannot be destroyed. Rice is also called Akshat because it cannot be destroyed. You eat rice and it transforms into the life energy and that leads to jeev (being) which again leads to life energy. It is always there in the body. That is why even a grain of rice is not destroyed.
In physics it is said that an atom can never be destroyed. Our ancestors brought this truth to light millions of years ago. Then they said that not even a grain is destroyed. It may lose its form but is never destroyed. Shar means destruction. Akshar means that which cannot be destroyed. Like a seed we sow is never destroyed, it takes different forms and exists in space. Its vibrations are never destroyed.
Q: Gurudev, Do planets have any effect on us?
Sri Sri Ravi Shankar:
Yes, planets do have an effect on us. But the effects are minimal on those who are on the path of sadhna, satsang and knowledge. For those, negative effects reduce and positive effects start to increase. It's like when you take umbrella under the hot sun, you feel less heat on your head. Practices and mantras are the solutions.
Q: Gurudev, What is the difference between rest and laziness?
Sri Sri Ravi Shankar:
What you get after doing work is rest. Doing nothing and keep lying down in tamogun is not rest. You feel restless in this state.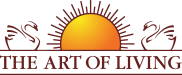 Founded in 1981 by Sri Sri Ravi Shankar,The Art of Living is an educational and humanitarian movement engaged in stress-management and service initiatives.
Read More