Question & Answers with Sri Sri Ravi Shankar

Q: Gurudev, What is the place of thought in a free mind?

Sri Sri Ravi Shankar:
Where does thought come from? It comes from a free mind or an un-free mind? Thoughts are not free. So, you have answered the question. Free your mind of thoughts for a few moments. When astonished, shocked, in deep love, samadhi, meditation or deep sleep, your mind is free from thoughts. You get energized then.

Q: Gurudev, Please talk about domestic violence and how one can live with it?

Sri Sri Ravi Shankar:
Domestic and social violence both arise out of stress. We never teach people how to handle stress. No one is given spiritual knowledge. Don't you think this knowledge of meditation and Sudarshan Kriya should reach everybody? This knowledge of non-violence should reach all.

Somehow we have to reach this knowledge to people. You cannot tolerate domestic violence. Educate people. Put your 100 percent to bring them to knowledge and meditation. Through this, you will see how their whole attitude changes. There is a village of 600 people in Nanded Province in India. It had the usual challenges of a village - alcohol, debts, etc. One 'Art of Living' teacher took it as a challenge and started teaching courses in small groups. Within a few months there was a huge change in. Today everyone gathers together in the evening and sing together. Nobody drinks or smokes, or takes tobacco. There is no crime. There is one store in the village that runs on trust, without a shopkeeper. It has been running in this manner since three years without any theft. The entire village is organic. Nobody is unemployed. There are no locks on doors in the entire village. All the houses are painted pink to show unity. They keep it so clean. They are self-sufficient and environment-friendly. They have received the "Most Ideal Village" award. One hundred and eighty villages of Karnataka and altogether 500 villages are now following this model. Every person does pranayama.

A lot needs to be done. We have 140 schools in areas where there are no roads or electricity. We have a good number of children studying in these schools. They receive free education. First generation literates achieve such good grades in school. The President of the World Bank asked us how our projects are successful. I explained that money is not always the reason. Love and spiritual energy make projects successful.

Q: Gurudev, I don't know what is good for me and what is bad?
Sri Sri Ravi Shankar:
Drop that which gives you short termhappiness and long term suffering. Just keep this in the back of your mind.
Q: Gurudev, Do we have a logical reason for not eating non – vegetarian food?
Sri Sri Ravi Shankar:
There are three types of beings - Herbivores, Carnivores and scavengers. Carnivores kill other animals for their food. They kill animals and consume fresh meat. But they don't kill other animals unless they are hungry. Scavengers eat animals which are already killed. A very few come under this category.
If you want to do some intellectual work or you want to be a genius, then non – vegetarian food is not good. Scientists like Einstein were vegetarian. For a healthy body and lightness in mind, vegetarian diet is best.
Q: Gurudev, My husband is very arrogant. How do I reduce his arrogance?
Sri Sri Ravi Shankar:
Ok, make your husband's arrogance very strong. Say, 'There is nobody like you.'
Keep increasing his arrogance.
Wherever there is arrogance, it will be taught a lesson.
Q: Gurudev, How does one deal with insensitive people?
Sri Sri Ravi Shankar:
Don't let it affect you. When you say somebody is insensitive, you are branding yourself as very sensitive. The moment you give a license to yourself to be very sensitive, you start to justify yourself when you get upset. The world is big and there are all sorts of people in the world. We have to live with all and work with them.
Q: Gurudev, You are like Mahatma Gandhi? Did he inspire you?

Sri Sri Ravi Shankar:
While we were little children, we grew up listening to stories of Gandhi. We grew up with a pride of being non-violent. My teacher was a close associate of Gandhi. The stories of non-violence were a part of our upbringing. We could never think of hurting anyone. This value was a part of our life.

Q: Gurudev, Do we all have a purpose in life or we all come and go whenever? If there is one purpose, what is it?
Sri Sri Ravi Shankar:
You know, it's best to take out a paper and pen, and list out what is not the purpose of your life. By negating it will be easier for you.
Q: Gurudev, How do I find strength in myself?
Sri Sri Ravi Shankar:
Be well rested and have your heart in the right place. You need both mental and physical rest. Thinking "Oh I have done so much!" will only bore you down. Just know that you will have enough time and energy to do what you were born to do in this life.
Q: Gurudev, Please say something about spiritual materialism.
Sri Sri Ravi Shankar:
I am hearing a new word today. Well, don't divide life: this is spiritual or this is materialistic. Take a holistic view of life. In a temple there is food. In that sense both material and spiritual aspects are there. Music is both a form of entertainment and spirituality. We even put ornate clothes on our deities. Ancient people never separated the spiritual and material. They enjoyed putting precious jewels in temples.
In South India, in Madurai, kings gave away most of their precious jewels to the temples. Everything co-existed. In the same way you can treat work as worship. It is sacred. Spirituality has entered our material life. Action is sacred. Lord Krishna says, "Janma karma samay divya". All actions are divine.Lord Krishna himself was very much of the material world except for his discourse to Arjuna. All he did was materialistic. He ruled the country, advised as a minister, and so on. Life should not be compartmentalized. Materialism and spirituality are not opposed to each other.
However, money earned through unethical means is never spiritual. It will pinch your heart. The spirit is awake in you. It is your natural instinct. If you have a plate full of food and someone comes to you, you will not be able to eat it alone. It is such a natural part of your life that you cannot renounce one for the other. Every spiritual person has to do charity. You want to be compassionate, but how can you be when you have nothing to give away. Charity cannot happen with an empty bowl.
Narayana is the pinnacle of spiritual life and Laxmi is the symbol of wealth. Both Narayana and Laxmi go together. Saraswati sat on a rock. The knowledge that you have gained will always be with you. Laxmi sits on a lotus which floats on water. You will never believe what happens in the share market. Wealth is unsteady just as a lotus floating on water. These are the eternal symbols that convey truth. Grasp what is needed. This is very important.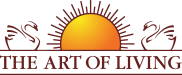 Founded in 1981 by Sri Sri Ravi Shankar,The Art of Living is an educational and humanitarian movement engaged in stress-management and service initiatives.
Read More