Question & Answers with Sri Sri Ravi Shankar

Q: Gurudev, What is wrong with the current leadership in the world and perhaps our visionary leadership?
Sri Sri Ravi Shankar:
I would say that the sense of belongingness is shrinking. There is a more self-centered, self-serving attitude rather than a sense of sacrifice for the cause. The vision and mission is really lacking.
Q: Gurudev, How can we strengthen the faith?


Sri Sri Ravi Shankar:
Your very thought to strengthen thefaith strengthens it. Move ahead assuming that your faith is very strong. Whenyour intellect is purified, faith automatically gets strong. We should have apure diet in order to purify the intellect. So, pay attention on your food. Ifyou eat food thinking all sort of negative things in the world, that alsoaffects the intellect. Many times people get time to converse only duringmeals, and they discuss about topics like diseases while preparing and eatingthe food. This is very wrong, and we need to get rid of this habit. You becomewhat you eat. The type of food you take governs your mind. And again your mindhas a direct impact on your body. That is why you should eat food with a happystate of mind. If we are very excited, we cannot swallow food with ease. Alsoif we are restless, we end up eating more food. So, it is important to havefood with awareness.
Q: Gurudev, Please speak on love. Also, how is discipline best exercised?
Sri Sri Ravi Shankar:
Here again you cannot force yourself to love something or not love something. Just relax and be yourself.
Discipline can only be required in three situations. You don't need discipline when there is love. When you love something you don't need to discipline yourself to do it, right? The second situation is when there is fear. If you fear you are going to have nervous breakdown that fear will make you do what is required. Third is greed. If someone offers you one million dollars to do something thing for one week, you would not miss one day of doing that thing. So greed, fear and love keep you in discipline.
Q: Gurudev, What happens to the consciousness of a person when it dies? Does it enter another body or get dissolved in the universal consciousness?
Sri Sri Ravi Shankar:
It is both. A part of the consciousness is all pervading and a part remains. It is like the air in the balloon, it is trapped in the impressions, and then it comes back.
Q: Gurudev, Is religion necessary to get deep into spirituality?
Sri Sri Ravi Shankar:
Religion is different from communism. Being religious means being compassionate, honest and not treating others as you do not want to be treated as.
Q: Gurudev, How do we ensure that the knowledge that you have transferred is transferred in the same pure form when we transfer it to somebody?


Sri Sri Ravi Shankar:
That is why there is a methodology of teaching. When you undergo teacher's training, it flows thoroughly in the same way. Teachers are trained very thoroughly.
Q: Gurudev, Even after doing the Art of Living course why do some people live in such hatred and ego? How to teach them the language of love?
Sri Sri Ravi Shankar:
Bring them to satsang again and again. Sometimes, even after having good intentions in the mind, a person tends to fall because of the company (he keeps). This is called sanghdosh. People are good and wish to walk the right path, but due to bad company, are not able to imply their good thoughts. Thus, satsang is very effective and vital. Inspire others and bring them to satsang. Just like people push others to do wrong acts, similarly for good also we sometimes need to pull people.
Q: Gurudev, What is the rule to be reborn? Who maintains records of all human beings? Why don't we remember anything about our non-physical form?
Sri Sri Ravi Shankar:
It is not very difficult to know. You can do the eternity process and you could know.
Q: Gurudev, How can senior management get the most out of their teams for maximum performance?
Sri Sri Ravi Shankar:
The Art of Living Foundation teaches the APEX course in corporate environments. It has been appreciated all over including the World Bank.
Q: Gurudev, I get caught up in my problems. How do I come out of this?
Sri Sri Ravi Shankar:
When you think your problem is big you are not looking at others' problems. When you compare your problems with others, your problem starts looking small.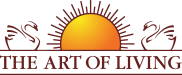 Founded in 1981 by Sri Sri Ravi Shankar,The Art of Living is an educational and humanitarian movement engaged in stress-management and service initiatives.
Read More