Question & Answers with Sri Sri Ravi Shankar

Q: Gurudev, Is it true that my previous and the coming generations also get the merit when I meditate. Are my parents also benefitted when I meditate?
Sri Sri Ravi Shankar:
Yes, there is something like that also.
Q: Gurudev, What is difference between accepting people as they are and labeling them as they are?
Sri Sri Ravi Shankar:
You tell me the answer. If you really want an answer then sit and think about it. If in your mind this question has arisen, the answer will also come. You have some notion of acceptance in your mind and some other notion of labeling. That's why you are using two different words. You won't ask the difference between 'Kela' (banana in Hindi) and 'Banana'. When we ask the difference we already know what that difference is. You already know in your mind and a little introspection will give you the answer.
Q: Gurudev, In the continuation of the same thing, should we believe in the match- making of the birth chart etc. Should we believe in all that? Does match of mangalik-non mangalik matter?
Sri Sri Ravi Shankar:
It is science but it depends on who does it. Many times in the name of astrology, people cheat others. There is something in chart matching, and you can do all that if you like. But Chanting 'Om Namah Shivaye' is best cure for all the short comings.
Q: Gurudev, Is memory a blessing or curse?
Sri Sri Ravi Shankar:
Forgetting bad things is a blessing. Forgetting good things can be a curse.
Q: Gurudev, What are the points to keep in mind in order to have a successful relation?
Sri Sri Ravi Shankar:
First for women: Never step on your man's ego. You should always pump and encourage his ego. You know, the whole world may say that your husband has no brains, but you should not say that! You should tell your husband that he has the best brains in the world, and just because of the fact that he doesn't use it, doesn't mean that he doesn't have it! You should always tell him that he is the best man. Always pump the ego of a man .If you call him a vegetable, I tell you he will become one.
Now one advice for men: Never step on the emotions of a woman. You know, she may sometimes complaint about her family, about her brother, or her father, or her mother. You should not agree with that. If you do, then she will take a U turn. Never insult her family. Don't stop her to go for shopping, or going to a spiritual or religious program. If she wants to go for shopping, give her your credit card.
Now for both: Never ask for proof of someone's love for you. Don't ask each other, "Do you really love me? You don't love me these days just like old days". You know, it is such a big load for someone to prove their love for others. If someone asks you to prove your love, you would say "Oh my God! How do I prove that to this person?" Do everything with some style and some smile.
Q: Gurudev, Sometimes questions come in my mind and are answered when I sit in meditation. However, sometimes, I get no answers. Is that because there is no connection?
Sri Sri Ravi Shankar:
No connection?! You mean you don't get the range? (Huge Laughter). It only happens sometimes, so it's ok. Maybe it's a difficult question and I don't have an answer! Maybe that's why the connection gets broken! (Big laughter)
Q: Gurudev, Why does the Divine love us?
Sri Sri Ravi Shankar:
It is good to ask this question. When we demand love, we destroy love. When we feel that we have been loved by people in abundance, then we will see that we have also grown in abundance.
Q: Gurudev, What is the best thing to do after one recognizes one's mistake?
Sri Sri Ravi Shankar:
Recognizing your mistake and going forward is good. There is no point in hiding or justifying. Save the mind. When the mind is established, you can't do mistakes even if you want. With the knowledge of the self, all negative emotions like fear, anger and sorrow disappear.
Q: Gurudev, What role has a woman to play in bringing transformation?
Sri Sri Ravi Shankar:
Woman has great role to play. Women can influence many men around them – father, brother, children, spouse. They have more power and more influence. In Indian mythology all the powerful portfolios like defense ministry, finance and education are with women. What else do you want? In India we believe man and woman are equal partners. There is concept of Ardhnarishver – God is neither male nor female. Divine is half male and half female. Everyone is like that. Nobody is full male or full female. There are genes of both mother and father within each one of us. So, we must respect women. Women should take more lead in the society. And I think that women can be better peace maker, and then less conflict, greed and corruption will be there in the world. Corruption can only happen outside the boundary of belongingness. Heart can never be corrupt. It is mind which goes corrupt. Heart always longs for old and mind for new. Isn't it so? You want more and more in mind but the heart says," I am happy". Heart wants to give and mind wants to take. women are more with their heart. She should keep that quality while developing leadership and taking more social responsibility.
Q: Gurudev, How does one deal with insensitive people?
Sri Sri Ravi Shankar:
Don't let it affect you. When you say somebody is insensitive, you are branding yourself as very sensitive. The moment you give a license to yourself to be very sensitive, you start to justify yourself when you get upset. The world is big and there are all sorts of people in the world. We have to live with all and work with them.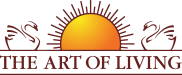 Founded in 1981 by Sri Sri Ravi Shankar,The Art of Living is an educational and humanitarian movement engaged in stress-management and service initiatives.
Read More