Question & Answers with Sri Sri Ravi Shankar

Q: Gurudev, Can love happen twice? Husband and wife are already in a relationship? Can husband or wife start loving someone else?
Sri Sri Ravi Shankar:
Tell me are you single or married? Ok, so you are single. If you are married and your wife tells you that she loves someone else, then how will you feel?
(I will feel bad.)
If you flirt with someone else, she will feel the same. Once you decide to get married, then just be faithful. Before choosing you can look for suitable match, but once you decide, settle down. Is that a good idea?
Rise in love, don't fall in love. I see that so many youth, they are in love with someone and the person they are in love with someone else, so they make a whole emotional mess in the mind. Please don't do that.
Love is eternal and life is eternal. If it is not coming to you in one form, wait it will come to you in another form.
Q: Gurudev, What happens between the time of death and next birth?
Sri Sri Ravi Shankar:
What happens between the time when you are awake and asleep? Same thing happens – you are dormant. When the consciousness is back, when the time comes, it will come back.
Q: Gurudev, Why is there so much unhappiness in the world today?
Sri Sri Ravi Shankar:
Unhappiness is due to two things, one in lack of resources in some parts of the world; if they get water they will be happy, if they get food they will be happy. In the other part of the world it is lack of spirituality. In one place the body is starving so there is unhappiness, and in another place the soul is starving and so there is unhappiness. We at The 'Art of Living' have to do both jobs, provide food to the body and food to the soul and that's what we are doing.

Q: Gurudev, I want to go to India with my family members.
Sri Sri Ravi Shankar:
Yeah you're welcome to come. We will organize, I think in the stadium also many people wanted to come to India the other day. If it's a long big group then it will be fun. Some good travel agent here, any travel agent here? Then we will make arrangements and sometime all must come, it's just very close from here, just four hours.
Q: Gurudev, How to prepare for death?
Sri Sri Ravi Shankar:
There is no need to prepare for death. You die for the past, when you let the past die then you are living for the present. Art of living, Art of dying are two sides of the same coin. You should die for all the past things that have happened. Live in the present! If you have to live in the present you have to discard all the past(clapping). Every second, discard the past. If you know the art of dying every second of life then life blossoms in its highest state. Mind dying each moment is death. Anyway there is no end to soul. What you think of as death is only separation of body and mind. Our body changes, mind changes, intellect changes, everything changes. That which doesn't change, the very core inside us – the indestructible, if you can connect to that, that unchanging aspect in you, then that makes life fun! (Applaud!)
Handling corrupt boss
Q: Gurudev, Dear Guruji, I am in this course (advanced course) but this time around I slept through all the meditations. May I ask what is wrong with me?
Sri Sri Ravi Shankar:
Yeah, not only you but others also notice that you are sound asleep. It's okay. You know when your body is so tired, you must have been up late night and so much of stress might have accumulated. If you fall asleep never mind, that is why the program is for four days.
First reason could be that your body could be very tired, second the food must be very tasty and you must be eating a little more than required, and if you take yogurt and a little heavy food in the afternoon, sometimes then you will fall asleep. So, you can reduce the food, just one spoon less, two spoons less. Eat a little less food; drink more juice or vegetables or fruits. Third is if you lack oxygen, if you have not done some little exercise or take a walk, brisk walk or a little jogging in the morning then also this may happen. One or two rounds of bhastrika also help.
Q: Gurudev, I have been told since childhood that eating non – vegetarian is like committing a sin because we are killing helpless animals. Is it so?
Sri Sri Ravi Shankar:
Don't think those who eat non – vegetarian are sinful. It is only thattamsictendencies are encouraged when one eats non – vegetarian. That won't be good for them, for the world and for society. My dear, don't make your stomach a graveyard.
Q: Gurudev, Guruji, how to maintain the purity of teaching Yoga in today's commercial world?
Sri Sri Ravi Shankar:
First of all we shouldn't blame the world and we should not blame the cause. Purity of Yoga is there when your intention is clear, you are here to serve. If you count that there are twenty people and I will get this much money, if you think that then it can spoil the purity. That is why we have kept our courses in such a way that the teacher gets a very little amount to cover whatever expenses are there. You know you are doing it as a service and you are keeping a charge because without any charges people don't value it and of course you need some finances to make arrangements like the durries and the microphone and all this stuff. So if your intention is pure, if you are financially and otherwise okay and this is only an added support or income to you then it is okay but if you are thinking only on these lines that I want to make money out of teaching yoga then your whole attitude is changed.
Just imagine a school teacher is teaching the children only to get money and not to see that the students are passing or they should get better. A teacher comes for tuition for an hour and he keeps looking at the watch then within fifteen minutes he runs away, what is the quality of such a teacher. So there is no individual, personal attention that is given, so if the commercial thing doesn't enter your mind then you are there for the cause, you are there for others.
Q: Gurudev, Isn't insincere praise same as pleasant lies?
Sri Sri Ravi Shankar:
Why should your praise be insincere?
Your praise cud be a blessing. Blessings are for the future only. So u can praise someone as a blessing. If someone is stingy, you say….. That praise can become a future blessing.
Q: Gurudev, Dear Guruji, when I feel too stressed and disturbed, I don't get myself to do Kriya. How to overcome such deeps mourns?
Sri Sri Ravi Shankar:
Well, I will give you some advice now. What is the guarantee you will be able to do it then also? Few weak moments have come in life in the past; don't welcome them in the future as well. And if you cannot get across some weak moments, know that it has come in the past also and it has not helped you in any way. So we should not sit and expect weak moments to come to us first of all. Secondly, even if it comes, we will have the strength to overcome them at that moment. So be spontaneous, okay!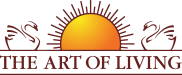 Founded in 1981 by Sri Sri Ravi Shankar,The Art of Living is an educational and humanitarian movement engaged in stress-management and service initiatives.
Read More