Question & Answers with Sri Sri Ravi Shankar

Q: Gurudev, How can one be both friendly and centered?
Sri Sri Ravi Shankar:
When you don't expect anything from your friends then you will be centered. You know, when you are friendly some sort of expectation is there, you enjoy being friendly. Stop enjoying being friendly. But be friendly because it's your very nature. Then you will be centered.
Q: Gurudev, How to have celebration when I feel tired with service?
Sri Sri Ravi Shankar:
That means you have not completed your service. And when service is done with the spirit of celebration, then it does not tire you or wear you off. See you have been so enthusiastic for two –three days, but I don't see any of you tired. You gain so much silence with meditation, and you should take care of that. There should be moderation in activity, moderation in talk, moderation in everything. Do not over do in anything.
Q: Gurudev, A question from someone on ART Excel Course: When the cops or anyone in the military shoot or kill anyone in war does it count as their good or bad karma?
Sri Sri Ravi Shankar:
Let us take the policeman. A policeman is doing his job to keep peace in society, so it is not a bad thing. In the military, one who is following orders, is only doing his job. The man who gives the orders, gets the karma.
Q: Gurudev, Guruji what is one such thing that is beyond Asakti (attachment) and Anasakti (detachment)?
Sri Sri Ravi Shankar:
Me! (Huge laughter)
Q: Gurudev, I have been doing sudarshan kriya for last 6 years and living totally a new life in terms of getting over negative emotions etc. But I have a small problem of forgetting things; my memory is not as sharp now as it used to be. How to get on with this problem or I should leave it?
Sri Sri Ravi Shankar:
You should take ayurvedic medicines- brahmi, and shankhpushpi etc. as per your age. And the food habits that we have in our country is not good for memory power because we eat so much starch, so much of carbohydrate and so little vegetables. So, change your diet. Have more intake of proteins, vegetables and fruits, and some ayurvedic supplements like brahmi etc. This, along with your pranayama and yoga will improve memory.
Q: Gurudev,
The 'Art of living' is full of inspirational teachers. What does it require to be a good teacher? Sri Sri Ravi Shankar: Yes, take a teachers training, and get well trained.
Q: First of all, thank you for being my master. Secondly, I am a sikh and in Sikhism our last Guru told that there is no other master now but only 'Guru Granth Sahib'. So, my family members do not want me to follow you as a guru. How to convince them about you?
Sri Sri Ravi Shankar:
It is alright. Say Wahe guru, Wahe guru. Let them follow whatever your tradition is, but they can do the course, can make friends with all!
Q: Gurudev, What is Paramatma? Who are Brahma, Vishnu, and Shiva (Hindu Gods)?
Sri Sri Ravi Shankar:
Just like a rainbow, where all the colors merge to form a single white light, the Paramatma (Supreme Consciousness) is white and all the forms of Gods are the various colors.
This world is full of names and forms. Fruits, flowers all have a name and form. Our ancestors realized this, and said that there were 1008 names and forms, all belonging to the One who had no name.
Q: Gurudev, I see a lot of people smoking and drinking. What do I do?
Sri Sri Ravi Shankar:
I too have the same question! Education, Education! These people need to experience some higher joy. See with Sudarshan kriya how fast do they drop the habit and come out of it. We'll do a program for that. We have done it in some countries and it has been successful. 65% of people stay without smoking. 30-35% come back to smoking but the quantity has reduced. Earlier they would take 10 packets, now they take 2 packets.
Q: Gurudev, How old are you?
Sri Sri Ravi Shankar:
I am a little over half a century but I still have a few more years.
You know everybody wants peace. Peace is the innate need of people but they don't know how to get rid of the negative emotions, tendencies, anger and frustrations. Education is needed in the world today to teach people how to let go of the negativity, let go of the past and move on to the future.
Q: Gurudev, What does it mean to live completely in the present moment?


Sri Sri Ravi Shankar:
Drop the wanting of this answer because the question is already in the past.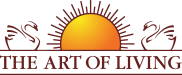 Founded in 1981 by Sri Sri Ravi Shankar,The Art of Living is an educational and humanitarian movement engaged in stress-management and service initiatives.
Read More