Question & Answers with Sri Sri Ravi Shankar

Q: Gurudev, A lot of people want to sit in front of you during satsang, and often it leads to some battles. Does it matter how close we sit to you if you are everywhere?
Sri Sri Ravi Shankar:
I tell you a secret, they simply don't know that more blessings go to the people who are the back (laughter). They should drop this 'Me' and allow everyone a chance to come to the front. 'Yesterday I sat, today let someone else sit'. this should be the attitude. Unless you have a role to play, i.e., you are singing or you are a translator. Otherwise, give space for others. That shows that you have digested something of what you heard, else all the knowledge that you have heard is gone.
Q: Gurudev, Dear Gurudev, how to find a balance? I am attracted to spirituality but also the material world.
Sri Sri Ravi Shankar:
It is okay, they are not in opposition. You should have balance in life. Work hard, earn money, save it and save some time for meditation.
People who are ambitious, who work hard and make money, don't forget to brush their teeth or eat their food, isn't it. However busy they are earning money, they take time to enjoy their food. Like that, spirituality is food for soul, so do this also.
Some people are more interested in spirituality and they go deeper. They say, 'I have seen enough wealth in life and I will keep doing my work, but I will also do more work for betterment of people', then life takes off to another level.
These are different levels in life. You can sit in any step you want. The first step, second step, third step or the ultimate step. It is your choice.
Q: Gurudev, What to do with about the fear of death?
Sri Sri Ravi Shankar:
That is okay, nature has kept a little fear of death in everyone. It is called Abhinivesh, and it will be there. You don't need to worry about it. Just know one thing, when you have to go, you will go, whether you are at home or in a car. It is all fixed, so you don't have to worry about it. And if fear comes, just say 'Om Namah Shivaya' and it will take care of it.
This doesn't mean that you should be careless. See, this is delicate higher knowledge. Don't apply it to the day to day level and say, 'Oh, anyway I will die when I have to die, so let me drive faster'. That is not correct, but don't worry about this kind of fear. Just observe the breath and say 'Om Namah Shivaya'.
Q: Gurudev, Dear Sri Sri, during my morning meditation, a strange vision appeared. I saw my body in a crashed car. Is it only a fear of mine coming up?
Sri Sri Ravi Shankar:
Yes, it is only your fear coming up. Don't worry about it. Just chant Namah Shivaya' a few times and it will be gone.
Q: Gurudev, How to get rid of my tendency to control everything everywhere and every time?
Sri Sri Ravi Shankar:
You can control small things, that is why you have this illusion (that you are in control). Just try to control the big things: stop the war in Iraq, or stop the war in Syria.
A couple came to meet me and they were talking. The husband said, 'My wife decides all the small things and I decide all the big things. Like my wife decides what car to buy, what color the house must be painted, where we should go for holiday, how we should spend our money and all these small things. I don't interfere in her work and I do the big things. I think about how to stop the war in Iraq, who should be the Prime Minister of the United Kingdom, and how the nations should interact with each other, etc, and she never interferes in these matters, so we have peace at home', (laughter).
Like that if you want to have control, think about the bigger things. How you can control the weather or bring rain. If you are a control freak, you should control those things. Think about something like that.
Q: Gurudev, Dear Gurudev, how to overcome self-pity?
Sri Sri Ravi Shankar:
See, you have already thought of overcoming it. When you thought, 'I should overcome self-pity', you are already one step out of it because you recognized that you are pitying yourself. There are many people who do not recognize that they are pitying themselves. They simply think, 'I am this way'. But when you know 'I am pitying myself', then you are out of it.
There is no how to overcome self-pity. Do you know how to wake up? You simply wake up. When someone is sleeping, and you say wake up, they just wake up. They don't ask you, 'How do I wake up?' They have already woken up. In the same way, if you recognize you are pitying yourself, you have already woken up. Come on, get out of it, that's it. There is no poor me. You did something in the past and you are reaping the fruit of that action. You should also not pity anybody.
In the ancient times, if someone told the Guru, 'Oh, I am suffering', they would not care about it. If you suffer, it is because you did some wrong thing. It is your karma, finish it off. It may appear that the Guru is rude and uncaring but it was to stop you from self-pitying. It was to make you take responsibility for your actions. Otherwise we try to run away from our responsibilities and we pity ourselves, and others say, 'Oh you poor thing, God has been so unkind to you. I am so sorry for you'. This is all ignorance.
Pity is ignorance, whether it is self-pity or pitying someone else. Everyone gets what they deserve. But this is higher knowledge, so don't go and tell everybody about this. People on the streets will not understand. They will think you are very rude.
If someone is suffering, you cannot say, 'It is your problem that you are suffering. You must have done something wrong'. It is true but better not say it. In your mind, you just understand it.
People go to the hospital because they violated laws of nature. You eat too much, you suffer a stomach ache, you get diabetes. You drink too much, you get liver problems. While someone is lying in hospital you don't say, 'You did this and now you are suffering'. No, you say, 'Okay we will do whatever we can', but never pity them.
In this universe, there is a cause and effect. For every effect there is a cause. There is a reason. If you get what you want, there is a reason. If you don't get what you want, there is a reason. Nature is intelligent. Divine is intelligent. Self-pity is bad on the spiritual path. Do not pity yourself and do not pity anybody else also.
The difference between pity and compassion is that, when love flows into action, it is compassion. You can't say, 'I love you so much but I won't do anything for you'. That is neither love nor compassion. Compassion is love plus action.
Pity is an attitude that shows regret and defies the laws of cause and effect, and the law of karma. Pity is ignorance. There is no point in blaming karma which is what you do in pity, and you show remorse.
Q: Gurudev, Sometimes I feel like leaving the normal life and just staying in the ashram. What should I do?
Sri Sri Ravi Shankar:
I would like you to live the normal life. I want to make the whole world into an ashram, and you want to leave the world and come to the ashram?
What does Ashram means? A place where you get some care, love, food for thought and some food for your stomach. So you can make your own homes ashrams. Invite people, give them some good knowledge and give them some food, and if you do this a lot then every home is an ashram. I want people in the ashram to go out and start centers wherever they are, make their homes as lighthouse of joy, knowledge and love.
When will you come and stay here and do? Even I don't stay in one place. I keep travelling across the continents. So you don't have to leave the world and come and live here, if you have some responsibilities. But you are most welcome to come and stay sometime, and do some seva. When you think you can do better things here being in the ashram and contribute better to the society and not just for your comfort, then it is okay. I don't want the ashram to be a place for lazy people who want to renegade, run away from everything and waste their time and be a trouble for everybody else.
Ashram is the place for people who want to do a lot for the society and don't want anything for themselves. Then here is a place where they come and rest, and then go back and do some good work in society. If you have that much dedication to do work for the world and society then yes, this is the place for you. Your needs will be taken care of.
Q: Gurudev, Dearest Gurudev, what is spiritual pleasure seeking? I want to make sure that I am not shifting my pleasure seeking from the material world to the spiritual.
Sri Sri Ravi Shankar:
Pleasure seeking is when you are focused only on yourself. 'Beg, borrow or steal, whatever it does to others is okay but I should be comfortable', this is a pleasure seeking tendency. You don't care for others or for discipline, or for what anyone says. Just do what gives you pleasure, unmindful of logic or reasoning and only focused on yourself, this is pleasure seeking. That will definitely put you through a lot of problem and will not elevate you.
Q: Gurudev, Why bother with helping others when you can choose infinite bliss?
Sri Sri Ravi Shankar:
If you have found bliss, you can't but share it with everybody, and what is the point of finding it and not sharing it? What is the point of going to the bank and getting lots of money and not spending it? What is the point of earning money and not spending it?
Similarly, when you gain knowledge, you must share it. When you are happy, you don't say, 'Leave me alone, I am very happy'. You want to make a phone call and say, 'Hey look, I saw this wonderful movie. I want to share it with you'. The nature of happiness or bliss is always to share. And if you are unable to share and you become unhappy, that is again not bliss.
Q: Gurudev, Dear Gurudev, we learn about yoga, breathing and other Vedic practices. What about other religions and cultures? Don't they have anything to contribute to our spirituality?
Sri Sri Ravi Shankar:
These practices do not subscribe to only one religion as such. Hinduism is not a religion. It is only a way of life which people have been practicing for a long time. And if you go to the root of religion, definitely there will be something one can explore. You can always find parallels. But unfortunately, most of the organized religions, later on, what remained was symbols, power and rituals, and many of them forgot the ancient practices they might have had. Prayer is in all religions, singing is in all religions. Silence and fasting and not stuffing yourself with food all the time, etc., is practiced in all religions.
I have made a small booklet on the similarities between Christianity and Hinduism just to make people come together. There are 33 practices which are common between the two.
Similarly, there are many practices common to Islam and Hinduism. If you study comparative religion, you will find many things in common and there are many differences as well. Differences are only to make it richer and we should celebrate differences. We don't have to say everything should be the same.
People say they have started Christian yoga. I say this is piracy. They should not do such things. Just imagine, some Rishi has in the past has discovered yoga, instead if acknowledging him you turn it around and say, we do Christian yoga. Yoga is yoga. There is no Hindu yoga or Christian yoga or Muslim yoga. If you try to put a color to it, it is disrespect to the founder of that particular knowledge. It is piracy and one should not do it.
People say, we will accept all the postures but we will not say Om. Why would you not say Om? You will say apple, or other bad words but you won't say Om which means eternal peace, purity, serenity, and unconditional love? This is all what Om indicates. It is a complete vibration; the vibration originates at the base of the spine and moves all the way to the top of the head. Why can't you say Om? The sound makes you drop your religion? The faith in your religion is so weak that saying a syllable takes you out of your religion? That shows how weak your faith is. Om is the signature of yoga and a part of it, and we should keep it.
You cannot go to an apple store and say, 'I want your computer but I don't want that apple symbol on it. Please remove it. That too a bitten apple, not even a full apple. I don't want this bitten, half eaten symbol on my computer'. Will they agree?
Will you go to an iPhone store and tell them, 'Remove the iPhone, I will place I will put my phone there'. That is piracy. You can't do such things. Acknowledge the source of knowledge.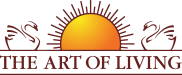 Founded in 1981 by Sri Sri Ravi Shankar,The Art of Living is an educational and humanitarian movement engaged in stress-management and service initiatives.
Read More